Amazon.com is continuing its pre-Black Friday promotions on video game consoles. The latest deal features a special bundle combining the innovative Nintendo Wii and one of its best accessories, the Wii Fit Plus with Balance Board. Though both products are selling for their regular prices, Amazon is including a $50 gift certificate with every order and taking an additional $50 off, making your total costs after the gift certificate deduction $239.98! This is a great opportunity to pick up an early Christmas gift- it's unlikely that a better deal on a similar bundle will come up on Black Friday!
In order to get in on this promotion, click on this link or the below picture and add all three items listed to your cart. Even though the total will initially show up as $339.98, when you continue to check out, the total drops to $289.98! If you consider the free $50 gift certificate to be an additional discount, you're getting a Wii console and a Wii Fit Plus with Balance Board for $239.98!
If you're unfamiliar with the Nintendo Wii, you should know that it's a next generation console which provides a revolutionary gaming experience. The Wii's games encourage active motion and allow a higher level of interaction than most other video game consoles. The Wii Fit Plus with Balance Board is an accessory for the Wii  console which lets you make exercising exciting by allowing you to build a virtual work out regime. The Balance Board can also be used in certain games to add to the experience.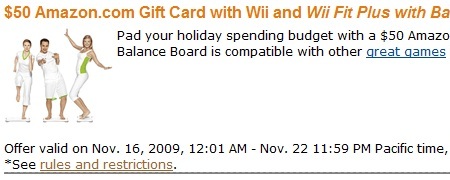 The promotion runs until November 22nd and, as always, is only available while supplies last. When ordering, make sure every time is being sold directly from Amazon.com, otherwise, the discount won't show up when you check out. Place your order as soon as possible or risk missing out on this one!
Advertisement