The HP Mini 311 is one of the first netbooks out that really blurs the line between netbook and full featured notebook, thanks to its NVIDIA ION GPU. That's not all, with an impressive screen and new features coming with Windows 7 and Flash 10.1 the Mini 311 may actually be a netbook with enough power to be the primary PC for average users.
We've gathered up the HP Mini 311 reviews and hands on experiences to give you a good look at what you can expect from the little powerhouse.
The HP Mini 311 looks impressive but how does it actually stack up to real world tests? Our own Xavier Lanier had some hands on time with the HP Mini 311 and provides a good introduction to the new HP Mini 311 netbook.
Reviews:
CNet: "The real payoff is in the Nvidia Ion, which, while not a true discrete GPU, offers enough power to play HD video files smoothly (a sticking point for Netbooks), as well as do some basic gaming. For nongraphics tasks, it won't affect performance much (and GPU support for Flash video, such as Hulu, is still a work in progress), but it does solve some of the frustrations associated with Netbooks, without driving up the price." – Dan Ackerman
PCWorld: "By netbook standards, the HP Mini 311 is reasonably priced and offers features most netbooks lack. You're paying a small premium for a netbook that has an HDMI port and can drive 1080p resolutions to a bigger display. Though it didn't deliver on 1080p playback, it handled 720p and 1080i videos better than netbooks with Intel-based graphics. For those who were hoping to make a gaming netbook out of this, think again. High-end 3D games are still best played on full-fledged laptops." – Cisco Cheng
Blog.laptopmag.com: "The design, the bright and beautiful screen, and the price all make this netbook a head-turner." … "The trackpad is very smooth and our fingers glided easily across it. We also like that the two mouse buttons sit underneath instead of on the left and right sides. The bottom of these buttons is flush with the edge of the chassis, a nice design touch." – K. T. Bradford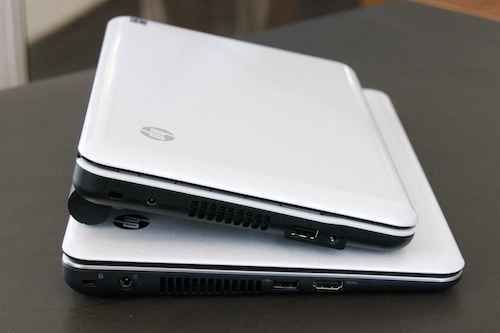 LaptopMag official Review: "With the Mini 311, HP has broken the netbook mold; no longer will users be limited to simple activities on these small systems, nor will they have to pay upwards of $600 for portability and performance. At its $399 price, consumers in the market for an inexpensive system can't go wrong with this notebook. While we would have liked a better touchpad, the Mini 311 offers dramatic performance benefits in comparison to traditional netbooks while still offering nearly six hours of battery life." – Michael A. Prospero
Laptop Magazine was so impressed with the HP Mini 311, that despite having issues with the trackpad, it was given an "Editor's Choice Award".
If you want to know exactly how the Mini 311 stacks up to the competition in all kinds of benchmarks including 3dMark, battery life, file transfer speed and much, much more be sure to hit up the detailed comparison at LaptopMag.com.
Notebooks.com: The Nvidia ION GPU that earns the HP Mini 311 high marks from pretty much anyone who lays hands on it also gives the Mini the ability to transcode files much faster than similarly spec'd netbooks without the Nvidia Ion. In this video you can see just how fast the mini transcodes a movie file compared to a Lenovo S12 without an ION GPU.
The Mini 311 is already impresses reviewers with Windows XP installed and it looks like things will only get better when Windows 7 arrives.
According to Liliputing.com on October 22nd you will be able to purchase the Hp Mini 311 with an 80 GB SSD 2-3GB of Ram and a full Nvidia ION GPU. By replacing the Nvidia ION LE, which is available now, with a full version users should experience better HD processing and will gain DirectX 10 support which will bring greater game compatibility.
Another improvement coming to the HP Mini 311 in the near future addresses the ability of the HP Mini 311 to play Flash video without looking like a bad kung fu movie. When Adobe releases Flash 10.1 this year it will be able to use the Nvidia ION GPU to provide stutter free streaming HD Flash Video.
Overall the reviews are positive with the trackpad being a point of contention between the Laptop Magazine blogger and the official reviewer. Even with shorter lasting battery life than many competitors the ability to do more including watch HD content, play games and, when Flash 10.1 comes out, watch Hulu more than makes up for this shortcoming.
This is one netbook I can't wait to get my hands on once Windows 7 and the additional options come out, even if they do bump the price up into notebook range.
Advertisement