Our friends over at Gizmodo snagged a photo of the Dell Adamo XPS. As we mentioned in an earlier blog post, this thing is extremely thin.
As you can see in the photo, the Adamo XPS is much thinner than any other notebook on the market. It measures just 9.99 mm at its thickest point, which is just over half as thick as the MacBook Air.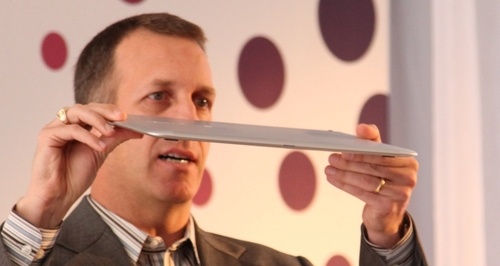 Unfortunately, Dell didn't open up the Adamo XPS for press photos, but this shot is a heck of a lot more than the company showed on this concept notebook's micro site.
I first got a chance to see the Adamo XPS a couple of months ago, but wasn't allowed to capture on camera. Unlike most notebooks, the top half has much more mass than the bottom half. The keyboard flips downwards, about 110-degrees. This means the back edge of the Adamo XPS display and the front edge of the keyboard become the resting points when placed on a desk.
The Adamo XPS looks like a notebook from the future and would be at the top of my shopping list if it had decent power and battery life. I'm not sure where the battery is placed, but it's obviously small.
Keep in mind that the Adamo XPS is just a proof of concept. While the unit was fully functional, Dell may never bring it to market.
Advertisement