Today, Dell announced updates to their Precision Mobility lineup. The new computers offer standard upgrades over prior generations: think faster CPUs, faster GPUs, faster memory, and faster SSDs. The bigger models also offer Dell's PremierColor display at a 4K resolution, while managing to cover 100% of the AdobeRGB color gamut.
There are four main updates to the lineup. Three of them are fifteen-inch models, while the fourth is seventeen inches: the Dell Precision 15 3000, Precision 15 5000, Precision 15 7000, and Precision 17 7000. The last two feature the aforementioned 4K and PremierColor displays. The Precision 15 3000, meanwhile, is notable for bringing updated performance to Dell's mobile workstation lineup at just $999.
Dell shows its design chops
It's the middle child, however, that captures our attention. Dell's new Precision 15 5000 is, in a word, stunning. Remember the insane laptop the company unveiled at CES back in January? The XPS 13 had a display with unbelievably thin bezels; they'd basically managed to shrink a 13-inch laptop down and stick it into an 11-inch laptop's body.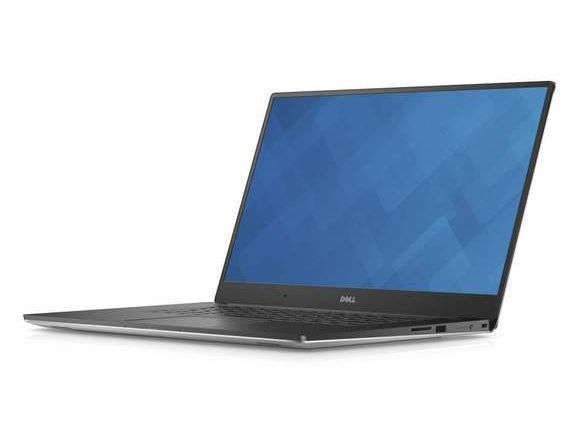 The Precision 15 5000 does the same thing, except it shrinks a 15-inch laptop down instead. Think about a 15-inch MacBook Pro with Retina display. Subtract half a pound, make it shorter. snarre and you've got Dell's fifteen-inch laptop.
Dell will be offering two separate panels for the laptop, though both seem to be of the thin-bezeled Infinity Display; one comes in at 1080p but only features 72% of the AdobeRGB gamut, while the other hits the UHD specs with a 4K (3840×2160) panel and 100% of the AdobeRGB gamut. The latter also offers you accesin
You'll be able to snag one of these beauties, with Skylake or Xeon CPUs, NVMe SSDs, and even the ability to add an extra battery to your 2.5-inch drive bay, sometime before the end of this year. The starting price isn't bad at all, at just $1349. Graphics cards include Intel's integrated Intel Pro Graphics 530 and P530, or NVIDIA's Quanto M1000M
And performance junkies, take a good look – this Precision 15 will likely serve as the basis for the new XPS 15, which needs to catch up to its thin-bezeled little brother.
Advertisement