Microsoft is cutting students a big break on Windows 7. Anyone with a .edu email address can pre-order Windows 7 Home Premium or Professional for just $29.99 through January 3, 2010. As an astute reader pointed out, you'll be able to access your copy of Windows 7 on October 22nd- not immediately. You also won't be charged until that time; see the full terms of the purchase here. Here's the interesting part- this deal is being run through Digital River, a company that sells downloadable software. That's right. It appears you can download a final production copy of Windows 7 right now!
Microsoft set up a special Web site for this deal: www.741.com. The numbers stand for "Windows 7 for One," with one meaning you! Here's the direct link to confirm your eligibility and make your purchase!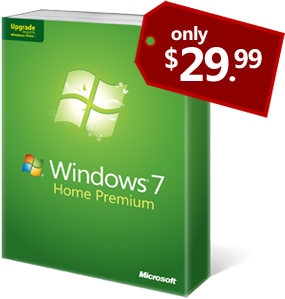 Windows 7 Home Premium Upgrade will be available for $119.99 to the general public come October 22, so this is a great way to save some money on Microsoft's latest OS. If you'd rather get a copy of Windows 7 Professional, try ordering from this link;  bear in mind, the link will only work once you've submitted  and confirmed your valid .edu e-mail address. You'll be able to select between a 32 bit and 64 bit version of the software. You can buy a virtual copy of the OS which you can download directly to your computer for $30 or, for an additional $13, you can have a physical disc shipped to you.  Interestingly enough, the $30 price tag places Microsoft's Windows 7 upgrade a dollar above Apple's  Snow Leopard upgrade.
If you're not in college, you might want to get creative- see if you can find a friend who is or check if your old college e-mail address still works! Gaming the system isn't recommended though- Microsoft reserves the right to ask for further verification of student status and may revoke an unlawfully purchased license key. There's a limit of one $30 copy of Windows 7 per .edu e-mail address.
From 741.com:
How do I Buy?

1. Check that your PC can run Windows 7 with the Windows Upgrade Advisor.

2. Enter your college/university email address.

3. If you're eligible, you'll receive an email with purchase details.

4. Click on the link provided in the email to proceed with your purchase.

5. Purchase your license/product key.

6. Checkout and download!
Advertisement