Yesterday Zecter Inc. opened up their very interesting cloud storage service called Zumodrive to public beta users. Zumodrive, which has been in private beta for some time, is a cloud based storage service with a few additional tricks up its sleeve. "Cloud Storage that Feels Local" says the their homepage. The site allso points out the potential space issue with syncing files which essentially copies the same group of files to each computer and device. They aim to solve the space issue by creating a service that is quick, easy, and as close to a local storage drive as possible. Those familiar with Apple's "Mobile Me" service will find the concept familiar and the look of the desktop icon eerily similar, but there are a number of pretty cool differences.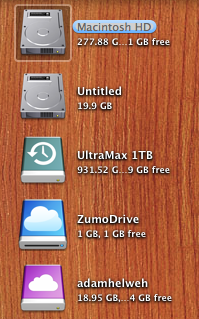 After installing the Zumodrive app on your notebook (Mac or PC ) you will be able to access it in your system tray. Just like Mobile Me, you will see a new drive icon available right next to your local drives on your computer. You can access stored files using the previously mentioned Zumodrive directory or through the web app making your files available wherever you might be. 
Zumodrive takes it a step further by allowing a number of easy sharing options to be used for each individual file and entire folders. You can link to any file or folder, embed appropriate file types into an web page using the embed code provided and you can also allow users to access "shared" folders or files with varying levels of access. Sharing is as simple as adding user's emails to a list and specifying whether or not they can only view files, view and download, or view and edit files.
There is even a version history on each file and a record of recent activity if you want to check and see when and what files files have been accessed. Zumodrive also creates photo albums from folders of images and generates an easy to navigate slideshow viewer to display them.
Although I have only recently signed up for the service I was immediately impressed with the level of options and detail put into the application, both on the desktop and on the web.
The fun doesn't stop there though. Zumodrive also has a free iPhone app called Supersize Me . The iPhone app lets you browse general files and documents from your Zumodrive via the web and adds a couple other features. Most notably is the music section of the app that enables you to store as many Mp3's as you would like on the cloud and play them like the  ipod music app  directly on your iPhone. In essence, the web app is streaming your music library directly to your iPhone. This feature is best used with a wi-fi connection. Testing out the feature on my 1st generation iPhone using the Edge service took a significantly longer time to stream a song, but eventually it started and played without any hiccups.
There are a lot of little bells and whistles to play with and considering the fact that it just opened up to public beta users I would expect more useful features in the future from  Zumodrive. It is currently available for the Mac, Windows, and the iPhone (Android support coming soon).
You get 1GB of storage free for signing up and the next level of plans starting at $2.99/month for 10GB all the way to 500GB for $79.00/month. Compare that to Apple's Mobile Me service at $99 per year with 20GB of storage space and significantly different focus of features and it's a bit of a toss up. I would miss my push email, calendar and contacts in Mobile Me so I don't think I would jump ship just yet. A well thought out interface, cross platform support, and useful features makes Zumodrive something to try on for size.
Advertisement