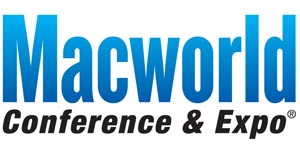 For over 20 years Apple fanboys and enthusiasts have congregated to an annual event known as Macworld Expo. As a lover of Apple products myself, I have attended the expo the last two years and will be sharing my experience at Macworld 2009 here at Notebooks.com. You may have heard that Apple recently announced that Macworld Expo 2009 would be their last. Apple does not organize the event so this does not mean it will be canceled, but without them does that mean that expo is done for? Will fanboys weep in the streets the first full week of January each year? Not anytime soon.
The last few years have been great for Apple. At the beginning of each year they have kicked things off with CEO Steve Jobs unveiling something new such as 2007's huge introduction of the iPhone. I did not attend the keynote, but I did get to check out the expo hall that year. I was amazed at the size of each hall (the expo occupies not one, but two of the Moscone Center's huge expo halls) and the number of big name manufacturers and well known software companies that were present. I was equally excited to see a variety of unknown vendors peddling iPod accessories, Mac related gadgets, and Apple apparel. Don't forget about the "show deals". Some were posted and others you had to ask for, but you could get a nice little discount on things by taking advantage of various deals that were only available during Macworld.
I would have to say that the most awe inspiring part of the expo hall is when you approach the Apple booth. Gargantuan in size, it dwarfs all other booths at the expo and can be seen from almost anywhere in the hall. A giant black cube of sorts with action happening on all four sides. Dozens of new products displayed along the outside edge and two theater like areas for demonstrating software to the buzzing crowd on the inside. Mac Geniuses are there in force, available to answer most any question. This is all capped off of course with a giant, white hot glowing Apple logo.
Sounds cool huh? How can greatness like this every be experienced again if Apple chooses to pull out of Macworld? Will all be lost? Of course not. Why? Because Apple replicates this experience each and every day at a place they call the "Apple Store". Although scaled down a bit, the retail store doesn't require a pass to get in and is conveniently located in most major cities. Products to play with… check! Big screen with demos and Mac Geniuses at the ready…. check! Glowing Apple logo prominently displayed … double check!
You might also say "What about the keynote?". Sure, the keynote is a great kick off to the expo, but once its over its really everything else that keeps the crowd moving along during the 5 day event. The previously mentioned vendors, the educational user sessions, and impromptu meet ups is where the fun stuff happens. The time I spent at the Apple booth pales in comparison to the time I spent exploring the rest of the expo. Would I miss Apple if they were not there? Sure. Would I stop attending? No way. Most who attend the expo have already purchased an Apple product in the past and are there to learn from the experts, play with new products, and bask in the glow of the community… not a backlit logo.
I sincerely hope that Macworld continues to be a place for debuting new products, asking questions, sharing answers, and rubbing elbows with others who enjoy all things Apple. I am looking forward to meeting new people and seeing new things at this year's Macworld. WIll you be there? Have a product that you want featured on Notebooks.com? What are your fondest memories of Macworld?
Advertisement