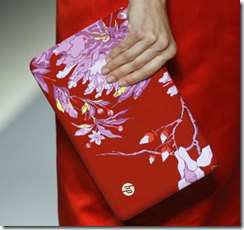 HP's officially announced the Mini 1000 series and at the high end of the spectrum is the Vivienne Tam edition. Clearly targeted towards fashion-conscious women, this netbook was recently carried down a runway at New York's Fashion Week as a "digital clutch."
I honestly had no clue who Vivienne Tam was before I asked my wife, who promptly listed off several Vivienne Tam items that she wears from time to time. This kind of name recognition can do nothing but help HP's efforts to reach the women.
While I would never buy this particular edition of the Mini 1000, I can definitely see the appeal. HP is putting the same amount of attention to detail into netbooks as they do with their mainstream notebooks. In this case, the entire Mini 1000 is wrapped in red and the desktop background matches the rest of the computer.
The Vivienne Tam Edition HP Mini 1000 will come with a matching sleeve and packaging.The Vivienne Tam Edition (and any other Mini 1000) can comfortably fit in a medium-sized purse.
Fashion isn't cheap though. The Vivienne Tam Edition Mini 1000 will cost $699. It will come with a 10.2-inch display, 60GB hard drive, a 1.6GHz Intel Atom processor, 1GB of RAM and Windows XP.
You can read more about the Mini 1000 here and see more video demos.
Click Here for HP Mini 1000 product page
Advertisement