According to DisplaySearch, HP continues to be the global leader in the notebook market, while Dell maintains a slight edge in the North American market. HP holds a 21.4% marketshare in North America and a 20.5% market share in EMEA (Europe, Middle East and Africa).
DisplaySearch's quarterly report says that 13.3-inch to 16-inch notebooks now account for 88.5% of all notebook sales.
Also of note, Apple's market share of North American notebook sales have jumped from 6.6% in Q2 2007 to 10.6% in Q2 2008.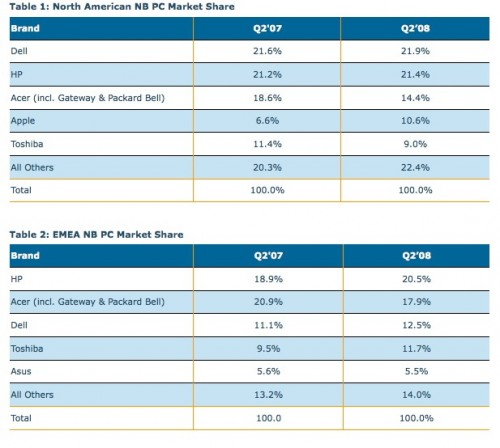 The report shows that Acer's lost significant market share in the past year despite its acquisition of Gateway and Packard Bell.
Advertisement