Apparently there's not that much demand for Lenovo's ThinkPad Reserve, the leather-bound X Series ThinkPad with a limited production run of only 5,000 units. Earlier this year the ThinkPad Reserve got a fancy web site and Lenovo promised three years of 24/7 support for the princely sum of $5,000. But if you're willing to forgo the 'Executive-class service' you can pick one up for the bargain basement price of $3,000.
Obviously Lenovo can't find 5,000 people around the globe to shell out $5,000 for the ThinkPad Reserve, which is no surprise considering you can configure an X61s with identical specs (but without leather wrap and support) for just $2,178 on Lenovo's online store. Seasonal discounts bring the price down to just $1,633.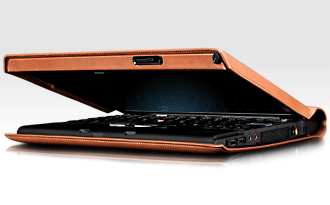 If you really must have the ThinkPad reserve, $3,000 isn't that bad of a price to stand out in a sea of black ThinkPads and get that 'wow that guy must be rich' look.
I'd be seriously pissed if I'd shelled out $5,000 for a ThinkPad Reserve before this price drop. If you're going to make a 'reserve' anything you should keep it exclusive. I don't see BMW selling cars for 40% off without service contracts. The car manufacturer is wise enough to know that it would devalue the brand.
Lenovo should eat the cost of the Reserve ThinkPads it can't sell for the full $5,000 price tag instead of discounting them. They have tons of big-name clients around the world they could give them away to as Christmas/Thank You presents.
If you really do want one of these, I'd strongly recommend steering clear of the $5,000 ThinkPad Reserve, which carries a $2,000 premium for 24/7 support. If you've got $5,000 to blow, just buy the $3,000 ThinkPad Reserve to get the fancy skin, and buy a spare X61s just in case the Reserve breaks down on you.
Advertisement