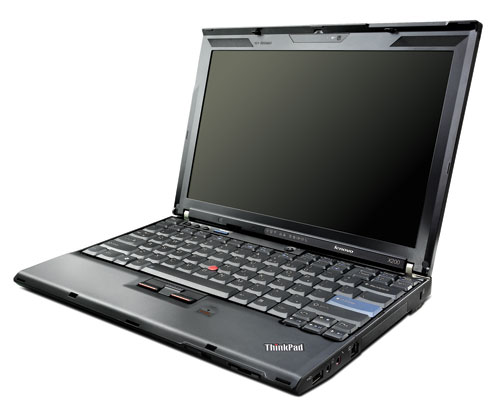 Lenovo officially introduced the ThinkPad X200 today, but was kind enough to send me an early review unit last week. The X200 is Lenovo's new 12-inch business notebook and it's been a joy to use for the past few days. The X200 has a starting price of just $1,199, making it an excellent value for anyone who needs a fully-capable notebook that can get them through a full work day.
The X200 is now available from $1,434 in its basic configuration.
Lenovo's revamped the ThinkPad line's naming convention, with the X200 replacing the X61.The X200 has a widescreen display, which is a departure from the standard (4:3) aspect ratio found on the X61.
The X200 is a whole different animal than the 13.3-inch X300, which is optimized to be as thin and light as possible and has a low-voltage processor, built-in DVD burner, and a solid state drive and has an eye-popping sticker price of $3,225. The X200 doesn't have an optical drive, but it does have full-speed Intel Core 2 Duo processors, an array of drive options and an optional docking solution.
The X200 still feels extremely solid and well built. It might not win any beauty pageants, but that's ok since the X200 is all business.
The X200 is extremely fast for an ultraportable. Launching Microsoft Office applications is virtually instantaneous and the X200 ripped through installing applications and editing photos.
With the standard 4-cell battery the X200 weighs in at 2.95 pounds, but power-hungry users will want to order a 9-cell battery that protrudes from the back of notebook and adds a few ounces.
The review unit Lenovo sent me came with the extended 9-cell battery, which is rated to last up to 9.3 hours. I wish I could say exactly how long the battery would last, but I can't because the thing lasts just too darn long. The battery meter read 56% remaining after using the X200 with web browsing for a hair over three and a half hours.
The X200 is extremely quiet, even when the hard drive and fans are spinning. When using it on battery power I never felt any heat coming from the bottom of the notebook or the palm rests.
Lenovo equiped the X200 with a full-sized keyboard that is very comfortable to use, as you can expect from an enterprise-class ThinkPad. The X200 has an UltraNav (eraser-head style) pointer instead of a trackpad, which is easy to use for some, but despised by others. I recommend pairing a bluetooth mouse with the X200 for extended use.
The X200 doesn't have an optical drive, but it can be docked with an UltraBase that packs a DVD burner, four USB ports, a Display Port and more. The UltraBase can pack an extra hard drive and can charge an extra battery while plugged in- a great feature for business travelers.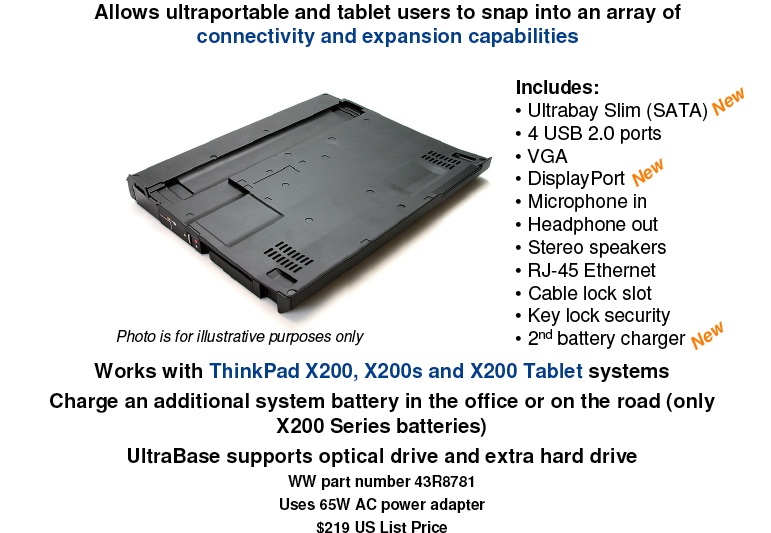 Lenovo's really improved the user-interface, obviously taking design cues from Windows Vista and made mundane activities like connecting to a network and adjusting power settings pleasant.
Like all ThinkPads, the X200 has a comprehensive suite of security and recovery services.
One minor thing that bugs me is Lenovo's logo, which stands on its own and looks like an afterthought. Another negative is that the X200 only has a single speaker, which isn't good for much except for system beeps. If you're going to listen to tunes while you work on the X200 headphones are an absolute must.
The X200 is a classy business notebook that leaves little to complain about, especially considering its price point. The X200 will be available on August 5 directly from Lenovo and through channel resellers.
X200 Pros:
Long battery life, UltraBase, updated ThikPad user interface, Cool and Quiet.
Cons
No integrated optical drive, poor sound quality, could improve aesthetics.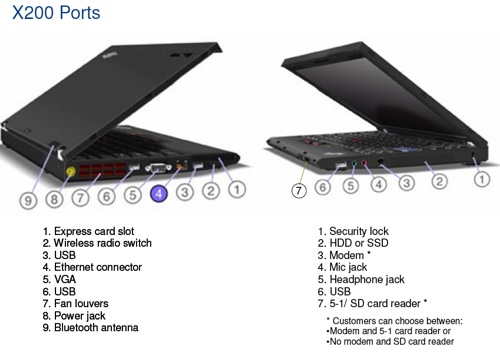 ThinkPad X200 Specs:
ThinkPad X200 Hard Drive Options: 80GB, 160GB, 250GB and 320GB (5400rpm); 100GB and 160GB (7200rpm) or 64GB SSD.
ThinkPad X200 Ports: 3 USB 2.0, VGA, Headphone, Microphone, modem + 5-1 media card reader or no modem + SD card reader, ethernet, express card slot
ThinkPad X200 Processor
Intel Core 2 Duo processor P8400 (2.26GHz, 3MB L2, 1066MHz FSB)
or
Intel Core2 Duo processor P8600 (2.40GHz, 3MB L2, 1066MHz FSB)
ThinkPad X200 Memory: up to 4GB; PC3-8500 1067 MHz
ThinkPad X200 Display and Graphics
12.1 WXGA, Intel Integrated Graphics X4500
Advertisement