The new ThinkPad X1 Carbon is an impossibly thin 14″ premium Ultrabook that should be standard issue in corporate America. Like the ThinkPads before it, the X1 Carbon has a sturdy, minimalist appearance coupled with a great keyboard. Unlike business computers of yesterday, users no longer have to trade off portability for a large screen. Simply put, the ThinkPad X1 Carbon is the best business notebook money can buy, at least for the typical worker bee.
The X1 Carbon addresses three of the biggest issues business notebook users complain about: running out of battery power, not being able to find an Internet connection and having to lug around a heavy computer. If you face those notebook ailments on a regular basis, you're going to love the fact that the X1 Carbon weighs less than three pounds, can go from zero to 70% charge in 30 minutes and comes with HSPA+ wireless baked in.
Overall, the ThinkPad X1 Carbon is a huge improvement over the original ThinkPad X1, ditching the glossy screen, 12 ounces of weight and a good amount of thickness.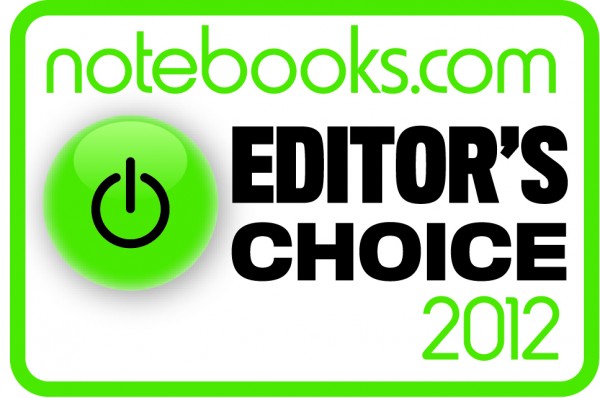 As of today, it's our top pick for general business users that have a few extra dollars to spend on a quality computer. Its slim profile, big display, excellent keyboard and build quality earn it a Notebooks.com Editors' Choice Award.
Like all gadgets, the X1 Carbon has some flaws, but they're mostly masked by everything else the X1 Carbon has to offer. Corporate misers may balk at the  ThinkPad X1 Carbon's $1,399 entry price, which can climb to $1,849 when well equipped. The display could be brighter and the speakers louder. We also wish ThinkPad would offer an extended battery option for users that can't live on the single internal battery.
Pros

Very thin and light
14″ Display in a 13″ Package
Great Keyboard and Touchpad
Charges very quickly

Cons

Speaker volume when used on lap
Fixed battery
Screen brightness
ThinkPad X1 Carbon Design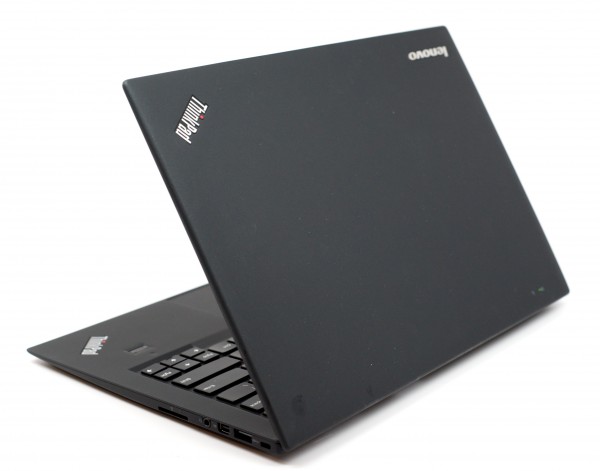 The ThinkPad X1 Carbon looks a lot like every other ThinkPad at first glance. But that's okay with us considering it's a look that's stood the test of time. There are plenty of places where flashy finishes and glowing logos are ok, but the board room isn't one of them. The lid is all black save for the Lenovo and ThinkPad logos up top and tiny sleep and battery indicators on the lower-right corner.
The main draw of the ThinkPad X1 Carbon is that it's incredibly thin and light for a 14″ notebook. Measuring just .71″ at its thickest point, the X1 Carbon is thinner than two iPhone 4s' stacked on top of each other. One thing that we like abou the X1 Carbon is that its hinge is designed to allow the display lay down almost completely flat. This might not sound like a big deal to some users, but tall guys stuck using their notebooks in tight situations will appreciate it.
As the computer's name suggests, Lenovo utilizes carbon fiber in the X1 Carbon's construction. The top cover and the internal roll-cage are made of carbon fiber, which is as strong as aluminum and weighs two-thirds less. Typical ThinkPad roll-cages are made of magnesium, which is twice the weight of carbon fiber. Roll-cages are essential in business notebooks to protect their innards. The X1 Carbon meets or exceeds eight MIL-SPEC standards for durability. The result of these choices is the X1 Carbon feels very solid and users won't have to worry about minor drops or bumping it around.
The ThinkPad X1 Carbon doesn't have a lot of ports compared to other ThinkPads, including the original ThinkPad X1. Gone are Ethernet and HDMI ports, along with the standard ThinkPad AC adapter port. Instead, the ThinkPad X1 Carbon has a rectangular power port on its left side, along with a USB 2.0 port and wireless on/off switch.
The right side of the X1 Carbon has a 4-in-1 SD card reader, USB 3.0 port, Audio In/Out port and Kensington lock slot. The card slot swallows an entire SD card, rather than leaving part of it hanging out as some notebook card readers do. DisplayPort is the only video out option, which means you may need to buy an adapter or two if you need to connect to a projector or HDTV.
There's a small SIM card slot on the back of the machine. The mobile broadband feature allows users to get online without having to search for an open Wi-Fi network or set up tethering on their smartphones. Lenovo makes the mobile broadband experience by allowing users to turn the X1 Carbon into a mobile hotspot so colleagues can hop online in otherwise Wi-Fi free zones.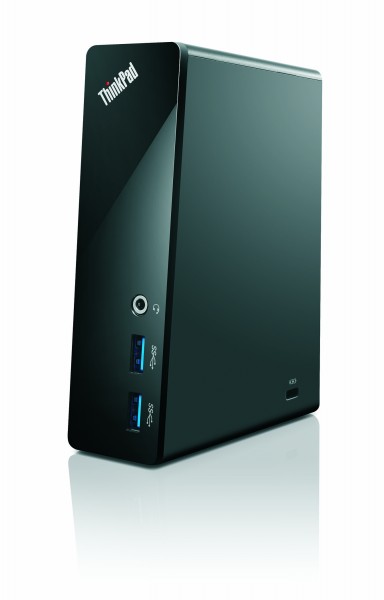 The Ethernet port's absense can be alleviated in the form of a USB-to-Ethernet dongle or by purchasing a USB docking station. The Lenovo ThinkPad 3.0 Dock offers five USB ports, an audio jack, dual DVI ports, Ethernet port and a Kensington lock slot.
ThinkPad X1 Carbon Keyboard and Touchpad
The X1 Carbon's keyboard is the best ThinkPad keyboard I've ever used, which is to say it's the best notebook keyboard I've used. Ask any seasoned ThinkPad user what they love most about their PCs and they'll likely point to the keyboard. The ThinkPad X1 Carbon's keyboard is much different than yesterday's ThinkPad keyboards, but that's not a bad thing. My fingers felt at home the first time I laid my hands on the Carbon X1's island-style keyboard and was instantly able to type as quickly as I can on keyboards I've used for years. The keys are scalloped, curved like a smile at the bottom and have ample space between each other. These design choices make it difficult to accidentally strike the wrong key. There's plenty of travel, giving the keys a luxurious feel.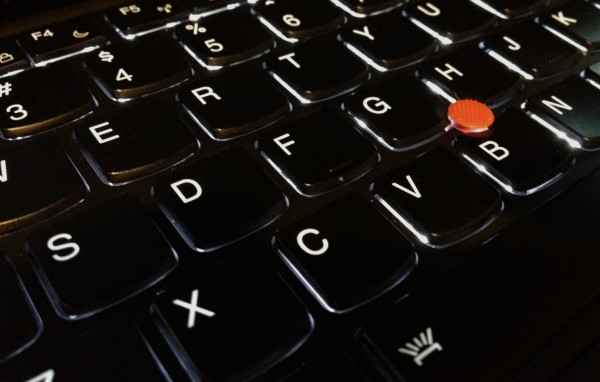 The keys light up by default automatically in dim environments, providing a nice glow when working in dim environments. A quick press of the function key and spacebar toggles the backlighting on and off .
The X1 Carbon's touchpad is silky smooth and it works better than any other we've tried on a Windows PC. It's very similar to the ones found on Apple's MacBooks, which is a compliment. The Windows notebook world's been plagued with poor and mediocre touchpads in recent years, many of which are so bad it's a wonder manufacturers let them ship. I found the X1 Carbon's touchpad surface to be slicker than the MacBook Air. Pinches, zooms and taps all worked well and consistently.
Long-time ThinkPad users aren't forced to use the touchpad though. There's a TrackPoint right in the middle of the keyboard and a pair of buttons beneath the spacebar for left and right clicking.
ThinkPad X1 Carbon Display
Perhaps the biggest improvement over the original ThinkPad X1 is the X1 Carbon's 14″ anti-glare display. The matte finish means users don't have to worry about glare as much or seeing their own reflections while they work.
Most business notebook users are accustomed to 14″ displays with good reason. They're big enough to work with full time and avoid the cramped feel of 13″ and smaller displays. Though the X1 Carbon has the footprint of a 13″, Lenovo's designers managed to wrangle in a 14″ display with a resolution of 1,600 by 900 pixels. That's the same resolution found on  ThinkPad T430's optional high-resolution display. This means users will have plenty of real estate to work on spreadsheets, Word documents and crafting email.
The display quality is decent for a business notebook, but it isn't as crisp, colorful and clear as what you'll find on high-end consumer notebooks. That's one of the tradeoffs of going thin and maximizing battery life. The display is rated at 300 nit, which is comfortably bright, but I wish it would go a couple of notches brighter.
Performance and Graphics
The ThinkpPad X1 Carbon comes with a range of low-voltage Intel processors and Intel integrated graphics. These components are optimized for battery life, so the X1 Carbon isn't the right notebook if you plan on editing video, playing video games or running other processor-intensive applications. But the latest generation of Intel technology is miles ahead of the sluggish low-voltage processors from a couple of years ago. The X1 Carbon has plenty of speed and power for the average business user. Documents open in a snap, applications launch quickly and the system is responsive in everyday tasks.
The entry-level X1 Carbon ships with a 2.6GHz Intel Core i5 processor. The decked out X1 Carbon, which is the model Lenovo sent over,  comes with a 3.2 Ghz Intel Core i7 processor. Processor choice isn't as important as it used to be for one important reason: the SSD. The X1 Carbon ships with either a 128GB or 256GB SSD. Both of these drives are much speedier than the hard disk drives found in most PCs and provide a lot of the perceivable zip. Everyday work tasks, such as Web browsing, email and drafting documents simply don't need that much processing power. What users will notice with the X1 Carbon is that documents open very quickly, applications launch much faster than on most notebooks and the computer wakes from sleep very quickly. You can largely thank the solid state drives (SSD) for those benefits.
ThinkPad X1 Carbon Overview Video
ThinkPad X1 Carbon Battery Life
The ThinkPad X1 Carbon is rated to last for up to 6.3 hours on a single charge. As with all PCs, your battery life mileage will vary. I used the X1 Carbon for a few days and was pleased to find that the ThinkPad X1 Carbon lasted just over five hours on a single charge without trying. That's not stellar, especially when stacked up against bulkier business notebooks that boast of 'all-day computing,' but it's plenty of juice for most users, most of the time.
Lenovo's put together an innovative way of dealing with a sealed battery. Instead of asking users to lug around a secondary slice battery or other add-on, Lenovo's sped up the recharging process considerably. The battery can go from zero to 70% charged in just 30 minutes, which means users can get enough juice to last the rest of the day by plugging in during a hurried lunch. We tested out the X1 Carbon's RapidCharge feature and saw the  battery meter climb from nothing to 72% in 30 minutes. Unfortunately, it takes three times as long (90 minutes) to get all the way to 100%.
ThinkPad X1 Carbon Speakers and Webcam
 We don't expect much in the speaker department from thin-and-light notebooks. The X1 Carbon's speakers are mediocre and fire downwards, which reflects sound off of your desk and up to your ears. The result is passable audio that's enhanced by Dolby Home Theater 4 technology.  The technology makes the most of small speakers crammed into the thin chassis. Unfortunately, this method doesn't work so well when using the X1 Carbon on your lap since the sound has nothing to bounce off of. For the best audio experience you'll want to don a pair of headphones and play with the Dolby Home Theater control panel.
The X1 Carbon comes with a 720p HD Webcam that works just fine for videoconferencing. It can automatically track your face so it stays centered in the frame, which makes it less distracting to others when you move your head around while on videoconference calls. There is a pair of microphones next to the camera to improve audio clarity.
The Bottom Line
The ThinkPad X1 Carbon is an excellent buy for mobile professionals, but the machine is much more expensive than thicker ThinkPads. Those looking for a business Ultrabook should look no further than the X1 Carbon. It is the first business notebook to successfully bridge the gap between full-sized notebook displays and ultraportables.
With a starting price of $1,349, the X1 Carbon is more than some bosses will want to fork over for a single computer, but we think the Carbon X1 will pay for itself in productivity improvements since users won't mind lugging the thing everywhere. It might even be the first business notebook many employees actually enjoy using.
ThinkPad X1 Carbon Specs as Reviewed
| | |
| --- | --- |
| OS | Windows 7 Professional Premium 64-bit |
| Display (size/res) | 14-inches, 1600 x 900 |
| CPU | 3.2-GHz Intel Core i7 |
| RAM | 4GB |
| Graphics | Intel HD Graphics 4000 |
| Storage | 256GB SSD |
| Ports | 1 USB 3.0, 1 USB 2.0, DisplayPort, 4-in1 card slot, headphone/mic, Kensington lock slot |
| Size | 13.03″ x 8.9″ x .74″ |
| Weight | 2.99 lb |
| Wireless | 3G Ericsson WWAN |
| Price | $1,849 |
Advertisement