Today at CES 2011 in Las Vegas Lenovo pulled out the IdeaPad U1 Hybrid and LePad Slate which we had seen last year at CES, but this time the machine will be running Android while mobile and Windows 7 while docked.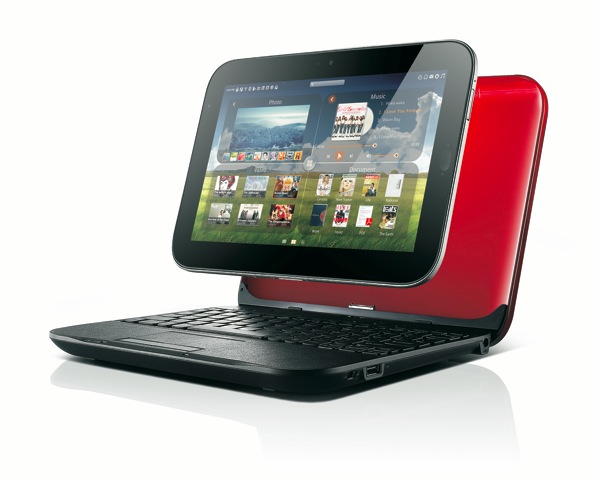 The LePad is powered by a a 1.3Ghz Snapdragon processor which will power the LeOS Android based operating system while used as a slate. When docked the machine will be powered by an Intel CULV Core i5-540M 1.20GHz processor.
"Our IdeaPad U1 and LePad truly fits the mobile lifestyle," said Liu Jun, senior vice president, Idea Product Group, Lenovo in a release announcing the device. "Use the light-weight slate when you're mobile, and then simply slide it into the U1 base when you need to create and edit content. Consumers shouldn't have to adapt their lifestyle to technology, and this product definitely delivers twice the functionality and fun in one device."
The LePad on its own will weigh a little over 1.6 pounds, or slightly heavier than the iPad and the device as a whole will weigh in at just under 4 pounds. Heavier than most netbooks, but still alright for a device with this type of flexibility.
The 10.1″ display will run at a 1280 x 800 resolution. The display is optimized for multitouch and the there is also a built-in 2.0MP webcam which can be used to videochat.
Lenovo IdeaPad U1 Hybrid and LePad Video:
The tablet has WiFi, WCDMA and an EVDO connection so that it can always be online. The IdeaPad U1 Hybrid also has bluetooth for connectivity to peripherals including a keyboards for productivity when you are without the notebook base.
The IdeaPad Hybrid U1 and LePad make good on the demonstrations we saw last year at CES with a seamless switch between operating systems. When you switch between Android and Windows 7 your browsing tabs will come with you for an uninterrupted experience.
The Lenovo IdeaPad U1 Hybrid and LePad will be available in China during the first quarter with prices for the LePad starting at approximately $520 USD and for the IdeaPad Hybrid U1 with LePad starting at approximately $1,300 USD. No word on a U.S. release date or price.
Lenovo Ideapad U1 Hybrid and LePad Gallery:
Lenovo IdeaPad U1 Hybrid and LePad Specs:
Advertisement