Toshiba's now selling notebooks with AMD technology for the first time since 2000. The new Satellite A215 series of 15.4-inch consumer notebooks features AMD dual-core processors and graphics, generous hard drive capacities and several multimedia features.
âہ"The introduction of an AMD-based mobile computing solution allows Toshiba to broaden its appeal to a wider audience by enhancing the companyâ€â"¢s already successful notebook computer line,â€Â said Jeff Barney, vice president of marketing, Digital Products Division, Toshiba America Information Systems, Inc. âہ"Toshiba based its decision to launch a notebook computer line featuring AMD technology on retailer interest and consumer demand. Toshiba is confident the market will embrace the opportunity to purchase a Toshiba notebook that is powered by AMD technology.â€Â
The A215 will come in several configurations, including the A215-S4767 for $1,299. The A215-S4767 has a 250GB hard drive, 2GB of RAM,1.3MP web cam and a DVD burner with LabelFlash and an AMD Turion 64 X2 Dual-Core Mobile Technology Gold Edition TL64 processor. Labelflash allows users to burn high-quality images and text onto specially coated DVD-R disks. The A215-S4767 ships with Vista Ultimate. A fingerprint reader is also included.
âہ"We have seen increased consumer demand over the past two years for AMD-based platforms and this offering helps round out Toshibaâ€â"¢s product portfolio,â€Â said Samir Bhavnani, research director at Current Analysis West.
To round out the multimedia experience of the Satellite A215 series, Toshiba outfitted the notebook with Dolby Sound Room technology to deliver amazing virtual surround sound from stereo speakers or any pair of headphones. This surround sound technology is designed for environments where multiple speakers are neither practical nor possible and consists of Dolby Digital, Dolby Headphone and Dolby Virtual Speaker.
For those on a budget, the A215-S4757 is only $899 and comes with a AMD Turion 64 X2 Dual-Core Mobile TL56 processor, 2GB of RAM, 250GB hard drive, web cam and DVD burner with LabelFlash.
The Satellite A215's 15.4-inch display has a resolution of 1280×800 pixels and capable of displaying 720p high-def content.
The new AMD-based Satellite A215 series is currently available online at Toshiba Direct and at several retailers.
Save up to 20% instantly when you customize select Satellite
Notebooks, plus no tax and free shipping.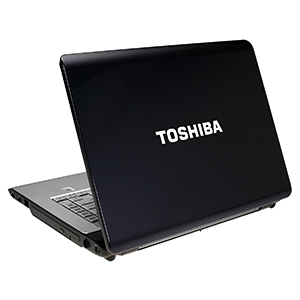 Advertisement