Lenovo's finally giving full details on the ThinkPad Reserve Edition notebook, a X61s ThinkPad clad in premium handcrafted leather. The ThinkPad Reserve Edition is available in limited quantities and by invitation only for $5,000. This notebook comes with executive-level service and support.
Handcrafted by expert saddle makers, The ThinkPad Reserve Edition's leather casing is bound using a traditional Japanese stitching. Its curves and flanges to protect against spills and offer the most comfort for users.
The high-price tag offers includes the most personalized service Lenovo has to offer. Reserve Edition owners will have 24/7 access to a dedicated phone support team that will directly answer calls- no menus, no robots. In most major cities around the world, Lenovo promises on-site tech support will be working on your ThinkPad within four hours of placing a call. Accidental damage protection is also included.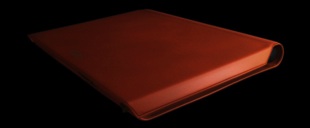 The 12.1-inch ThinkPad Reserve will come with an Intel Core 2 Duo L7500 low voltage processor, 2GB of memory, 160GB drive and Vista Ultimate. Lenovo will give customers a choice of AT&T, Vodaphone, Verizon or Telus wireless broadband, which is enhanced thanks to an external antenna. Bluetooth and an Intel Wireless AGN card will keep users connected to devices and networks.
The $5,000 price tag also includes an external DVD burner and external 80GB hard drive.
Lenovo has some detailed animations and video at www.ThinkPad Reserve.com.
Advertisement