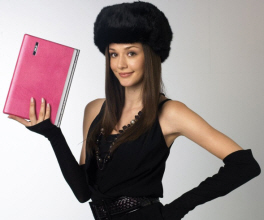 Asus is pushing style this holiday season, kicking things off with some serious style. The Asus S6 Limited Pink Edition notebook might just be a stylish girlâ€â"¢s best friend. Bound in leather, itâ€â"¢ll keep fashionistas from looking like dorks. The 11.1-inch widescreen S6 is also available in brown and camel leather for the less daring.
Asus also revamped its 13.3-inch widescreen W6 leather edition with Core 2 Duo processors and better wireless connectivity.
Weâ€â"¢re still waiting to see how the whole luxury and designer notebook market shakes out, but it looks like plastic lids are sooooo last season.
Advertisement