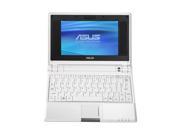 The ASUS Eee PC 4G is now available at NewEgg for $399. Weighing in at just two pounds, the ASUS Eee PC is the most affordable ultraportable notebook series available.
The ASUS Eee PC weighs just two pounds and features a durable 7-inch Wide VGA display (800×480 pixels).
The ASUS Eee PC 4G runs on Linux and offers a simple user interface option for those just learning how to use a computer. ASUS bundles 40 applications with the ASUS Eee PC including productivity software, an email client, a web browser and Skype. Users can also install Windows XP, but performance will take a hit since it is more resource intensive.
The Eee PC 4G includes 512MB of memory and 4GB of flash memory instead of a hard drive. The lack of a hard drive helps make the Eee PC shock resistant, cheaper and smaller. There is a built-in memory card reader to expand your memory, or you can hook up an external drive to one of the Eee PC's two USB ports. It includes an 802.11g wireless card to get online.
The ASUS isn't for everyone, but it's a great low cost option for those who just want to do the basics on a budget. This would make a great second computer for many households.
Brad from the Download Squad got his hands on an Eee PC had shot this great video walkthrough of its interface.
Product Page

Advertisement