Microsoft released the first major update in a few years when they released Windows 10. A new release is the time when a lot of PC owners choose to upgrade to a new system. Gamers may want to take the opportunity to get one of these great Windows 10 PCs for gamers. These systems should handle the latest games available today.
The first five come with Windows 10 pre-installed. The last two will ship with Windows 8.1, but the user can upgrade to Windows 10 quite easily. This makes these systems great for streaming XBOX games, thanks to the new features that Windows 10 brings with the upgrade.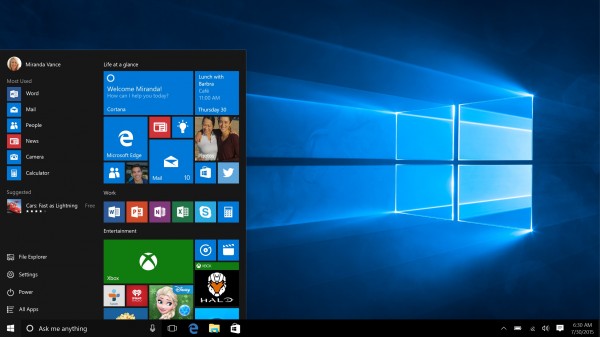 Many of these systems start at about $2,000 or higher. That's a lot of money, but these computers will run powerful games and processor intensive professional applications for a few years. Even after they no longer handle those games or programs, these computers will work great as powerful entertainment systems that the gamer can sell or hand down to someone who's doesn't need to run that kind of software.
MAINGEAR Pulse 15
This slideshow requires JavaScript.
Gamers can enjoy more portability with a 15-inch machine like the MAINGEAR Pulse 15. It's a thin sub 4lb notebook with a fast Intel Core i7 processor. The Ultra HD 4K display is powered by an NVIDA GeForce GTX 970M GPU. This will power any game at 1080p and can even play some games at higher resolutions.
The Intel Core i7 4710MQ quad-core processor operates at 3.5GHz. It's not the 5th generation that many computers ship with today, but even a 4th gen Intel Core i7 will run amazingly fast. Games, 3D design work, complex engineering and high-end video editing will run smoothly on this system..
The machine also looks beautiful on the outside. The 8 lid colors look like the paint you'd find on a sports car with the MAINGEAR logo in the center. The bezel and area around the full-size keyboard with number pad is black. The keyboard back lighting will match the paint color. The Sound Blaster Cinema Audio will help users enjoy games and movies with some of the best audio available in a laptop.
Some of the other powerful gaming specs include the following:
E2200 Ethernet
Dual independent fans on the CPU and GPU
Dual 256GB eSATA SSDs in RAID 0 which makes for blazing fast read/write speeds
1 TB traditional optical drive to store data and backup the main drives.
802.11ac Wi-Fi and Bluetooth
1080p Webcam
The MAINGEAR Pulse 15 starts at $2,199.
MSI GT72 DOMINATOR PRO G (GTX 980M)
MSI puts a fifth generation Intel Core i7-5700HQ 2.7GHz processor in the black aluminum MSI GT72 DOMINATOR PRO G (GTX 980M) gaming notebook for the latest in speed, power and battery life. Add the NVIDIA GTX 980M processor with 32GB of DDRL video memory and this system includes all the power one needs to enjoy today's latest games plus powerful professional software for video editing, engineering and design.
The system's 17.3-inch display with NVIDIA G-SYNC technology will handle the video part of video games beautifully. It also includes Nahimic virtual surround sound for an immersive gaming experience thanks also to the Dynaudio Speakers and Subwoofer
The SteelSeries gaming keyboard should do better than the typical chiclet/island style keyboard on most laptops today. The full number pad can work to handle gaming controls.
This slideshow requires JavaScript.
MSI adds some nice color accents to give the external design a cool look to this desktop replacement. It weighs a huge 8.4lbs and measures 16.85×11.57×1.89 inches.
This system also configure storage with 2 SSDs in RAID 0 for faster performance. MSI claims a 4x speed boost thanks to the RAID 0 configuration.
Some other specs include:
1920×1080 full HD eDP non reflective display
16GB of memory
Optical DVD burner
E2200 Ethernet
N1525 Wi-Fi with 802.11ac support
1080p webcam
SD card reader
2 USB 3.1 ports, 4 USB 3.0 ports
HDMI output, headphone/mic jack
This powerful system will start at $2,199.99.
THE NEW RAZER BLADE – QHD (128)
Razer's long been a gaming company making some of the coolest and best gaming accessories. They also do nice powerful gaming laptops. THE NEW RAZER BLADE – QHD (128) gaming computer starts at $2,199.99 and comes with a coupon for Metal Gear Solid V: The Phantom Pain for free with a purchase.
This slideshow requires JavaScript.
Here's what the buyer gets in this cool looking machine with green accents and a green backlighting under the keyboard. It's powered by an Intel Core i7 quad-core processor. There's also an NVIDIA GeForce GTX 970M that lights up the 3200×1800 QHD+ display. The screen's a touchscreen, which makes using Windows 10 more enjoyable.
The system comes in a 14-inch screen size for greater portability. It's our smallest notebook in the roundup.
Two things boost the speed on this gaming laptop. First games can take advantage of 16GB of 1600MHz DDR3L memory. Second, a fast SSD in the system with configurations up to 512GB.
Razer carefully designed the system to dissipate heat in this smallish system. The system moves the air over the graphics processor and kicks it out the back to protect the computer.
The company's proud of what they call IGZO display technology that they promise produces "unmatched color and image quality." The IGZO stands for Indium Gallium Zinc Oxide. It all means that the designers care about screen quality and users will enjoy the results. We get a bright screen with a wider than normal viewing angle.
Because the machine's only a 14-inch laptop, we don't get a full size keyboard with a dedicated number pad. It is nicely backlit and Razer says they designed it to reject accidental touches for more accurate controls and typing.
Here's a list of some of the other key specs:
Option of 3200×1800 or 1920×1080 displays
3GB of DDR3L VRAM in the GeForce 970M video processor
Intel Core i7-4720HQ quad-core processor with 2.6GHz or 3.6GHz processors
8 or 16GB of Memory
128 GB SSD with up to 512 possible
Intel Wireless AC 7260HMW 802.11ac Wi-Fi and Bluetooth 4.0
3 USB 3.0 ports, 1 HDMI, 1 headphone/mic port
Dolby Digital sound
2MP webcam
Kensington Lock
4.7lbs or 4.19lbs depending on configuration
13.6×17.9×9.3 inch size
Origin PC New EON15-S
Origin PC's creative designs set this gaming machine apart. Most of these come in the same black chassis with colored accents, but Origin PC lets users add some colorful flare to the lid of their Origin PC New EON15-S in multiple designs. See the slide show below:
This slideshow requires JavaScript.
The Origin PC EON15-S doesn't weigh more than our heaviest computers in this roundup, but it is over 5 pounds.
The 15.6-inch matte display comes with full 1080p resolution powered by NVIDIA GeForce GTX 980M 4GB GDDR5.
An Intel Core i7-4720HQ Quad-Core 2.60GHz (3.60GHz TurboBoost) processor powers this high-end gaming system. Add in 8, 16 or 32GB of memory running at various speeds to make for a screaming fast system.
Another differentiation with the EON15-S comes in the storage. Go for 120 to 500GB of SSD storage or an even faster 120GB to 480GB PCIe m.2 flash storage. PCIe reads and writes even faster than typical SSD storage. They also offer an option for running a second SSD or mechanical hard drives. Buyers can configure their system with more than dozen options for slower mechanical storage to slightly faster hybrid flash/optical storage or pick an SSD.
Origin includes multiple sound options as well. There are integrated Sound Blaster branded audio processors.
Check out these other specs:
802.11 b/g/n or ac Wi-Fi
1 USB 3.0
SD card reader, finger print reader
2MP webcam
Recovery Flash Drive included
15.1×10.6×1.1 inch dimensions and 5.5lbs
Origin PC specializes in a highly customizable ordering experience. Without any of the extras and with only the cheapest options the EON15-S will cost $1,855.
CyberPowerPC XPLORER XTREME X5 G-SYNC
CyberPowerPC makes the CyberPower XPLORER XTREME X5 G-SYNC gaming laptop with options between an Intel Core i5 or i7 processor, 8-32 GB of memory and either a GeForce GTX 970M or 980M video processor with 6 or 8GB of VRAM, respectively. That makes this either one of the least powerful or one of the most powerful systems, depending on what the buyer chooses when they configure their system.
This slideshow requires JavaScript.
This system also comes with Metal Gear Solid V: The Phanton Pain Game when a gamer buys direct. There's also a game bundle of SMITE, Counter-Strike: Global Defense, FINAL FANTASY XIV and MAGIX Fastcut.
Other options include 120 to 240GB SSD in single drive configuration or get two storage drives with mechanical hard drives as an option for the second drive with 500 to 1TB of storage running at either 5400rpm or 7200 rpm.
Want to check out the other specs? Here they are:
802.11ac Wi-Fi plus Bluetooth with an option for Killer N1525 Wi-Fi or Intel 7260NGW Wi-Fi for a little more
Internal Sound Blaster X-Fi MB3 or external sound options from Sound Blaster that won't suffer internal interference
This system starts at $1,749, making it one of the least expensive systems in the roundup and the cheapest system that ships with Windows 10.
Alienware 13 by Dell
We end with two more machines for a kind of honorable mention. They don't ship with Windows 10, but the two companies promise free and easy Windows 10 updates from Windows 8.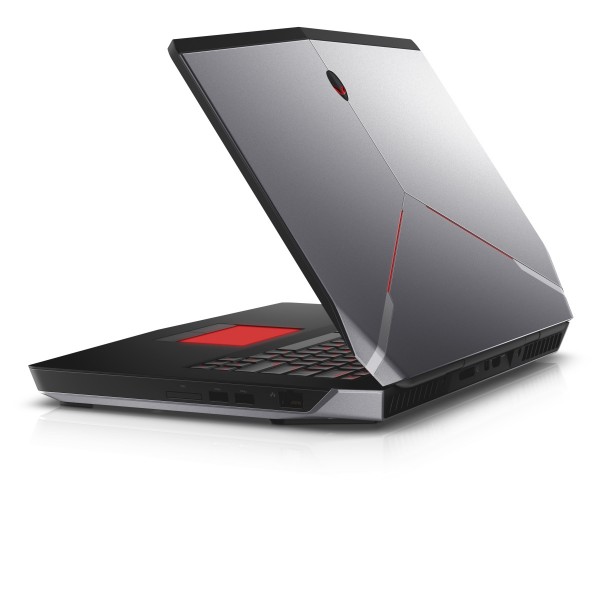 Alienware, synonymous with gaming in the PC market, promises an easy upgrade to Windows 10 from Windows 8.1. One of those machines, the Alienware 13 by Dell, will start at $899.99 going up to nearly double that once it is decked out with all the bells and whistles.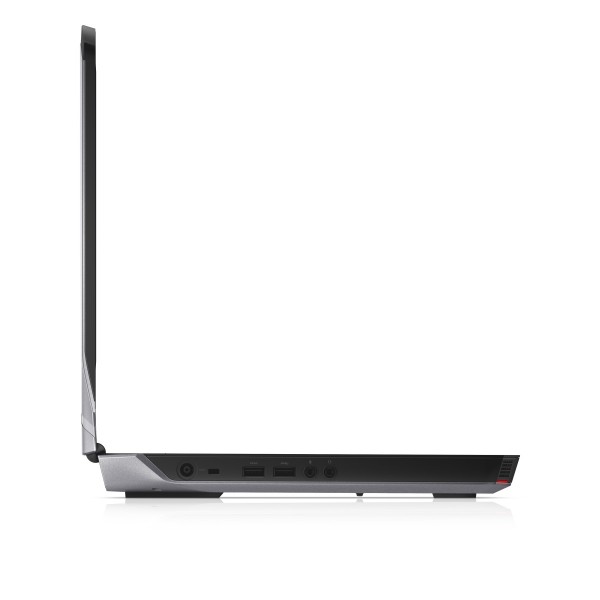 The machine looks great, with the familiar Alienware logo on the lid and attractive red trim in a Mercedes-shaped design on the lid. The backlighting colors match the lid colors as does the trackpad.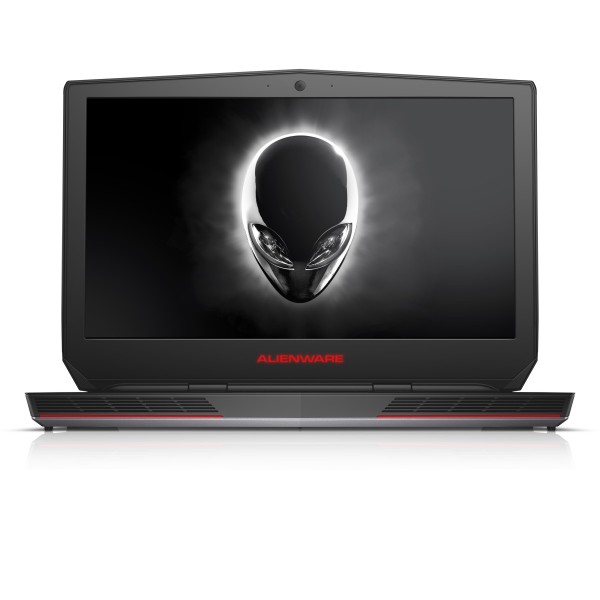 Start with a 13-inch 1366×768 display powered by NVIDIA's GeForce 960M processor and add a 5th gen Intel i5-5200U processor. Bump up the processor and resolution for a higher end model costing $1,449.99 and up. That's a quad-HD display and an Intel Core i7-55ooU processor.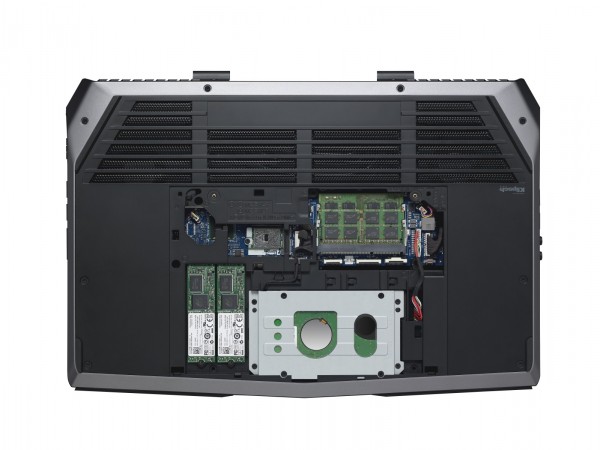 The machines come in 4GB, 8GB and 16GB memory configurations.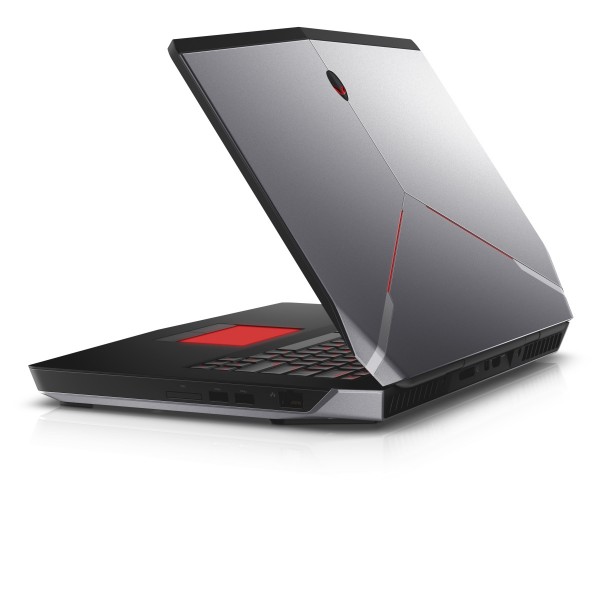 Alenware also offers what they call a Graphics Amplifier. It's essentially a docking station with 4 USB 3.0 ports and another dedicated desktop graphics card for connecting multiple external monitors. They'll configure it with different graphics cards starting with a PNY XLR8 GeForce GTX 960 with 2GB of GDDR3 RAM for $200. The high-end of the spectrum includes a PNY GeForce GTX Titan X with 12GB GDDR5 for $1,000.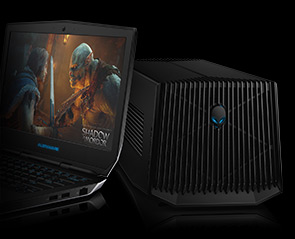 ASUS Republic of Gamers Notebooks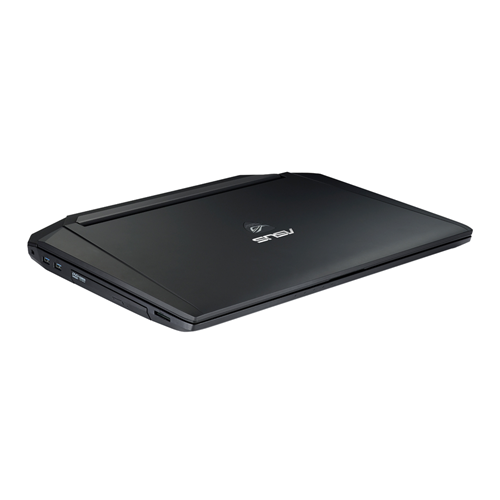 ASUS sells gaming notebooks in the Republic of Gamers line with plenty of power. Like Dell's Alienware, they will ship initially with Windows 8.1 but users can easily upgrade to Windows 10 free.
ASUS sells ROG gaming notebooks with 14, 15 or 17 inch sizes. Take a close look at the ASUS ROG G750JW features a 17.3-inch display with a 1600 x 900 resolution and a 4th gen Intel Core i7-4700HQ processor. The NVIDIA GeForce® GTX 765M GPU powers this large screen desktop replacement.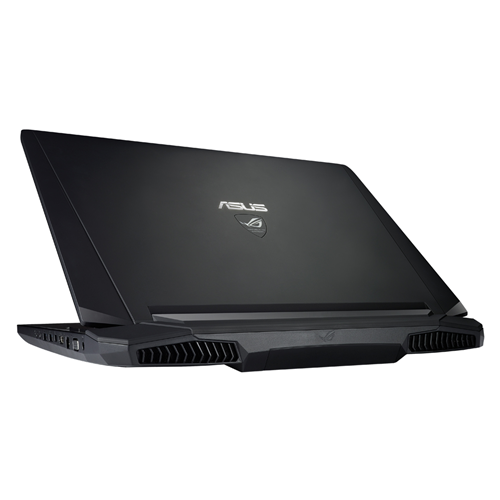 Configure yours with up to 32GB of memory and up to 1TB of storage.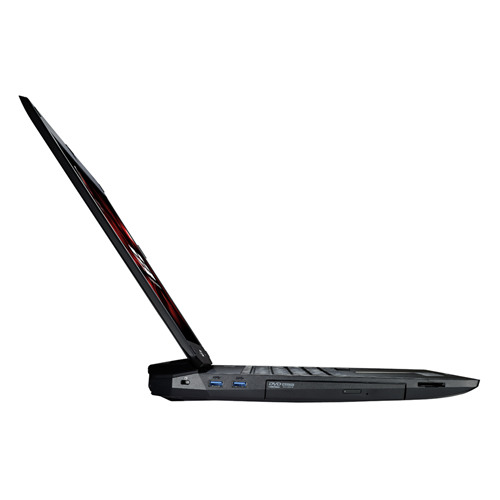 Get the detailed specs at ASUS.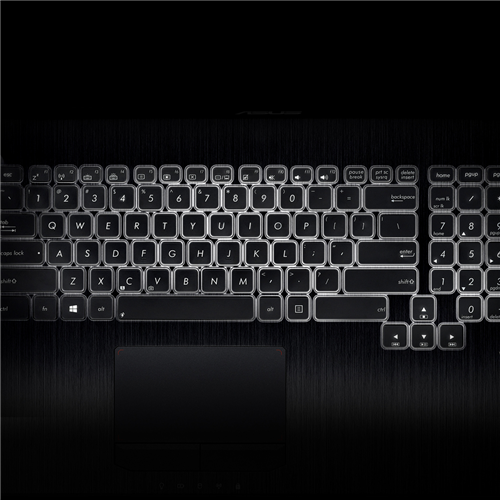 Advertisement