The HP EliteBook Folio 1020 is a business ultrabook that looks good enough to compete with the style of the MacBook Air, is thin and light enough to go wherever your busy life takes you and the beautiful touch screen is an added bonus.
A new touchpad definitely takes some getting used to and there is not a lot of power under the hood, but for many mobile professionals this is a perfect mix of form and function. At $1,249 to $1,649 this isn't a cheap notebook, but HP delivers value and options to meet the needs of business users.
Business essential features like a fingerprint reader and a durable design tested to withstand a four-foot drop place solidify the value that HP brings to the table. Although the battery life is less than the competing MacBook Air and the Dell XPS 13, it is still a respectable 7 hours.
The HP EliteBook Folio 1020 is a business notebook, but it is easy to confuse it with a sleek and stylish consumer notebook. As users blur the lines of where and when work takes place, there is a place or a beautiful business ultrabook and the HP EliteBook Folio 1020 is an essential option.
Design
Design is a major component of business notebooks in 2015 and HP doesn't disappoint with an aluminum magnesium alloy that pairs with carbon fiber to deliver a tough, but light body for the EliteBook Folio 1020.
After switching between the MacBook Air and the EliteBook Folio 1020 I certainly appreciate the premium feel of the materials. Looks are great, but the tactile feel of skin against the soft touch alloy for long sessions is where the EliteBook Folio 1020 really wins out over the competition. The HP EliteBook Folio 1020 is 2.2 pounds and 15.7mm thick, which means it is easy to grab and go or to toss in a bag and forget you are carrying it with you all day.
The Carbon Fiber base does flex some under pressure, but this is only a minor issue. HP designed the notebook to meet MIL-STD 810G ratings for dust, shock, vibration and four-foot drops — like from a conference table to the floor.
HP includes a fingerprint reader on the palmrest for security. There are two USB 3.0 ports, a Micro SD card reader, full size HDMI port and a docking connection. It would be nice to see a full size SD card port in the notebook, even at the expense of one of the current options.
Display
The 12.5-inch Quad HD display on our HP EliteBook Folio 1020 review unit is easy to look at for hours of work. This is a reflective display, so you will see some reflections in it, but there is an anti-glare coating that helps tone this down some.
An optional touch screen on this model performs well and I continually find myself switching between using the screen and the touchpad, depending on the activity. Although fairly bright at max settings, there are times when I wish that the display could turn up just a little more. Colors look on point while taking a break to watch a movie.
Keyboard and Touchpad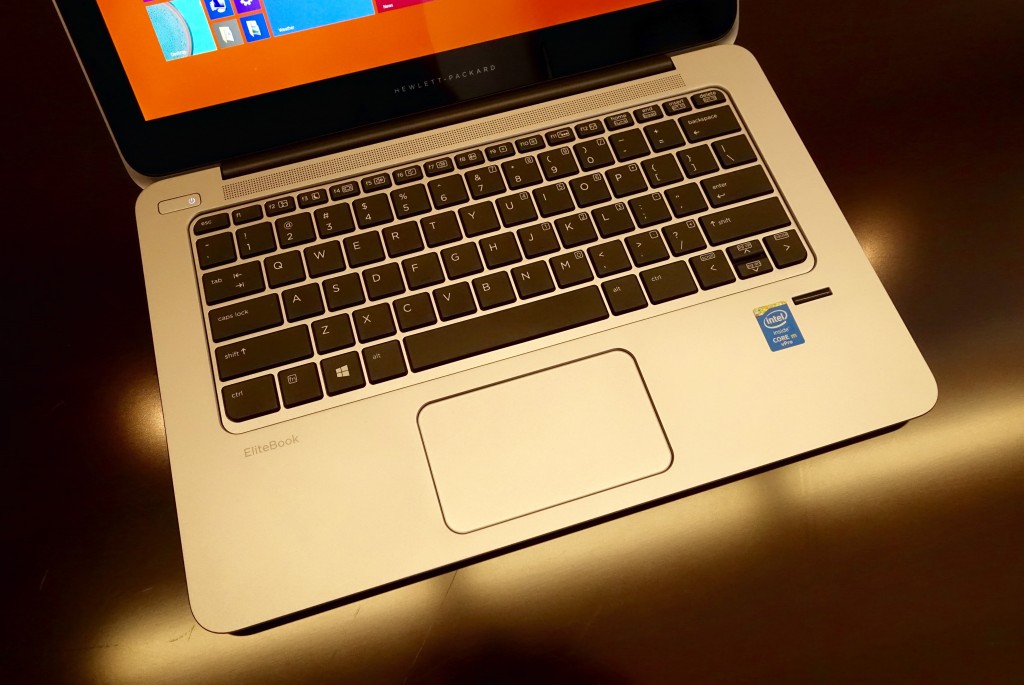 The second you type a sentence on the HP EliteBook Folio 1020 you'll realize that there is something special about this keyboard. Black island style keys with a matte finish sit perfectly spaced on the notebook. These keys deliver great feedback and push back enough to quickly move to the next key. The travel is good for a notebook, and it is one of the highlights of using the 1020. The backlit keys are easy to see and this is a spill-resistant keyboard, so it can survive hectic work situations where coffee and water are always nearby.
It takes a while to adjust to the new no click touchpad. Instead of a physical button or a physical click, when you place enough pressure on the touchpad it makes an audible click and performs the click. After a week of use this becomes almost second nature and it is one of the better touchpad experiences on a Windows notebook.
Performance & Battery Life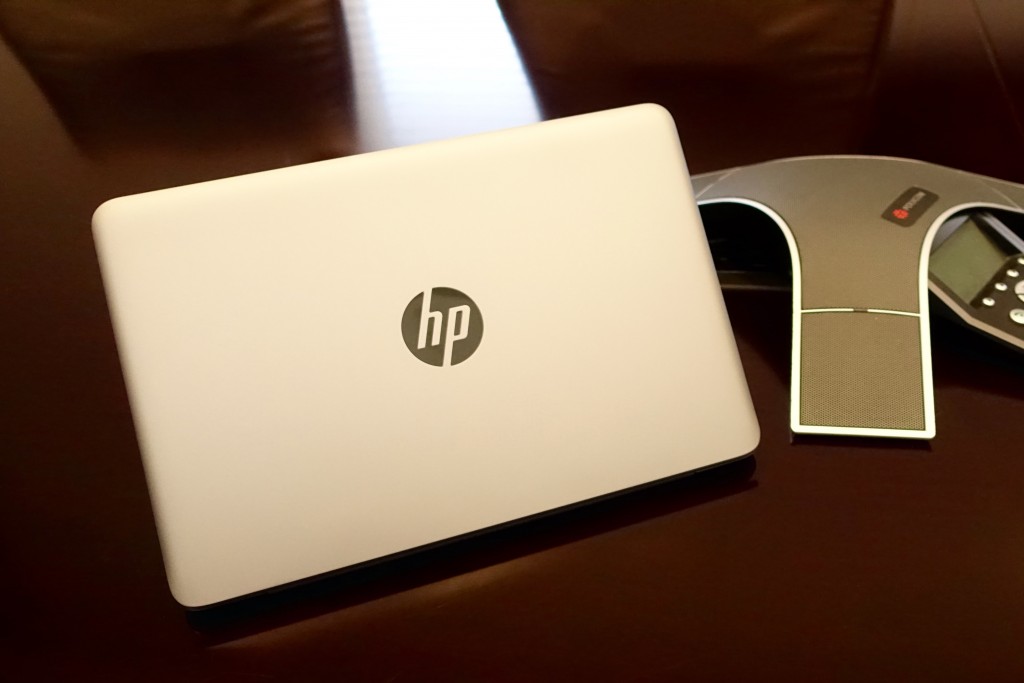 The Intel Core M processor in the HP EliteBook Folio 1020 isn't as powerful as a traditional Intel Core i processor. By using this processor there is no need for a fan in the notebook. While the right bottom of the notebook does get warm, it is not too hot to use on a lap for long periods. For mobile professionals who don't need to run photo and video editing applications or demanding software the lower powered chip shouldn't make a difference in day-to-day use. While using over a dozen tabs in Google Chrome, the HP EliteBook Folio 1020 kept pace without any slowdowns.
HP claims the EliteBook Folio 1020 is capable of 9 hours of battery life, but in real world use this is more like 7 hours. This means that it will not last all-day.For many users this is long enough, but it is below the MacBook Air and Dell XPS 13.
The EliteBook Folio 1020 delivers decent audio performance with a speaker opening right below the display that sends the audio right to the user instead of blasting it into a lap or a desk. HP includes a DTS Audio app that owners can use to tweak the sound for an improved listening experience.
Is the HP EliteBook Folio 1020 Worth Buying?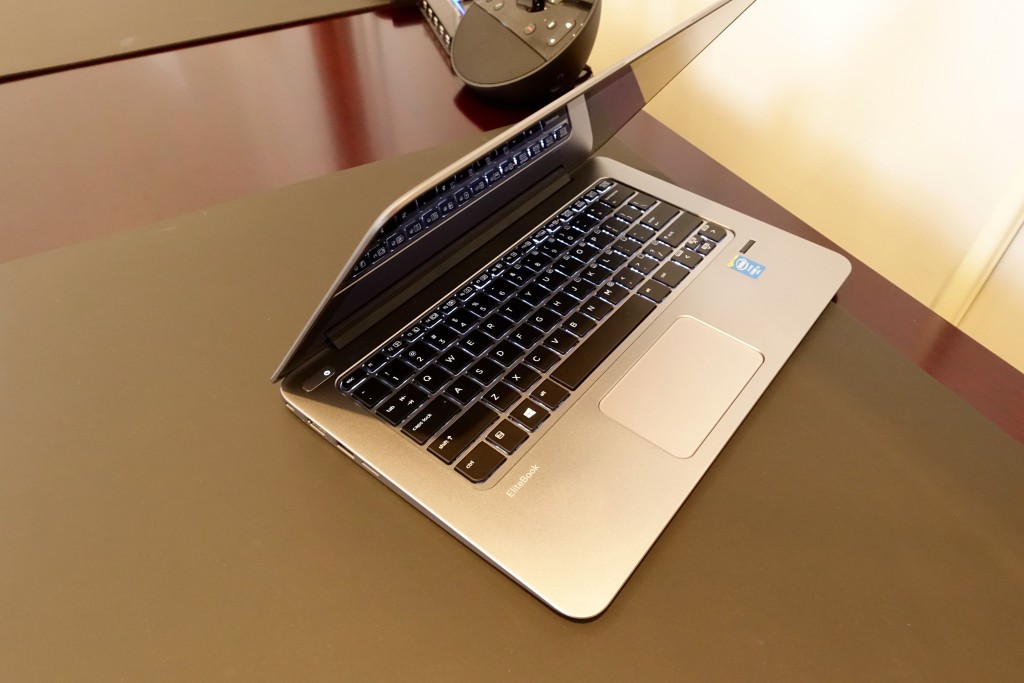 The HP EliteBook Folio 1020 is an incredibly capable business notebook that is thin, light and looks great. The price isn't a factor that buyers can overlook, but the premium design, ability to withstand small drops and performance that will meet the needs of professional users justifies a higher price.
It would be nice to see a full size SD card, slightly brighter battery life and all day battery life, but even with these shortcomings the EliteBook 1020 is a business notebook that warrants attention.
Advertisement