AMD sent over an HP Pavilion dv2 for us to evaluate and I wanted to share some photos of it and my first thoughts. The HP Pavilion dv2 fits somewhere between a premium ultraportable and a netbook, sharing some characteristics of each.
Netbooks are all the rage these days, but they're not for everyone. While they are incredibly affordable and portable, many shoppers are turned off by their small displays, small keyboards and poor graphics performance. The HP Pavilion dv2 resolves those concerns, but there are some trade-offs. HP is selling the first configuration of the dv2 for $749.99.  More versions will be available starting in June.
The Pavilion dv2 is the first notebook that's based on AMD's Yukon platform, which combines an Athalon Neo processor with ATI Mobility Radeon HD3410 graphics. The result is a computer that can be used to watch high-definition video and handle some 3D games.
An external Blu-ray disc drive came in the box. There's an HDMI port on the left side of the dv2 so you can enjoy your Blu-ray discs on your external monitor or HDTV. I watched part of Slumdog Millionaire on my 25″ monitor, but the dv2 really needs all of its resources to playback 1080p content. I watched part of Slumdog Millionaire on the dv2 and it played back smoothly on the built-in display with no other apps running. But video playback stuttered when I launched Internet Explorer and whenever I loaded a new page.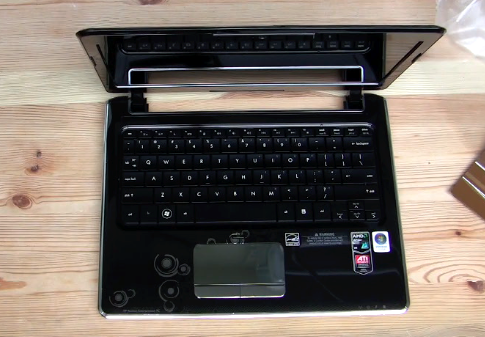 The dv2 weighs less than four pounds and is very thin. The display is especially thin, but surprisingly sturdy since HP opted for a magnesium-alloy lid. The black finish is sleek, but it's a fingerprint magnet.
HP's managed to build an affordable ultraportable  that looks clean and classy. Some of the 12″ netbooks and ultraportables in the dv2's price range don't have the same level of design sophistication. The black and metallic finish looks nice next to my iPhone.
The dv2 I received came with two batteries. Both share the same plastic case, but one's a 41Wh 4-cell battery, while the other is a 55Wh 6-cell battery. The dv2 gets less than three hours of runtime with default settings, so it's a good idea to pick up a spare battery if it's in your budget.
The dv2 I'm using came with a mobile broadband modem, which can be used with either Verizon's or AT&T's 3G service. The SIM card is located at the back of the dv2, just beneath the battery.
The Pavilion dv2 I received came with the following specs:
AMD Athalon Neo processor for Ultrathin Notebooks MV40 (1.6GHz, 512k L2 Cache)
2 GB of RAM (1 dimm)
Blu-ray ROM, with DVD R/W
12.1″ WXGA LED Display
ATI Mobility Radeon HD3410 graphics w/512MB of dedicated graphics memory
802.11n
Bluetooth
5-in-1 memory card reader
Wireless Broadband (WWAN)
Advertisement