PCs running Microsoft's Windows operating system are all on the cusp of becoming the ultimate place to watch entire NFL football games when the season starts again later this year. Called NFL GamePass, a new subscription service will let users watch their favorite teams using the web — without having to pay for a cable subscription or navigate different roadblocks.
The National Football League unveiled NFL GamePass this week with a new website stuffed full of details. As a whole, the service is designed to give fans what they've always wanted: a cable free way to watch football games of all kinds. With NFL GamePass there are no separate services reserved for just playoffs matchups, for example.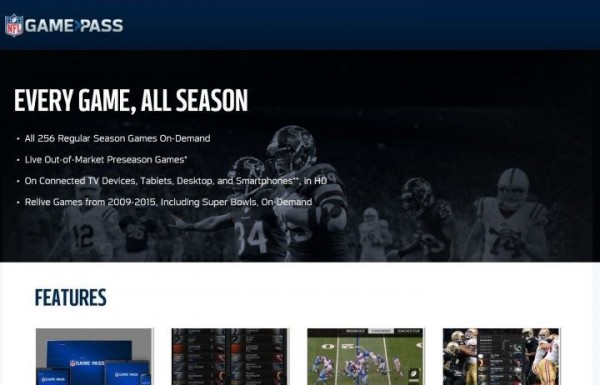 The new website doesn't reveal the NFL GamePass price just yet, but does offer pretty extensive feature breakdown.
In what's a big change for the NFL, NFL GamePass is a united presence on multiple devices. Forget different apps with different names and different offerings on different devices. The NFL Mobile app will act as home base for all things NFL. NFL GamePass will come to the app as an upgrade. NFL Mobile is already available on the iPhone, iPad, devices running Google's Android operating system. NFL Mobile has a successful and well received app in Microsoft's Windows Store too. The Windows Store is available to all notebooks, desktops and tablets running Windows 8 and Windows 10. GamePass is also coming to the Xbox One, Xbox 360 and Apple TV. There really won't be any excuse for not having a device that supports the service.
NFL GamePass will have every single regular season game played by the NFL's teams. Users will be able to watch their favorite teams on-demand with ease. Besides the games themselves, NFL GamePass throws in live access to pre-season football games that are taking place somewhere else. For example, users living in Buffalo wouldn't be able to watch the Bills play a pre-season game live through the app since that's where they're based.
For users who watch through the app there are some perks, NFL GamePass will offer on on-demand, commercial free streams to relive the magic. That means no commercial breaks every 10 or fifteen minutes. Full playback controls like you'd have on a DVR are present. Stats can be disabled so that users don't get the final score of their game ruin by statistics charts. 30 minute highlight reels are available for those who find themselves in need of a quick breakdown.
Also present in the NFL GamePass archive is an extensive catalog of every football game played since 1999. Last year's Super Bowl and coach film that lets users at home analyze their favorite teams are also available.
NFL GamePass' best feature is one that we can only guess will be hugely popular with fans. Super Bowl 50 will be available through the service's on-demand offerings after it airs. Playoff games will be available on-demand too. This is why those statistics blackout options are so important. Theoretically, users are better off skipping the live games and watch when they're ready.
We're still waiting on the final NFL Game Pass price before making an ultimate determination on It. If it's priced too high the NFL could wind up still pushing users to watch games on television or skipping them entirely. If it's just right though, NFL GamePass could finally usher in a golden age for football streaming. More and more users are leaving cable behind and looking for services that are available to them anywhere. Either the NFL can embrace that and meet customers half-way or risk losing them to other sports that are better equipped for the mobile and digital age.
When the NFL plans to announce the NFL GamePass price remains a mystery, but the league will have to reveal it before pre-season games start at the latest. The 2015 NFL season kicks off on September 10th.
Advertisement