From Sellout.Woot.com, a site in our favorite deal-a-day site network, Woot, comes a nice deal on a refurbished Gateway netbook. Remember, this deal is only good until 12am central time today!
For $269 (+$5 shipping) you can grab yourself a Gateway LT3103 11.6" netbook with a 6-cell battery. Let's have a look through the important specs. Be sure to see our + or – comments after some of the specs to get a feel for the value of this deal: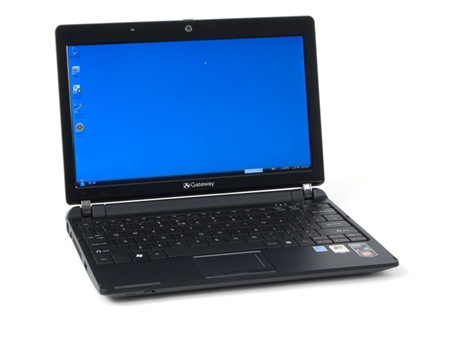 Windows Vista Home Basic ( – Vista will run slower than Windows XP or Windows 7 or this machine, upgrading or downgrading should be an option as long as drivers are available)
AMD Athlon 64 L110 CPU @ 1.2GHz
11.6" screen @ 1366×768 resolution ( + screen has above average resolution for a netbook)
ATI Radeon X1270 GPU with 256MB of HyperMemory"
2GB of DDR2 RAM ( + this is an ample amount of RAM, given the price)
250GB HDD ( + plenty of space for music and documents; this netbook likely wouldn't be ideal for high resolution video playback/storage)
WiFi B/G ( ~ doesn't support the latest WiFi N standard, but G is the widest spread standard at the moment. [ – ] Blueooth is not included in this netbook)
6-cell battery ( + this is the extended battery for this netbook and shouldn't offer twice the run-time as the 3-cell)
Multi-card reader ( + supports Memory Stick, Memory Stick Pro, MMC, SD, and xD)
If you are looking for a netbook, this could be the deal for you! Head on over to Sellout.Woot.com for additional details and photos!
Advertisement