So often we're confronted by our needs and wants in the computing space. Frequently our minds tell us that we need an expensive notebook with as much power and extras as we can get our hands on. This demand has given rise to the high-end notebook space we have today. But no matter what features we want, we also crave a good deal. Getting as many great features as you can for a great price is how you shop for a notebook the correct way.
The Lenovo ThinkPad e450 forces users to confront their inner demons. Priced at $550 for a model with no upgrades, the ThinkPad e450 aims to deliver what I see as the core ThinkPad experience without you spending a bundle – even if you want to. I'd say it definitely succeeds, as long as you're willing to compromise on weight and portability.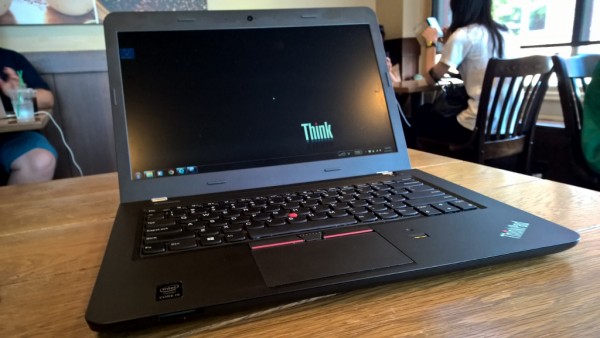 Lenovo ThinkPad e450 Review – Design
The high-end PC space is just bursting with decent alternatives to the MacBook Pro, MacBook Air and Microsoft's own Surface Pro 3. These machines are flashy, eye-catching money sinks when compared to the ThinkPad e450.
The ThinkPad line has a long and storied history in the PC space. For years, no one could touch the ThinkPad's utility. Ruggedness, drop technology, decent build quality and the best keyboard you will ever lay your fingers on still define the line today. For the ThinkPad e450 to be a success, Lenovo had to find a way to take those flourishes and bring them to a cheaper price-point.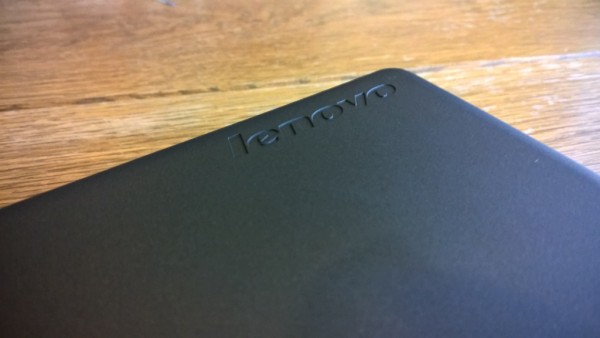 The ThinkPad 3450 has a matte hardened plastic covering its inner-components and nailing the durability that ThinkPad buyers crave. On the bottom of the machine are all the things you'd expect. Breathing slits and speaker grills line the bottom of the machine. That bottom plate hits a hard-edge holding the ThinkPad e450's connectivity ports and another set of vents to help the Intel Core processor that lives inside breathe. After you've spent a few weeks with the machine you'll get used to how the matte-plastic keyboard deck and that edge hit the bottom of your wrists as you type. Some may find it uncomfortable, but that feeling didn't last long with me.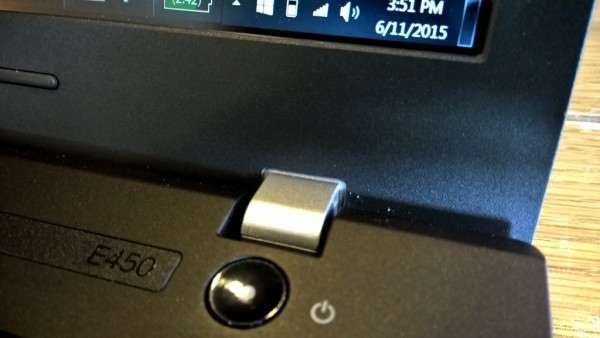 Enough nice things simply can't be said about the generous input methods that Lenovo includes in the ThinkPad line and the ThinkPad e450 is no exception. A familiar red-colored TrackPoint sits embedded in a sea of keys on the keyboard deck. Embedded below the keyboard are the buttons for controlling that TrackPoint and a one-button TrackPad so that users can skip an external mouse. There's a fingerprint reader and ThinkPad logo embedded to the right of the TrackPad too, providing a bit of added flourish to the standard ThinkPad design.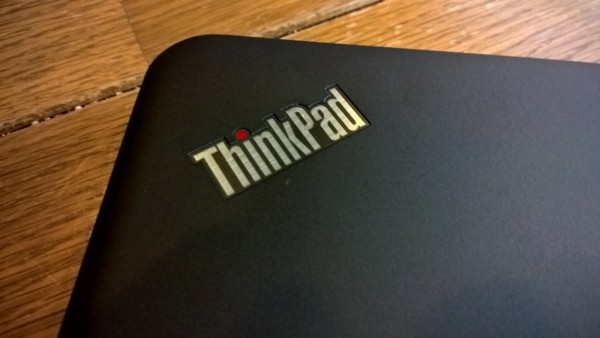 Faux metal hinges connect the keyboard deck to the lid of the ThinkPad e450.That lid holds an 14-inch 720p or 1080p display with no gloss to speak of and a standard front-facing web camera. Design-wise, Lenovo comes pretty close to nailing the durable high-end ThinkPad design. The ThinkPad e450's cheap looking painted plastic hinges, 4 pound body and 0.94-inch thick chassis are its only issues. There's nothing here that stands out in the way of bad design – provided those hinges don't weaken severely over time or crack. The ThinkPad e450 is utilitarian, but that's what you want in a board room.
ThinkPad e450 Review –  Internals
Options are aplenty for those ordering the ThinkPad e450 from Lenovo's online store. The notebook can be equipped with an Intel Core i7 processor, discrete AMD Radeon R7 graphics card, 16GB of RAM and 1TB of storage. Of course, adding those options costs extra, particularly when we're talking about the upgraded 1080p display that our model came with.
Regardless of configuration, each ThinkPad e450 has what should be considered industry standard expandability at this point. Two USB 3.0 ports, 1 USB  2.0 port to charge smartphones and tablets, a network jack, media card reader, and standard HDMI port. Lenovo has also built-in support for Bluetooth 4.0 and 802.11AC, the latest and wireless networking and connectivity standards. Those are great to have as 802.11AC users are seeing faster page loading speeds and better reception when paired with a decent router that also has the technology. A tiny pin-prick of a web camera sits overtop the display.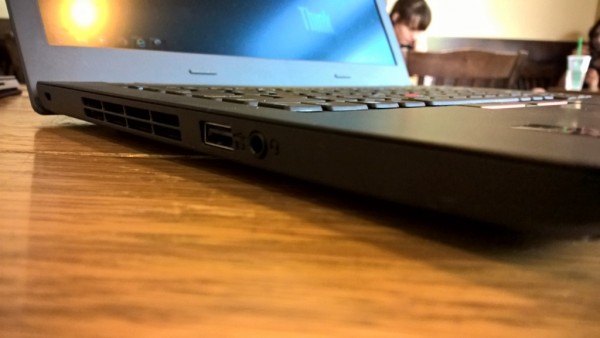 All of these ports are smartly laid out across three of the four edges on the ThinkPad e450. Again, there's nothing to complain about here, they're not grouped in a way that'll force you to buy extension cables or dongles. Lenovo is hoping that users will purchase one of their OneLink docks to connect in the power port slot though. OneLink lets users keep their favorite extras plugged into a separate dock.  Users connect and disconnect from all the things they use at the office without much hassle using just one cable that runs to the ThinkPad e450.
The hardware inside the ThinkPad e450 performed admirably. Opening a web browser or looking at my email worked just fine, which should happen for everyone since there's a basic Intel Core i3 powering even the entry-level model.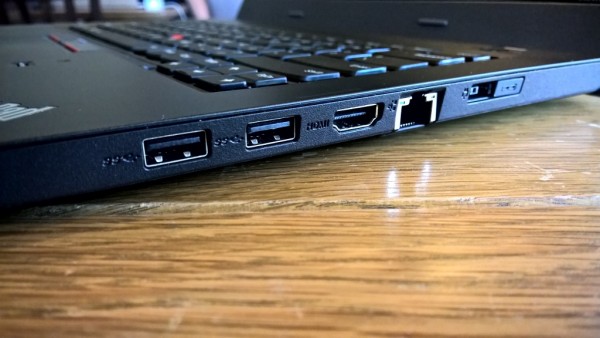 I can't say that I'm a fan of the completely matte display included in this model; colors just didn't seem to pop as much as I'd like. I also found myself pretty annoyed with the ThinkPad e450's fan.  The notebook was never in any danger of overheating, yet it seemed the fan never stopped. Hard drive noise isn't a big deal, but you feel the presence of that drive when you're doing every day tasks. Launching immersive games and heavy programs like Photoshop lead to more fan noise, but that is to be expected; the base model comes with Intel HD 5500 integrated graphics. That means the notebook heavily relies on the processor during those tasks, making more cooling a necessity. Outside of demanding apps I wish the machine was just a bit quieter.
Moving files was slow, booting the machine was definitely slower than on notebook with quieter solid state drives. If you've never used a computer with a solid state drive or need the extra storage anyway, it's safe to ignore these complaints. Just know that purchasing anything with an SSD instead of a standard hard drive means files move faster, programs may open faster and your device certainly starts up faster. If you can spring for the 128GB SSD hard drive upgrade, please do.
Lenovo ThinkPad e450 Review – Experience
Lenovo says to expect as much 9 hours of productivity from the 6 cell battery included in the ThinkPad e450. I consistently reached around 8 hours of use before needing to find a plug. It was enough to get me through an entire day's worth of Microsoft Office, web browsing, sending emails. Naturally, the game of Star Trek Online that I played during my lunch breaks cut that heavily some days.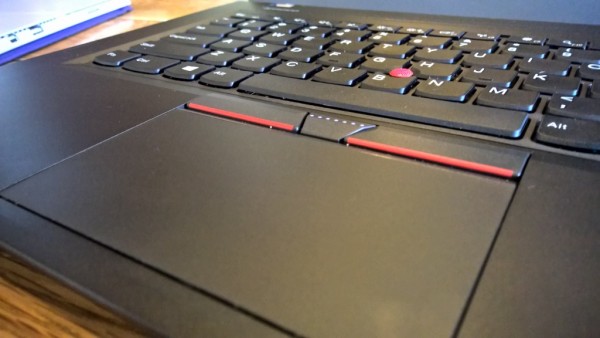 The ThinkPad e450 keyboard is excellent. No keys are positioned in strange places and every tap and press feels so right. There's no backlighting on these keys though, which is something we're used to seeing in the ThinkPad line. Turning down the sensitivity on the TrackPad was the only way to solve some very specific palm detection issues I had with the ThinkPad e450, which will drive you bonkers early on.
It's definitely worth noting how relatively light-handed Lenovo is with the add-on software it includes in the ThinkPad e450. Besides utilities for battery tracking and the fingerprint reader there's little extra stuff to remove from the system out of the box. Norton continues to be a huge nag, but that's easily solved with a few button presses. Fresh from the factory, Lenovo installs Microsoft's Windows 8.1 operating system on ThinkPad e450. Users can then exercise downgrade rights to get Microsoft's Windows 7 Professional operating system. Upgrading to Microsoft's Windows 10 operating system when it arrives late in July for free seems like a better way to solve the same problem, but that's a choice each user has to make on their own. It's nice that the ThinkPad e450 gives them that option.
Read: 36 Epic Windows 10 Features to Upgrade For
Lenovo ThinkPad e450 Review – Conclusion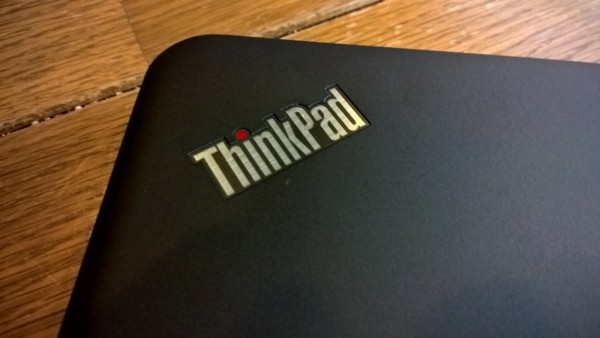 The ThinkPad line has earned fans due to its great build quality, nice keyboards and durability. If those are the standards we're judging the ThinkPad e450 by, it's a decent buy.
The keyboard is terrific and battery life is acceptable. I'd have liked to see a default solid state drive in this machine for better performance and a little less noise, but I can understand that business users will value storage above all else. There are no deal-breakers here, I just wish the ThinkPad e450 was a little quieter and a bit thinner.
Advertisement