The Chromebook developed into an attractive and diversified platform over the past year. Toshiba joined the market, first with the Toshiba Chromebook and now with the Toshiba Chromebook 2 . The company updated their first Chromebook, fixing some of the computer's problems. We wanted to like the first one because of how it looked, but couldn't recommend it due to some shoddy hardware that made it feel cheaper than it cost. Toshiba's second attempt succeeded and now the Toshiba Chromebook 2 offers one of the best of the slightly larger 13-14 inch Chromebooks available.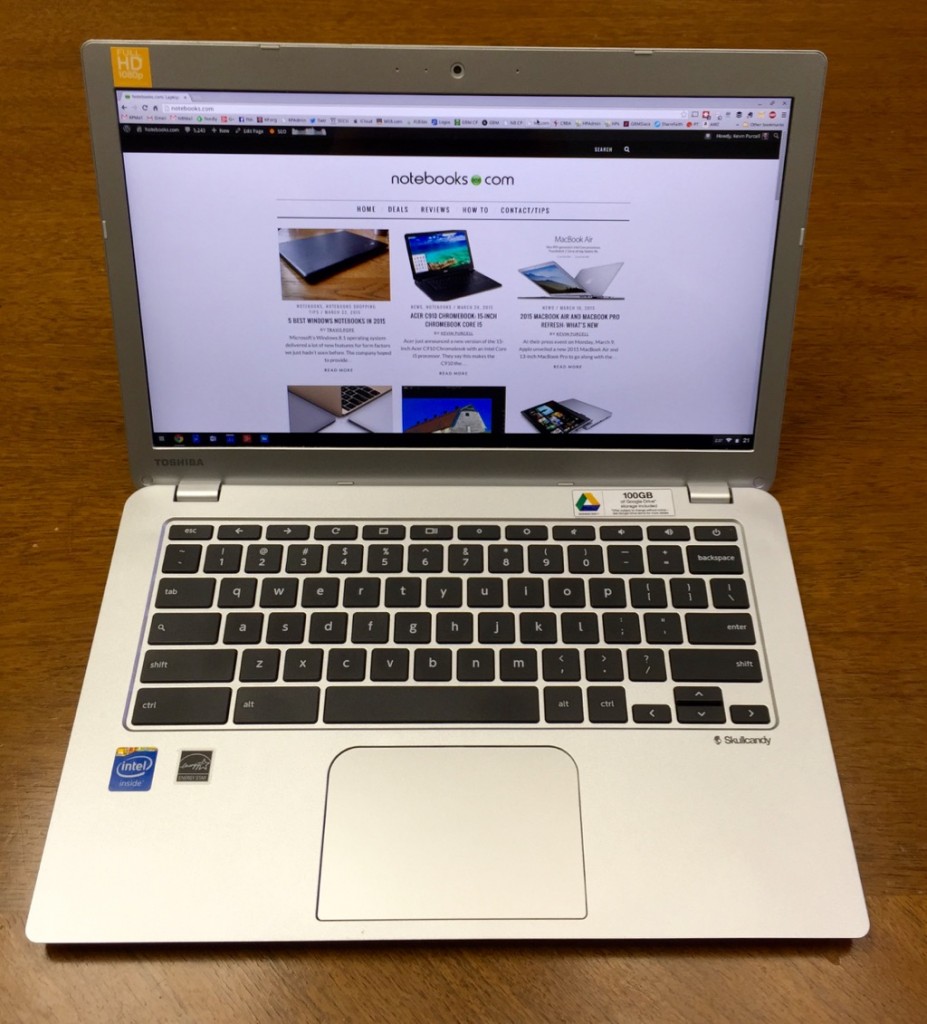 This machine officially gets labelled Toshiba CB35-B3340 Chromebook 2. Buyers will get some attractive specs, like a full 1080p 13.3-inch screen housed in a faux aluminum body that still looks nice. The textured finish feels good to the touch and gives this budget notebook a touch of class compared to other $330 computers.
Pros

Excellent display
Attractive design
Upgraded build quality
Good keyboard
Long battery life
Decent performance and speed

Cons

Plastic design
Too much flex in display housing
Average touchpad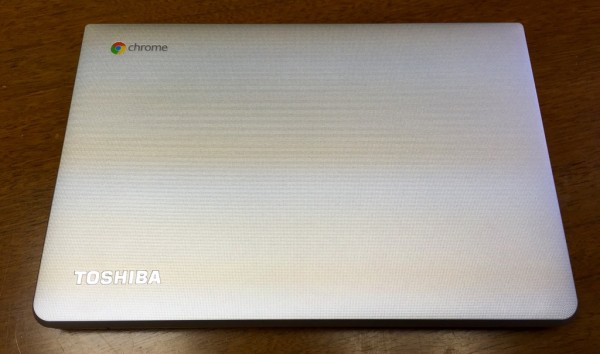 Toshiba Chromebook 2 13.3″ | $329.99 | Chromebook

The Competition
Toshiba Chromebook 2 Video Review
Who is the Toshiba Chromebook 2 for?
Toshiba made the Toshiba Chromebook 2 for consumers who need little more than a browser for simple tasks, like web browsing, email, light office document creation and some entertainment. The Toshiba Chromebook 2 fits a lifestyle of someone who lives in their Internet browser and doesn't mind using online apps to do their work and play.
To say a Chromebook is little more than browser misunderstands the platform. A Chromebook offers more than a gateway to the Internet. The Chromebook works offline thanks to the way Google designed ChromeOS. Apps like Google Docs, Sheets, Slides and even Gmail will work offline caching the person's documents and email till the next the computer connects to the Internet. However, even the most ardent ChromeOS fan admits that eventually the user must connect.
The low price of the Toshiba Chromebook 2 makes it accessible for buyers who might not want to pay more than a few hundred dollars for their computer. At around $329.99 someone can either buy a stripped down Windows computer with limited storage, RAM and processor, or they can get essentially the same hardware on a Chromebook. $330 buys one of the better Chromebooks available, but gives a Windows user one of the worst Windows notebooks for sale.
Toshiba Chromebook 2 Design
Plastic dominates the design of the Toshiba Chromebook 2. That said, it's still an attractive looking machine so long as user don't put it under a microscope. The faux aluminum looks like a textured MacBook Air from a distance. Toshiba designed it with the popular wedge shape that tapers from a slightly thicker rear edge to a thinner front edge. The bottom is white.
The display housing unfortunately warps easily. Grab hold of each top corner and you can see it twist with little force. That's a bit unnerving, but people don't often handle their notebooks this way. Close the lid and the problem mostly goes away, but not entirely. However, push on the top of the lid while closed and there's plenty of give. The Toshiba Chromebook 2 flexes more than other Chromebooks, but the give on the top is about average compared to other cheap notebook computers. It's far from a rugged PC, so schools and people who punish their laptops should look for something else.
Keyboard and Touchpad
Typing on the Toshiba Chromebook 2 feels great. It's comfortable and easy to type accurately. Keys don't feel mushy. Touch typists can spend hours composing documents without the fatigue associated with lesser keyboards.
The Toshiba includes a touchpad that's about average. Other Chromebooks include a bigger touchpad. Whether the user prefers to tap or click, the Toshiba Chromebook 2 touchpad responds perfectly every time and more of the touchpad responds than the first generation Toshiba Chromebook.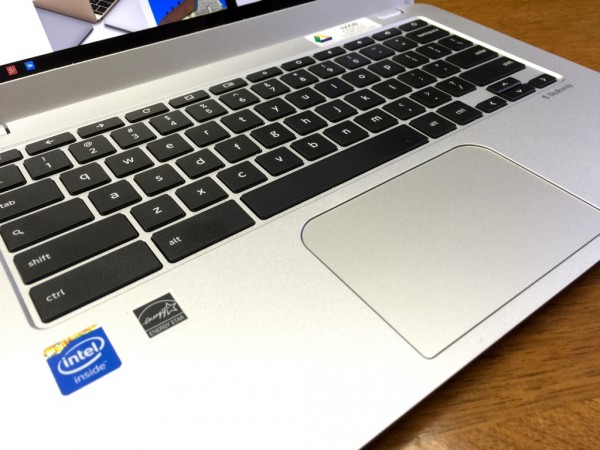 I judge a touchpad's quality by how much I want to pair my Bluetooth mouse after using the computer for an hour. After using the Toshiba for a few hours, I wanted to hook up the mouse. If someone forced me to use the computer's touchpad, I'd work with it and not hate it. However, it's not good enough to put the mouse back in the bag even if it's available.
Toshiba Chromebook 2 Ports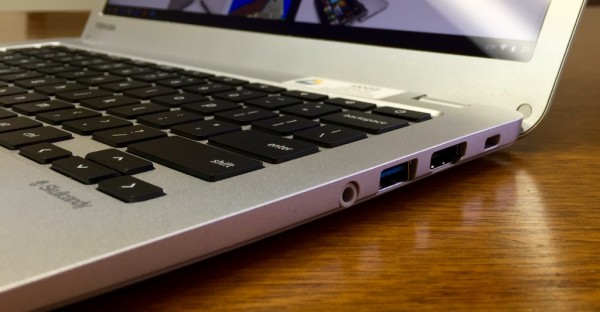 Along the right side of the Toshiba Chromebook 2 we get a headphone/mic combo port, a USB 3.0 port, an HDMI out port and the Kensington Lock (see above).
Over on the left side there's a power jack, the power indicator LED, USB 2.0 port, and an SD card slot.
Display and Sound
The bar for Chromebook display quality remains low thanks to the garbage most manufacturers put in their sub-$300 machines. Unless your Chromebook bears the name Pixel, it's probably got a dim washed out display that's not very crisp compared to the MacBook with Retina or a great Windows computers offer. The Toshiba Chromebook 2 display can't compare to those $1000 plus machines, but compared to other Chromebooks it sports one of the best displays I've seen.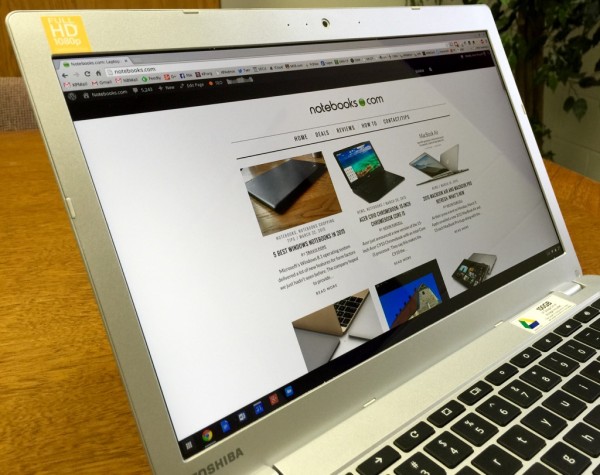 The Toshiba Chromebook 2 upgraded the earlier version with a very good 1080p 13.3-inch IPS display that's brighter than most. We get a decent viewing angle and it looks crisp enough to work with text and watch streaming video.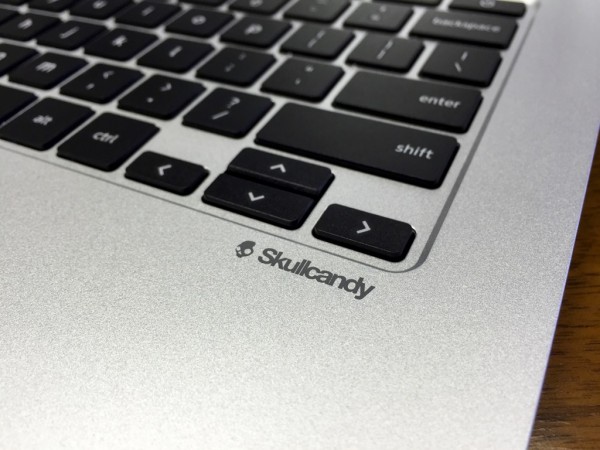 The Skullcandy tuned speakers sound decent for laptop speakers, but won't wow anyone.
Performance and Graphics
No one buys a Chromebook for hard-core gaming, serious multimedia editing or raw power. But compare this to other Chromebooks in this price range and size and Toshiba has a winner. It's fast and stable. The machine, like most Chromebooks, reboots in seconds and starts up from a complete off state just as fast.
We run the Google Octane benchmark on all Chromebooks since traditional benchmarking software doesn't work. The user has to install those programs and they don't install on ChromeOS. The Toshiba delivered an average score which means that it handles online video and image display as well as or better than half of the machines we've tested over the years. It's not as fast as the Pixel, Pixel 2 or even the original HP Chromebook 14.
Given the limitations of ChromeOS, users won't feel ashamed carrying this machine to the local ChromeOS fan club, if there is such a thing. The 4GB of RAM will handle a bunch of open tabs without slowing down.
We don't understand why manufacturers started putting the faster Intel Haswell Celeron chips in Chromebooks over a year ago, but then took a step back with slower Bay Trail chips, like the one in the Toshiba Chromebook 2. It's certainly a money-saving choice, but we wish they'd stick with Haswell chips like the Intel Celeron N2955U that the HP Chromebook 14 uses. Even better, jump up to the new Broadwell chip that's faster and more efficient that the Haswell chip. Chromebook makers took a disappointing step back and Toshiba followed the pack instead of moving forward or at least keeping pace.
Despite the slightly slower processor, this Chromebook does the job and most users will enjoy using it. If they don't, it won't happen because the Toshiba Chromebook 2 couldn't keep up.
The Toshiba Chromebook 2 lasts almost 8 hours on a single charge. It's one of the best performing batteries we've seen. Part of that comes from the lower performing processor.
The Bottom Line
The Toshiba Chromebook 2 fixed a lot of what we didn't like about the original Chromebook. It's still a decent price and comes with a great display for a Chromebook. People who want to do a lot of writing, open two window panes at once, and like 1080p video streaming, will love this machine.
Rank the Chromebooks on Amazon by customer rating and only the Acer Chromebook 11 beats it. The [amazon_link id="B00N99FXIS" target="_blank" ]Toshiba CB35-B3340 13.3-Inch Chromebook 2 (Full-HD Screen)[/amazon_link] also sells for $10 less than it does at Toshiba's online store where it costs $329.99. So save some money by getting it on Amazon for $319.
I don't mind recommending the Toshiba Chromebook 2 in spite of the slower processor and flexible display panel assembly. It's a good option for adults who will carry it in a bag or keep it next to the sofa.
Gallery
This slideshow requires JavaScript.
Specs
| | |
| --- | --- |
| OS | ChromeOS |
| Display (size/res) | 13.3-inches, 1920 x 1080 IPS display |
| CPU | Intel Celeron N2840 Baytrail Processor |
| RAM | 4GB DDR3L |
| Graphics | Integrated Intel Graphics |
| Storage | 16GB SSD |
| Optical Drive | None |
| Wireless | Wi-Fi 802.11ac; Bluetooth 4.0 |
| Ports | 1 USB 3.0, 1USB 2.0 1 HDMI, 1 SD card, headphone/mic, Kensington lock |
| Size | 12.60 x 8.40 x.76 inches |
| Weight | 2.95 pounds |
Get detailed specs from Toshiba.com.
Advertisement