The HP Envy Spectre x360, a 2-in-1 that looks more like a notebook PC, is attracting a lot of attention this week. That attention isn't just coming from those looking for a Windows PC that can become a tablet, but from design-minded users who need something both versatile and good looking for around $899.
HP, announced the Envy Spectre x360 shortly before Mobile World Congress kicked off. The new high-end notebook is carved out of aluminum, with creatively designed hinges so that its screen can flip back on its rear. HP is hoping that users will have a need for notebook that can turn into a tablet with a gorgeous 13.3-inch high-definition display and 12 hours of battery life.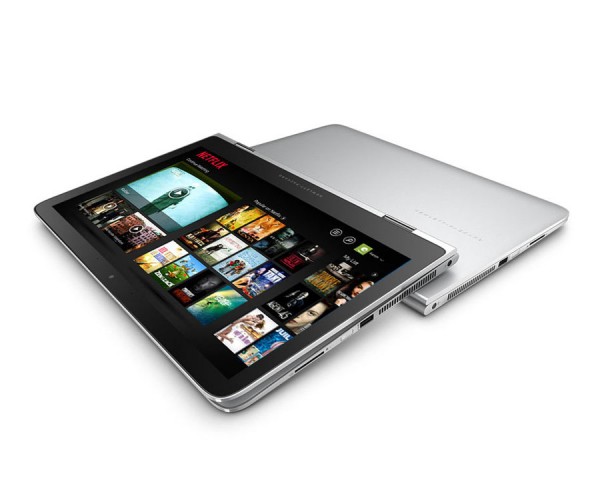 Part of the Envy Spectre x360's promise is good design without the internal sacrifices that usually requires. Every version of the Envy Spectre x360 comes with a touchscreen, making those creatively designed hinges very important to everyday use. HP is hoping that users will find the geared hinge sturdier that most notebooks designed to transform into a tablet. According to HP, the Envy Spectre x360's hinge also allows it to stay just as thin in tablet mode as it is in notebook mode: 15.9 mm thin.
Luckily, with the Envy Spectre x360's good looks comes raw power. Both an Intel Core i5 and Intel Core i7 processor options will be available when the notebook launches. Users will also have the opportunity to upgrade to a 512GB SSD, which is pretty spacious considering how small the notebook itself is. Notebooks as thin as the Envy Spectre x360 usually offer around 128GB of storage. The Envy Spectre x360 uses solid state hard drives for better performance and low start-up times. A full bevy of ports are included too. There's an HDMI plug for connecting to large displays and televisions, and DisplayPort for connecting to anything else. 3 USB 3.0 ports allow users to connect to accessories like smartphones, printers and media players.
HP says only three versions of the Envy Spectre x360 will be available beginning March 15th at Best Buy. The first is the Envy Spectre x360 with Intel Core i5 Processor, 4GB of RAM and 128GB of storage for $899.99. The second is the Envy Spectre x360 with Intel Core i7 processor, 8GB of RAM and 256GB of storage space for $1149.99. The last is the Envy Spectre x360 with Intel Core i7 processor, Quad-HD display, 8GB of ram and 512GB of storage for $1399.99. All three are already available on HP's website.
Advertisement