Dell launched their 11-inch Chromebook focused on the educational market awhile back, but they just bumped up the specs to include a speedy Intel Core i3 processor running on the Haswell architecture, which gives users great performance and all day battery life.
The original Dell Chromebook 11 cost $300, a little much for an 11-inch Chromebook when we still can buy the Acer C720 for $199 retail and less with special deals. For that reason we didn't recommend the Celeron version when we reviewed it. However, an Intel Core i3 dual-core Haswell processor changed things. It bumped the price up by $80, but Dell hopes it also boosted performance enough to make Chromebook aficionados and premium low-cost computer fans want one. We'll let you know if they succeeded.
Pros

Speedy powerful specs
Great keyboard
Spacious and responsive trackpad
Durable build quality
Excellent battery life

Cons

Dim reflective display
Slightly expensive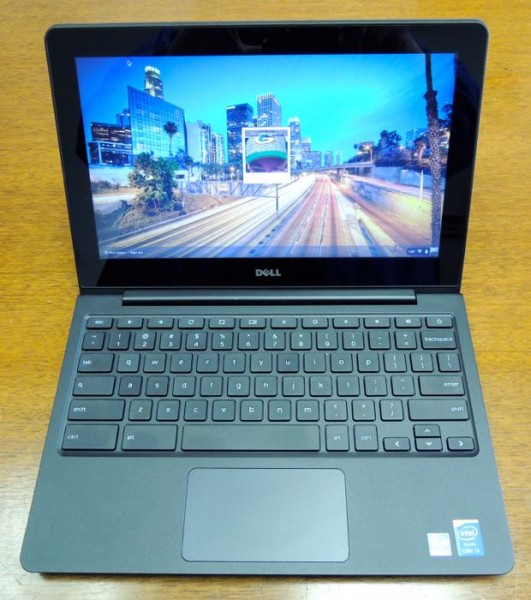 Dell Chromebook 11 1.6″ | $379.99 | Chromebook

The Competition
Dell Chromebook 11 Video Review
Who is the Dell Chromebook 11 for?
Dell markets the Dell Chromebook 11 as an education computer and that makes sense. The Intel Core i3 processor may cost too much to hand out to the kids, but someone has to support all those classroom computers. The school's IT director or the classroom teachers may prefer the faster speed of this machine compared to the earlier version.
At this slightly higher price, the Dell Chromebook 11 appeals to Chromebook fans who want more power and performance than the cheaper Celeron version with only 2GB of RAM.
Design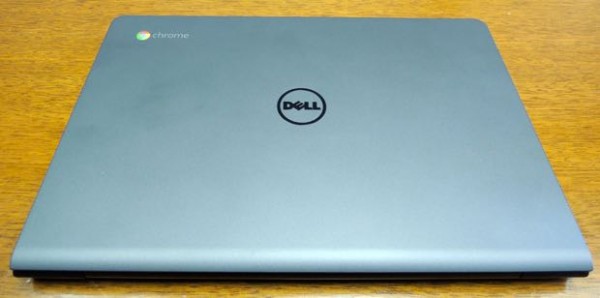 Dell won't win many design awards. The dark gray (almost black) color looks conservative compared to other sleeker Chromebooks like the Samsung Chromebook 2, the flashy colors of the HP Stream or the bright colors on the HP Chromebooks. However, this Dell looks nice and simple. Some people don't want their laptop to turn heads and that's what they get with this machine. A modest looking machine with great build quality.
On the right side there's a Kensington lock and SD-card reader that handles up to 64GB cards.
The left side ports include the charging connector, one HDMI out port, two USB 3.0 ports and a combo mic/headphone jack.
There's a large bezel around the 11.6-inch screen. Dell could've put a 12-inch screen in this computer, but that would probably add too much cost without adding that much screen real estate. The wider bezel lets them put a wide, comfortable keyboard in the system.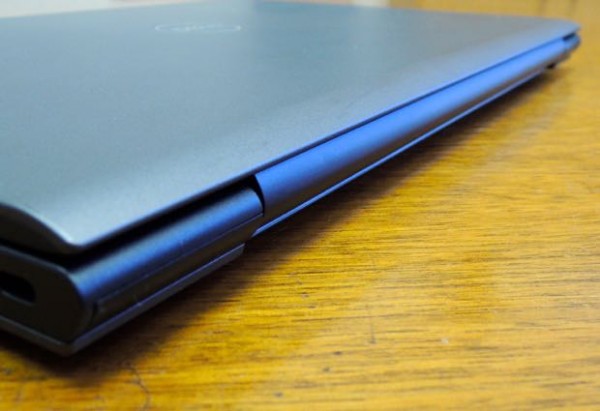 We get a tight sturdy hinge and a chassis that's not going to fall apart with lots of use by many people, even young people in a school environment. It's light enough (under 3lbs) for travelers and small enough without being too small for comfortable use while on a plain or in other tight spaces.
Like most cheap computers, the lid flexes when a person presses on it. Some people care about this, but I don't.
Keyboard and Touchpad
Dell put a great keyboard and trackpad in the Dell Chromebook 11. For the first time in a while, I don't find myself wanting to use an external mouse while working on an 11.6-inch Chromebook.
The keyboard is roomy, thanks to the design choice of a wider bezel around the small screen. The keys give the typist enough travel to feel good. Spacing means I'm not always hitting the wrong keys while reaching for the numbers, the Shift key or the Enter key. There's no back lighting, but we can't expect it at this price.
Other reviews complained about the keyboard, calling it a weakness, but that's not my experience.
Display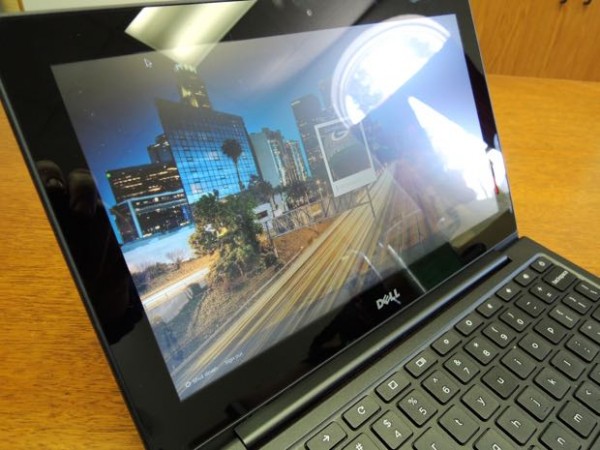 The display's week. To keep prices down there's no 1080p screen and the display looks dim when typing in normal lighting at about 60%. I had to bump it up to about 80% to see it comfortably in normal lighting. That reduces battery life a little.
The screen's reflective surface means the computer's nearly useless outdoors or in bright light, even with the screen brightness boosted to 100%. That's a huge problem for people who like to use their computer outside or in bright rooms. Most of my typing gets done inside in average the low light situations, so it wasn't a problem most of the time. Potential buyers should consider their normal usage before getting a Dell Chromebook 11 because it's a big problem for some people.
The computer's viewing angle means only two or maybe three people can view the screen at one time. That's only a problem if three students need to share the computer in a class or if a business user wants to show off a slide show of products to more than one or two clients.
Performance and Graphics
The Intel Core i3 processor gives us great performance. It returned one of the fastest Octane benchmark scores we've seen and the fastest on a Chromebook. Octane tests browser-based performance and it gives a good point of reference for Chromebooks, since they run on top of the Chrome browser.
In real world performance everything runs fast. Apps pop up instantly and the computer boots and reboots faster than any other Chromebook we've tested. It runs all the apps we use better than any other Chromebook tested. The 4GB of RAM lets users open as many browser tabs as they need without degrading performance.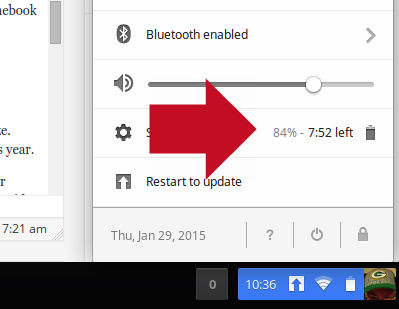 The battery lasted all day. I took the above screen shot after two hours of work and the battery was only drained by 15% with the screen at 80% brightness, Wi-Fi on and Bluetooth turned off. We consistently enjoyed 9-10 hours of real-world battery life on two weeks of use.
The Bottom Line
With only one real weakness (the dim reflective display), the Dell Chromebook 11 with Intel Core i3 processor is the best Chromebook we've used in an 11-inch size. Many still prefer larger screen computers with a 13-inch display or even a larger screen like the Acer with a 15-inch screen, new this year.
Buyers will need to decide if they can handle the price and the washed-out reflective dim 1366×768 display. Since most Chromebooks suffer the same problem, most Chromebook users will not count that against the Dell Chromebook 11 at this price. People who care about display quality should steer clear of this and most other Chromebooks.
With the above caveats, the Dell Chromebook 11 will get recommended above all other 11-inch Chromebooks unless people count price as their primary factor in buying. The Celeron-powered version of this machine didn't impress us as much and we couldn't see paying $100 more than an Acer C720. People who want speed in a machine with incredible battery life, excellent build-quality and a comfortable keyboard will love the Dell Chromebook 11 even at $379.99.
Gallery
This slideshow requires JavaScript.
Specs
| | |
| --- | --- |
| OS | ChromeOS |
| Display (size/res) | 11.6-inches, 1366 x 768 LED |
| CPU | Intel Core i3-4005U Haswell dual-core |
| RAM | 4GB DDR3L |
| Graphics | Integrated Intel Graphics |
| Storage | 16GB SSD |
| Optical Drive | None |
| Wireless | Wi-Fi 802.11a/b/g/n; Bluetooth |
| Ports | 2 USB 3.0, 1 HDMI, 1 SD card, headphone/mic, Kensington lock |
| Size | 0.97" x 11.6" x 7.9" |
| Weight | 2.9 pounds |
Get detailed specs from Dell.com.
Advertisement