Acer announced the first big screen Chromebook, the Acer Chromebook 15 which offers a 15.6-inch display running at up to 1080p resolution. Add in the 5th generation Intel Core i3 processor or Celeron to become one of the first big laptops running ChromeOS and the Broadwell chipset all for $250.
Chromebooks typically come in either 11-inch or 13-inch screen sizes. A couple options offer 14-inch displays like one of our favorites, the HP Chromebook 14. Until Acer announced the Acer Chromebook 15, no one made a Chromebook with a screen this large. Adding another 2 more inches will make the machine easier to use for people who need more screen space or larger text to work comfortably.
The Acer Chromebook 15 also comes with an option for a fast Intel Core i3 5005U processor, which should run the lean ChromeOS with more speed than most Chromebooks.
Acer Chromebook 15: Powerful Chromebook Specs
Most Chromebooks fit the budget market for users who need a minimally outfitted computer for basic browsing and simple document, spreadsheet or presentation needs. Throw in some video streaming or casual online gaming and that's all one could expect from most Chromebooks.
The newly announced Acer Chromebook 15 could offer one of the first powerful Chromebooks at a decent price, thanks to the faster processor, larger screen and the option for a full 1920 x 1080 resolution display. The company will sell the intro level version for just $249.99.
The Acer Chromebook 15 comes with either a 5th generation Intel Core i3 5005U or a lower cost Intel Celeron 3200U processors based on the Intel Broadwell chip. This should not only add speed but efficiency over earlier generations.
Chromebooks started to ship with the previous generation Haswell chips in 2013. This extended battery life on Chromebooks past the 6-8 hour mark since ChromeOS needs less power to run than Windows or OS X. However, manufacturers started to take a step backwards this year to pre-Haswell processors to save the manufacturer money. The meager needs of ChromeOS computers means the machines still fun acceptably, but they're not as fast as the Haswell computers that we got from computers like the Acer C720 or HP Chromebook 14. We're glad to see Acer move in the other direction this using the next generation processor instead of going backwards like the Toshiba Chromebook 13 or the latest HP machines. This should put pressure on the competition to keep up and move forward instead of back.
Three Acer Chromebook 15 Display Options
In addition to the full 1920×1080, also known as 1080p full HD, Acer will offer verions with the same 1080p resolution but adds a wider viewing angle. The wider viewing angle makes it easier for two or three people to share a movie or watch as someone play a game, look at pictures or surf the Internet together. The extra viewing angle will likely add some cost since it will need a higher quality display to do it.
At the lower end the Acer Chromebook 15 will also ship with a lower resolution 1366 x 768. That means text will look bigger but not as crisp. The user won't see as much detail in photos, videos and games on the lower resolution screens. We also assume it won't offer as wide a viewing angle as the higher quality 1080p display mentioned above.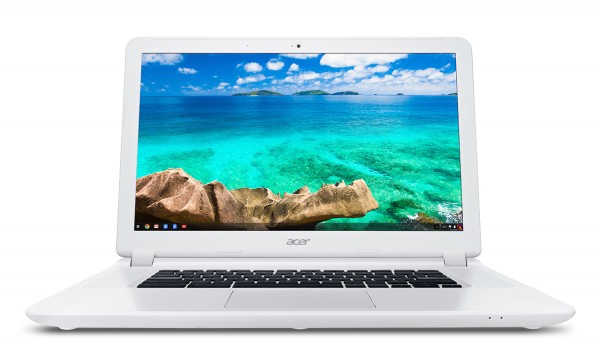 Acer promises something they call Acer ComfyView, which helps with glare. Glossy screens make it hard to view in bright rooms or direct sunlight. Acer ComfyView puts an anti-glare look on the glossy screen making it easier to see. The user still gets the brighter look of the glossy screen compared to a matte finish that includes almost no glare.
Other Acer Chromebook 15 Spec Details
Acer put two upward-facing speakers in the machine for louder music, movie audio and other kinds of listening.
The machine ships with a fast SSD, probably in 16GB or 32GB sizes, but we're not sure since Acer didn't confirm the size of the storage. Most Chromebooks come with 16GB, but some also ship with 32GB and we hope Acer will offer that as an option. Acer didn't share details on the amount of RAM the Acer Chromebook 15 includes. Most Chromebooks come with either 2GB or 4GB of system memory. More RAM helps with performance when someone opens a lot of browser windows and web apps. It also adds cost.
Here's a list of other detailed specs:
802.11ac Wi-Fi which is the fastest Wi-Fi radio available
Bluetooth 4.0
One USB 3.0 port and two USB 2.0 ports
HDMI output
SD Card reader
Up to 8 hours of battery life
Price and Availability
The full price and exact availability details will come later. Current high-end systems from HP and Lenovo can cost about $400. Acer offers the Acer Chromebook 13 with an NVIDIA Tegra K1 processor, a full 1080p display and 4GB of RAM for $379.99. Expect the higher end versions of machine to cost around that price. The intro level price of $249.99 will likely get users the 2GB of RAM and 16GB of storage along with the lower resolution 1366×768 screen. Look for more details at Acer's website.
Advertisement