On October 16, Apple held a press event during which they announced a number of new products, including upgrades to their computer and mobile operating systems, new iPads and a couple of new desktop computers. It was an event where they rehashed a lot of what we already knew about OS X 10.10 Yosemite and iOS 8.1, the much-needed update to their buggy iPhone and iPad OS. We'll highlight the key changes available in all the new products.
Apple did not update the hardware on their popular MacBook Pro or MacBook Air line of notebook computers. However, the changes in Yosemite might make owners feel like they're getting a new machine.
What's New in OS X 10.10 Yosemite
On the face of Yosemite users will notice a new user interface that's flatter and more colorful. Gone are the glass-like reflective buttons and deep shadows. There's also some transparent elements that allow a colorful background to show through. The update looks beautiful.
This update doesn't just put a pretty new face on OS X, but adds a lot of features under the hood. First, iOS and OS X 10.10 Yosemite work closer together, thanks to the new Continuity features. This means that when a person receives a phone call on their iPhone the Mac rings too and the user can answer the call on the computer. Send a text from the Messages app in Yosemite, even to people who don't use Apple Messages and the phone sends it along.
With Handoff, a user starts writing an email or composing a Pages document on the iPad while out and about. Return to the office and finish it up on the Mac which automatically offers to take over editing. While sitting at a coffee shop, quickly connect to the hotspot feature on the iPhone.
Apple gives further details for users to read all about Handoff.
Finally, AirDrop got a significant improvement in Yosemite and iOS 8. The service lets users quickly share files between a Mac and an iOS device easily.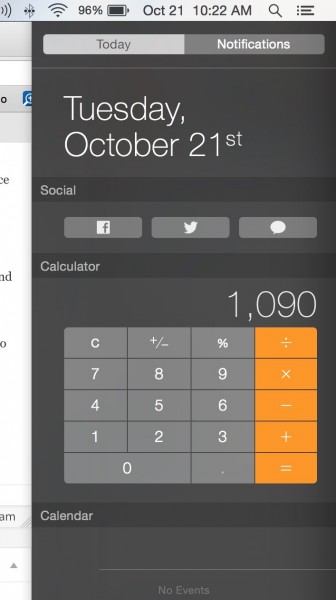 The notification area of Yosemite works smarter with widgets that let users interact from within the notifications, like the new calculator (see above). In addition Spotlight search adds more features, like finding content online, in Wikipedia and more. Apple moved it to the center of the screen.
To get more detail about what's new in Yosemite, see GottaBeMobile's post OS X Yosemite Release & Feature Roundup.
Updated apps in Yosemite include:
Calendar – family sharing, event autofill
Contacts – make calls from the computer using the phone
FaceTime – shares call history from a phone and makes calls over phone
Finder – iCloud Drive for syncing files
Mail – markup to put annotations on email docs and images
Preview – better markup features
Safari – RSS in sidebar, iCloud history sync, handoff of websites to iOS
New iPad Air 2 and iPad mini 3
As expected Apple also introduced a pair of new iPads. The iPad mini 3 only adds minor changes and Touch ID. The real changes come in the new iPad Air 2. On the outside buyers will notice one new gold iPad to go with the white and gray. The new iPad Air 2 also shaves some millimeters off the size making it slightly thinner and lighter than the first iPad Air. Like the mini, Apple added the Touch ID system.
A big improvement comes in the form of the camera. It's an 8MP iSight camera with a fast f/2.4 aperture camera. It shoots 1080p HD video. It's got the Slo-Mo and fast Burst rate modes we get on the iPhone 6.
Apple priced the updated iPad Air 2 at $499, like all the earlier generations. This year, instead of doubling the storage for an extra $100, Apple tripled it to offer a 64GB. For $200 get one with 128GB. As always LTE adds $129. Apple is taking pre-orders and it starts to ship on the 24th of October.
What's New in iOS 8.1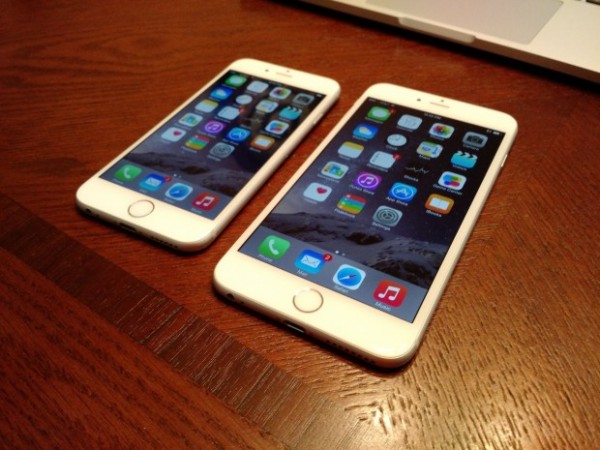 Apple released iOS 8 with the new iPhone last month, but this week we got iOS 8.1 as well. For people who own an iPhone or iPad already, find out how to update without headaches over at GottaBeMobile.
The primary improvements to iOS 8.1 come in the form of Apple Pay and the return of the Camera Roll. Apple Pay promises to pay for things by simply tapping touching the Touch ID on the iPhone's home button and the NFC-enabled iPhone 6 or iPhone 6 Plus at a point-of-sale machine that includes the feature. Right now, the list of businesses that support Apple Pay is limited. It also works with some apps installed on the phone.
To make Apple Pay work the user must set it up with their credit card. Sadly, only the big name banks support it, which results in most people getting an error that says "Your issuer does not yet offer support" when users try to set up Apple Pay to work with their credit card.
We also get the following updates in the iOS 8.1 update:
Return of the Camera Roll
Bug fixes like better third-party keyboard support
Apple Continuity with OS X Yosemite that we mentioned above
Other performance enhancements and bug fixes the details of which Apple's not sharing
iMac Gets Retina while Mac mini Final Gets Spec Bump
One of the poorly kept secrets of Apple's announcement included an iMac with Retina Display. A retina display means the computer display resolution pack so many pixels into the screen that the human eye cannot detect the individual pixels. This results in a crisper and more attractive looking display.
The 27-inch iMac with Retina Display starts at $2500. It comes with a 5K display, which as the image above shows offers 67% more pixels than a 4K. A 4K display stands for 4 times the resolution of a traditional 1080P HD display. They look beautiful, so expect this iMac to look even better.
The other specs in the computer include:
3.5GHz quad-core Intel Core i5 processor upgradable to a 4GHz Core i7 for $250
AMD Radeon R9 M290X Graphics processor with 2GB of GDDR5 memory upgradable to 4GB for $250
8GB of RAM upgradable to 16GB for $200 and 32GB for $600
1TB Fusion Drive or a 256GB flash drive upgradable to 3TB for $150, 512GB for $300 or 1TB for $800
Adding all the upgrades prices the machine at $4,399. That's a lot of machine and even the base configuration costs a lot considering an iMac without a Retina Display starts between $1,099 and $1,999.
Updated Mac mini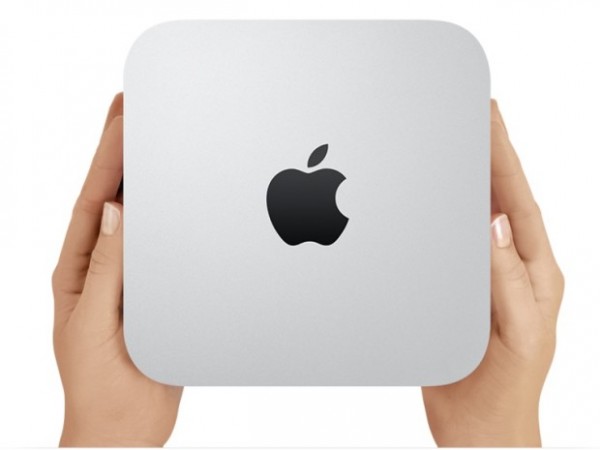 Apple advertised their event with the phrase "It's been a long time." The only thing that really fits that description got the least amount of stage time. That's an updated Mac mini with a lower $499 price.
The computer comes in the same external design with a 7-inch square box with rounded corners. The guts of the machine includes a 4th generation Intel Core i5 processor and Intel Iris graphics on some configurations. The $500 base model only offers Intel HD Graphics 5000 which is slightly less powerful than the Iris chip. Users can configure the machines with a basic 500GB hard drive and 4GB of RAM for $500. Ad $200 for a faster processor, faster graphics, 1TB traditional spinning hard drive and 8GB of RAM. For $999 the buyers gets 2.8GHz processor, 8GB of RAM and 1TB fusion drive.
On the back we get mostly the same configuration of ports and connectors including the following:
Power button
AD cable connector
Gigabit Ethernet
HDMI video/audio output
2 Thunderbolt 2 ports for connecting to a Thunderbolt display or other fast peripherals
3 USB 3.0 ports
SD-card slot
2 Audio ports for mic/line in and headphone/stereo output
Advertisement