Apple released new 2014 MacBook Air laptops with a $100 price cut making the lowest priced 11″ MacBook Air only $899. The decrease in base price applies to the four primary configurations and user-configured models. That means buyers can now get a 13-inch MacBook Air for just $999, the price Apple used to charge for their cheapest 11-inch model.
The MacBook Air also got a bump in processor speed which should offer slightly better performance and longer battery life.
A rumor surfaced that these machines would show up this week. We believed it because the MacBook Airs in the consumer supply chain started to dry up.
Buyers can go to Apple Stores today and get one at a limited number of stores, while online orders will go out immediately and arrive as soon as tomorrow with expedited shipping.
What's New in the MacBook Air 2014

Faster performance and longer battery life comes from the updated 4th generation Intel Core i5 or Core i7 Haswell processor. Apple increased the base model's processor from a previous gen 1.3GHz chip to the new Haswell chip running at 1.4GHz. That doesn't sound like much, but ti will offer better speeds. Expect this to shave a few seconds off processor intensive tasks, boot times and things like generating videos or loading apps. The real plus comes from an extra hour of battery life. The smaller Air will give us up to 9 hours of use on a single charge 12 hours on the 13-inch model.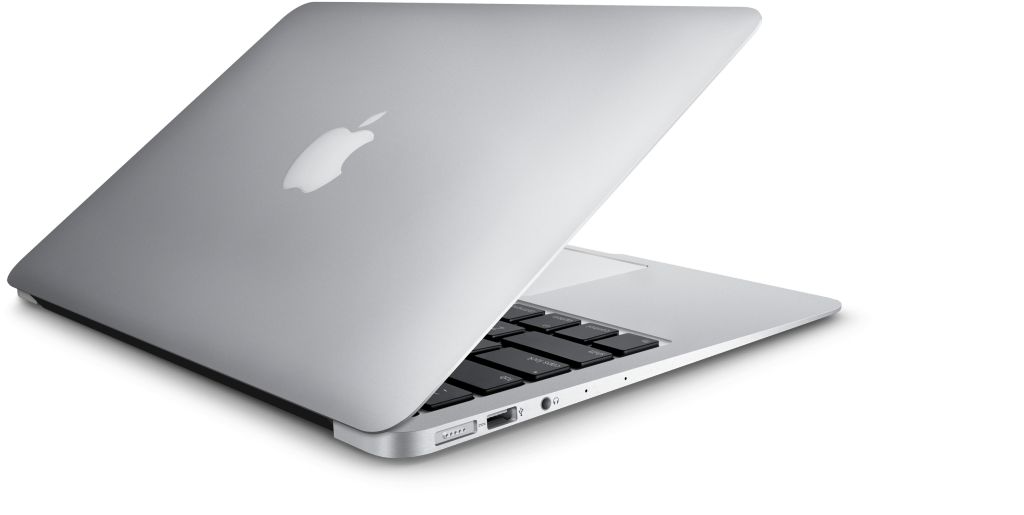 An 11-inch model sports an 11.6-inch display with 1366×768 resolution . We also get a fast 128GB SSD and 4GB of RAM. Users can upgrade the processor, storage and RAM for an additional cost.
The computer includes one USB 3.0 port on each side for a total of two. There's also a Thunderbolt port on the right side. The left has the MagSafe 2 power connector, headphone jack and dual mics.
Apple put 802.11ac Wi-Fi and Bluetooth 4.0. The new MacBook Air 2014 model powers the display with Intel Graphics 5000 HD in both sized models.
The 13-inch MacBook Air uses a 13.3-inch display with a 1400×900 resolution giving users not only a larger screen but it will fit more on the screen than the 11-inch model. That's useful when someone wants two programs open on-screen at the same time or when they're working with a large spreadsheet.
The new MacBook Air 2014 models ship with OS X Mavericks. These also include the iLife apps iPhoto, iMovie and GarageBand and the iWork apps Pages, Numbers and KeyNote all for free. Expect to see an updated version of OS X 10.10 after WWDC 2014 this summer. If Apple follows recent practices, the operating system update will ship for free on the new MacBook Air 2014 models.
Prices on MacBook Air Models
Notice in the image above that Apple starts at $899 and $999 for the base model 11″ and 13″ MacBook Air 2014 models. Add $200 to the price of each to take a jump in storage space from a 128GB SSD to 256GB SSD. If buyers can afford it, we recommend getting the extra space, especially if the owner plans to store a lot of media, like music, videos and large megapixel photos.
Buyers can upgrade from a 1.4GHz Intel Core i5 processor in the 11-inch model to a 1.6GHz Intel Core i7 processor for an extra $150. Double the 4GB of RAM for $100. To get a 512GB driver, users must select the more expensive $1099 11-inch model and add $300 making it at least $1399. a maxed out Air will cost $1649.

A 13-inch model starts at $999, but getting it maxed out with the Intel Core i7 processor running at 1.7GHz, 8GB of RAM and a 512GB drive costs $1749.
Great Deals on Older Models
Since Apple updated the MacBook Air, expect to see older model prices reduced. Already, buyers can find the previous generation at the Apple refurbished store. For example get a 2013 model 11-inch MacBook Air for only $719. Buyers only sacrifice a little speed and some battery life. A 2012 model will only cost $599, the same price as a brand new Mac mini. That's a steal for people with simple needs who don't want more than 4-5 hours of real-world battery life.
Buyers might also see cheaper prices at retail stores online and in brick and mortar stores. Make sure to check which model the store sells. Don't pay full price for the 2013 model thinking you're getting the new 2014 model.
What the 2014 MacBook Air Didn't Upgrade
Unfortunately, we didn't get a Retina display on these models. A Retina display packs twice as many pixels onto the same size screen. A 13-inch MacBook Pro with a Retina Display comes with a 2560×1600 resolution screen. This puts more detail in images and offers beautifully crisp text.
Many uses hoped to see one in the next update of the MacBook Air, but it didn't happen. We could still see a Retina display sometime this year, if rumors prove true.
Some Apple observers might have wanted a redesign, but Apple stayed with the same thin wedge shape from earlier models. The 11-inch model measures .11 inches high at the front end and .68 inches at the rear. It's 11.8 inches wide and 7.56 inches from front to back. It weighs a light 2.38 pounds.
The 13-inch MacBook Air has the same height, but is slightly wider at 12.8 inches and deeper at 8.94 inches. That's an inch wider and deeper. It weighs only a fraction of a pound more at 2.96 pounds.
Finally, Apple left the HDMI port out that comes on a MacBook Pro. Apple's dongles solve this problem. Users can plug a dongle into the Thunderbolt port and hook up to a display with HDMI, DVI or VGA. There's also a Thunderbolt to Ethernet dongle.
Advertisement