Apple released a new beta version of their operating system. It adds Facebook Integration in OS X 10.8.2 beta 1 so that users can share content from many apps to their Facebook accounts and sync their contacts on the computer with their lists of friends on Facebook.
To add a Facebook account open the Settings app and select Mail, Contacts & Calendar. Click the plus icon below the list of accounts and choose Facebook from the list of optional accounts. Enter the user name and password to setup an account that will integrate with the operating system in some useful ways.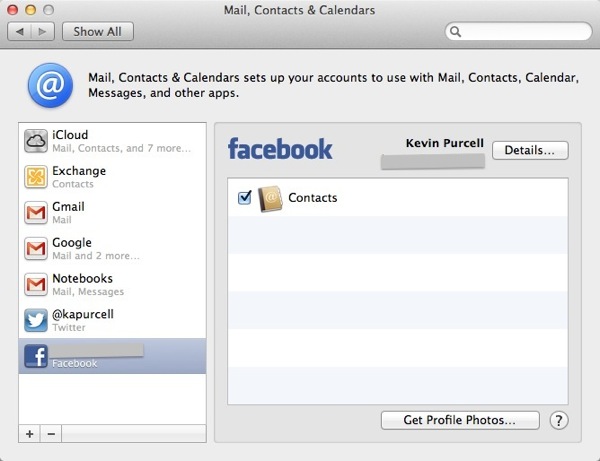 Adding Facebook lets users sync their Facebook contacts with the Contacts app. The account page also offers to let the user download the Facebook user profile pictures of friends in Facebook so that he or she can see the profile pictures with the entry in Contacts. Just click the Get Profile Photos… button at the bottom of the Facebook account screen.
Apple also added a Facebook item in the Safari share feature so that the user can post pages from the Internet to Facebook right from Safari and many other OS X apps like Preview.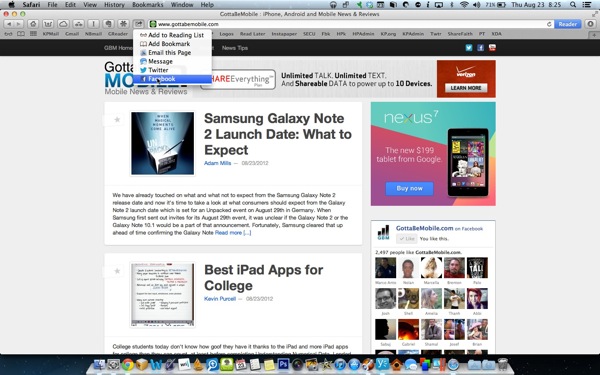 Now users can also post to Facebook from the Notification Center accessible from the icon in the upper right corner. The Notification Center slides out and two buttons allow users to post to either Twitter or Facebook. The Twitter integration showed up in 10.8.

This update comes on the heals of a previous public update, OS X 10.8.1, which fixed bugs, enhanced security and possibly improved battery life. At present 10.8.2 doesn't suffer from any known bugs or issues however developers were told to only install it on machines they don't mind erasing at a later date, which is normal for a beta.
Advertisement