The Mac App Store received an Apple OS X 10.8.1 Update for Mountain Lion bringing with it some minor bug fixes for iMessages, a fix for playing audio through a Thunderbolt display and some security improvements. We're also told that it might boost battery life, although Apple doesn't even mention that in the list of improvements.
According to Arstechnica, the developer version of this release fixed a Mountain Lion issue that lowered battery life after updating from older versions of OS X. Apple didn't list it among the fixes (see below) but I'm hopeful that it does lengthen the battery life on my Mac.
With the new Mountain Lion update feature the updates show up in the Mac App Store instead of the old Software Update feature. To access it either open the Mac App Store and click on the Update button in the toolbar. The update will show up and hit install. Let it download and a dialogue box asks to restart the system which then allows the OS to actually install the update. Uses can still find updates via the Apple menu by clicking Software Update, but that will only open the Mac App Store.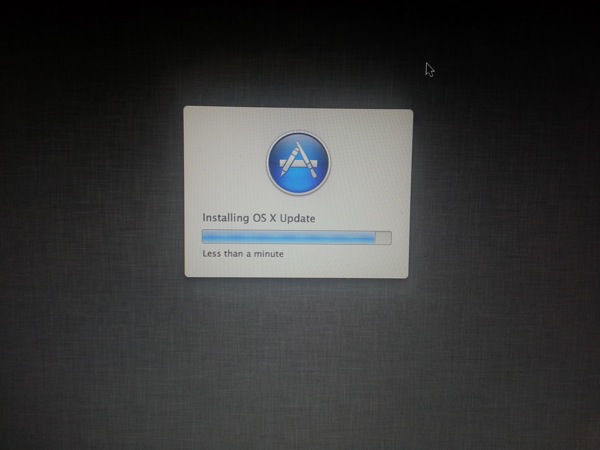 Here's the text of the update:
This update includes general operating system fixes that improve the stability and compatibility of your Mac, including fixes that:
Resolve an issue that may cause Migration Assistant to unexpectedly quit
Improve compatibility when connecting to a Microsoft Exchange server in Mail
Address an issue playing audio through a Thunderbolt display
Resolve an issue that could prevent iMessages from being sent
Address an issue that could cause the system to become unresponsive when using Pinyin input
Resolve an issue when connecting to SMB servers with long names
Address a issue that may prevent Safari from launching when using a Proxy Automatic Configuration (PAC) file
Improve 802.1X authentication with Active Directory credentials

For detailed information about the security content of this update, please visit this website.
 9 to 5 Mac
tells us that another update (10.8.2) will show up soon adding Facebook integration and other changes to Messages, Safari, Game Center and Reminders.
Advertisement