On the same day that Apple began taking pre-orders for the new iPhone they also released their own Apple Store app for the iPhone. Strangely it is not available on the iPad.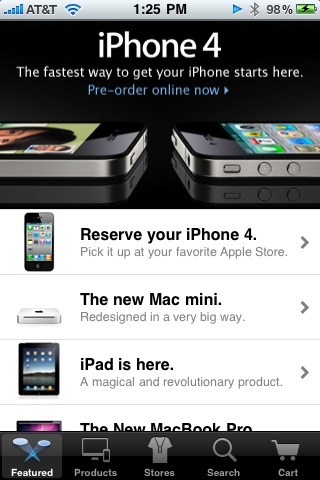 As Apple struggled to keep up withe the volume of pre-orders, some have reported on Twitter that the iPhone app was working fine even though they could not get their orders through at Best Buy, Radio Shack, AT&T or Apple.com. I'm guessing this was just chance, but it would be interesting to see some figures that would either support or reject these claims.
The app is simple and allows you to order Apple products either for delivery or in-store pick up. If you are not sure where your closest store location is, then it finds it on a Google map. It offers a map of the store location, checks inventory of any products you wish to order, let's you see a schedule of training events at the store locations around you and let's you call the store by simply tapping the phone number. The map feature gives directions from your current location.
It is very strange that they did not feel the need to make it iPad compatible. It works on the iPad, but only in the shrunken iPhone mode or the blurred enlarged 2X mode.
Advertisement