Lenovo announced the new Lenovo ThinkPad X131e laptop, part of their Intel Learning Series of computer. Lenovo says they're designed to take the rigors of facing a daily beating from students. It comes with an 11.6″ display, lightweight chassis and up to 8.5 hours of battery life. This one should hold up to the bullying of those rough school kids.
The Lenovo ThinkPad X131e Laptop will come with three processor options, the Intel Core iX series, Celeron or AMD E-series Accelerated Processing Unit or APU. The computers will also come with Dolby Advanced Audio and HD video capabilities.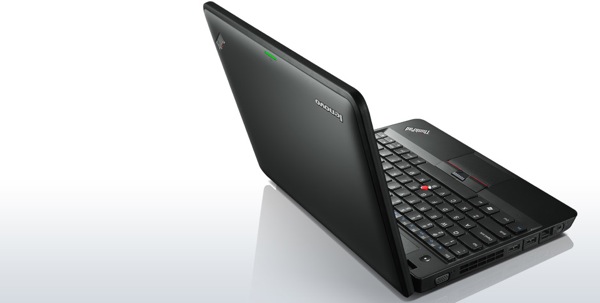 The teachers in classrooms equipped with the Lenovo ThinkPad X131e will like the obvious LEDs that indicate when a student uses the Internet or not. If the teacher wants little Billy or Sally writing a paper instead of checking Facebook, she'll know that the computer's pulling bits instead of working offline (see below).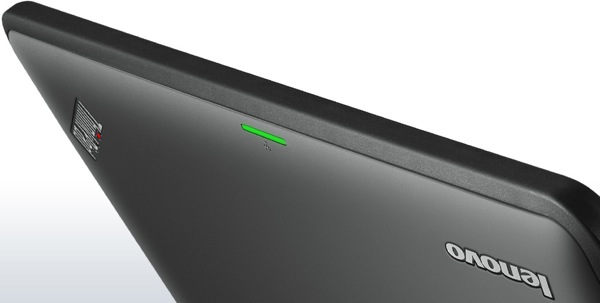 The multimedia prowess of these machines should support the use of fun and captivating learning software with HD video, Dolby audio, and with the more advanced processors, this could handle some educational gaming.
Optional configurations come with up to 500GB of hard drive space or a 128GB SSD. The computer can handle up to 8GB of RAM.
The long 8.5 hour optional 6-cell battery should get a student through the day with a recharge. The sub-four pound weight and 11.6-inch size will help keep kids backs from feeling the weight as they cart the computer from class to class.
Some of the features that keep the Lenovo ThinkPad X131e together despite the demanding school environment include the following:
Reinforced hinges
Stainless steel hinge brackets
Tightly aligned keys to keep particles from wedding under keys
Dustless fan extends fan life
Reinforced AC adapter cables
Hard disk shock absorbing design thanks to rubber padding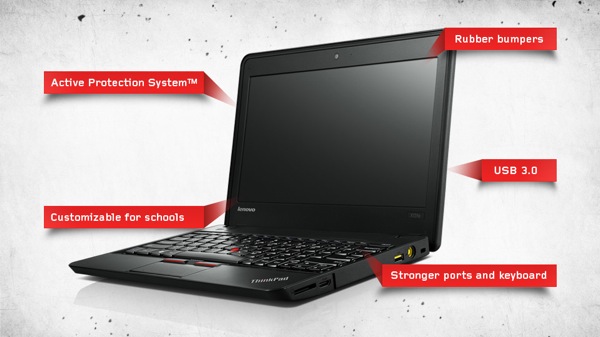 School IT specialists will appreciate the optional services from Lenovo like Asset Tagging which automatically inventories the systems so the school can keep track of their machines. Warranties offer an option for accidental damage protection.
The computers come in black and other custom colors. Each school can optionally personalize the color and etch their team mascots on the lid.
Schools can contact Lenovo to order them starting at $499.
Advertisement