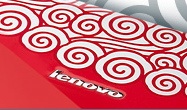 Lenovo's giving away an Olympic-themed notebook and Olympic torches as part of its sponsorship of the games. To enter, visit this contest entry page and register to win a special edition Lenovo 3000 V200 that's red with a "Cloud of Promise" design.
Lenovo's a major sponsor of the 2008 Olympics and its technology will play a big roll behind the scenes. Besides the notebook, Lenovo's giving away five replica Olympic torches, which the computer company designed.
The notebook is valued at $1,130 and the torches are worth $280.
Visit Lenovo's contest page here.

Advertisement