Lenovo just announced a very thin notebook with an anti-glare screen that also packs some power. The Lenovo IdeaPad U260 is a 12.5-inch notebook with an HD display that is not glossy, a rare find today in consumer notebooks.
At only 3.04 pounds and .71 inches thick, this is also a very sleek ultra-portable design. The case is magnesium-aluminum alloy, which combined with the other features will take this out of the budget category. ThinkPads.com predicts the cost to be around $1,000 and that sounds about right to us.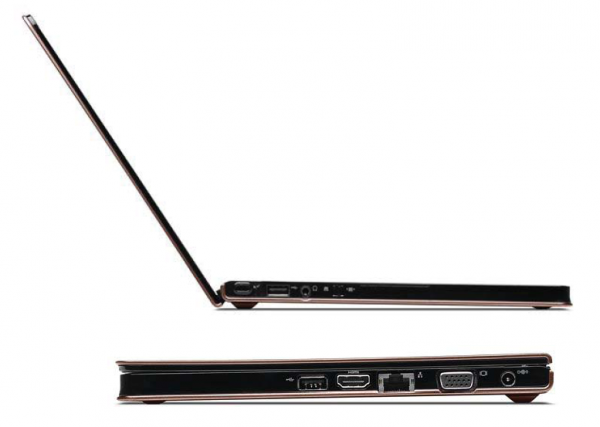 Seeing the size, weight and thickness of this model will naturally lead some to compare it to Apple's new MacBook Air, but one way the U260 distinguishes itself from the Air is the processor.
The IdeaPad U260 will come with the option of either an Intel Core i3 or i5 ulta-low voltage cpu. There will be 4GB of RAM coming from a single slot and the possibility that some RAM may be hardwired to the motherboard (like the Air). Other specs include Bluetooth, Wi-fi in the b/g/n variety and 2 USB 2.0 ports. For video output the IdeaPad U260 has an HDMI and a VGA out port.
Two ways the IdeaPad U260 does not compare to the MacBook Air are battery life and storage. The U260 only comes with a 4-cell battery with an estimated life of 4 hours and it is also equipped with a traditional 320GB hard drive instead of the much faster Flash storage found in the MacBook Air.
There are two unique colors to choose from including Mocha Brown and Clementine Orange.
There is no official release date or final price available at this time.
Advertisement