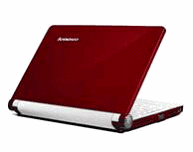 Lenovo's jumped into the mini-notebook game with the IdeaPad S10 today. Weighing in at less than 2.5-pounds, the IdeaPad S10 features a 10.2-inch display and will cost just $399 in its basic configuration.
The IdeaPad S10 uses Intel's low-powered, but energy efficient Atom processor. Lenovo claims S10's standard 3-cell battery has a runtime of three hours, while the optional 6-cell battery can get up to six hours.
For $399 you'll be able to choose between Lenovo's S10 will be available with black, red and white lids. The base configuration includes a 1.6GHz Intel Atom processor, 512MB of RAM and 80GB hard drive. The $449 version comes with 1GB of RAM and a 160GB hard drive. The S10 can be upgraded with up to 2GB of RAM.
In the U.S. the IdeaPad S10 will come with Windows XP. In some countries Lenovo will offer a more affordable version of the S10 with a 9-inch display and Linux pre-loaded.
The Lenovo IdeaPad S10 offers standard features that are optional equipment on other notebooks in its class, including a 1.3MP webcam and Bluetooth. For expansion the S10 has an ExpressCard slot and a 4-in-1 memory card reader.
Like other "netbooks," the IdeaPad S10 is not a full-powered notebook and is best suited as a secondary notebook or for those with basic computing needs.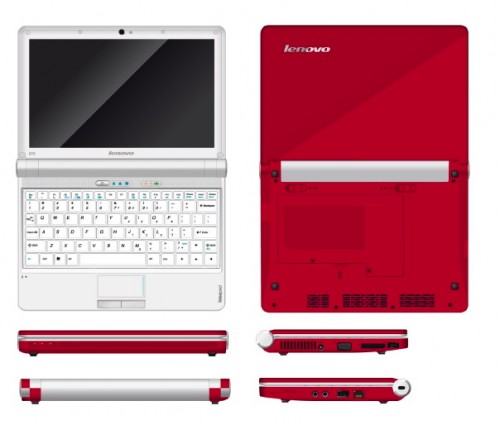 The IdeaPad S10 has a couple of features that set it apart from other budget notebooks. Its 10.2-inch display, which is larger than what many notebooks in this price range, is LED backlit to reduce power consumption. Its trackpad is also multi-touch, which will allow users to gestures.
Lenovo claims the S10's "Advanced Thermal Engineering" will minimize the amont of heat users feel from the palmrests and the bottom of the notebook.
The Lenovo S10 will be available starting in October.

IdeaPad S10 Specs
Form factor optimized (250.2x183x22-27.5mm, lightest
configuration of 1.1 kg/2.4lbs)
* 10.2" wide, LED backlight 1024×600 WSVGA
* Intel N270 CPU 1.6 GHz & Intel 945GSE Chipset
* Intel Integrated Graphics GMA 950
* Hard drive capacity 80GB or 160GB 9.5mm 2.5" SATA HDD (5400 rpm)
* Multi-touch Pad & near full size Keyboard (85% full size)
* Express card slot for WWAN expansion
* 4-in-1 Memory Card Reader
Advertisement