Capitalizing on the popularity of the Dell XPS 13 ultrabook Dell introduced two new slim notebooks today.
The Dell Inspiron 14z is an ultrabook with a 14 inch display and a $699 starting price. The smaller Inspiron 13z isn't an ultrabook by name, but is a thin, portable notebook that starts at just $599.
Dell Inspiron 14z Ultrabook
The Dell Inspiron 14z has a brushed aluminum lid available in Moon SIlver and Fire Red. The notebook comes standard with a 2nd Gen Intel Core i3 processor, with upgrades to the latest Intel Core i5 and Core i7 3rd generation processors. The notebook has 6GB RAM standard and a 500GB hard drive with a 32GB Flash Cache or optional 128GB SSD.
The higher end models offer an optional AMD Radeon HD 7570M graphics option with 1GB GDDR5. The 14-inch display has a 1366 x 768 resolution. The notebook features Waves MaxxAudio, which delivers great sound in previous notebooks we reviewed.
The battery life is rated at 7 hours and the battery is not user replaceable.
Dell Inspiron 13z
The Dell Inspiron 13z includes the option for Dell SWITCH lids with Moon Silver, Lotus Pink and Fire Red options.
Like the larger 14z, the standard processor is a last gen Intel Core i3, but users can upgrade to the latest Intel 3rd generation processors.
The notebook includes a 500GB hard drive and 6GB of RAM standard. The notebook includes Waves MaxxAudio and SkullCandy speakers.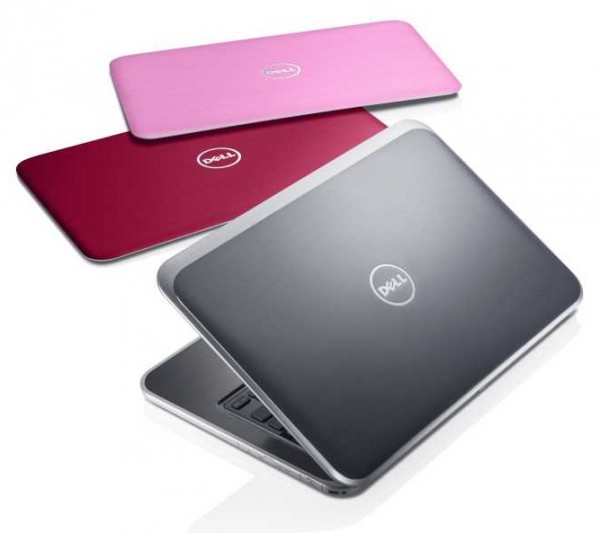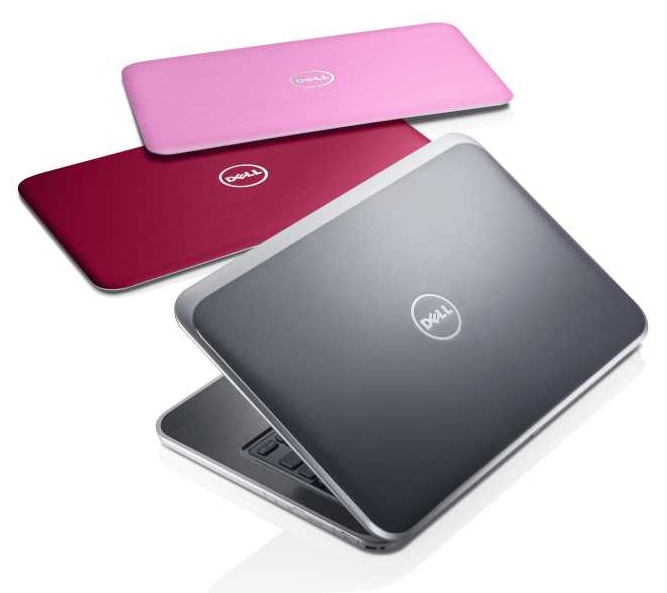 Dell rates the Inspiron 13z battery at 7 and a half hours. The battery is not user replaceable.
The new Inspiron z notebooks include Intel Wireless Display, Bluetooth 4.0 and an array of connections and ports.
Both of these notebooks are heavier and thicker than the Dell XPS 13 ultrabook, but the prices are considerable cheaper, which many customers will appreciate. The Dell Inspiron 13z weighs 3.81 pounds and the Inspiron 14z wieghs 4.12 pounds.
The Dell Inspiron 14Z and Dell Inspiron 13z are available starting June 19th from Dell.
Gallery
Inspiron 13z & Inspiron 14z Specs
Inspiron 13z
Beautiful color options with SWITCH lids: Moon Silver (standard), Lotus Pink, Fire Red
Standard 2nd Gen Intel Core i3 with HD Graphics 3000 or available 3rd Gen Intel Core i5 and i7 CPUs and HD Graphics 4000iipack plenty of performance into this surprisingly slim chassis

2nd Generation Intel Core i3-2367M processor (3MB cache, up to 1.4GHz) (standard)
3rd Generation Intel Core i5-3317U processor (3MB cache, up to 2.6GHz)

6GB dual channel memoryii
500GB Hard Drive
13.3-inch high definition (720p) WLED display with TrueLife (1366×768 standard)
Battery life up to 7 hrs 30 min (with Intel Core i3 processor, 6GB memory and 320GB hard drive). Dell Inspiron 13z batteries are built into the laptop and are not replaceable by the customer
Waves MaxxAudio 4 audio; Skullcandy speakers
Intel Wireless Displaysupports streaming 1080p & 5.1 surround sound wirelessly
HDMI 1.4a output for HD entertainment and HD aspect Webcam with pre-loaded Skype
USB 3.0 (2); USB 3.0 PowerShare (1); RJ45 Ethernet; HDMI v1.4; 8-in-1 media card reader; Bluetooth 4.0 (standard)
Height:  0.82"-0.82" (20.7mm – 20.7mm); Width:  13.07" (332mm); Depth:  9.05" (230mm)
Weight: Starting at 3.81 lbs (1.73 Kg)
Inspiron 14z
Beautiful aluminum finish in Moon Silver or optional Fire Red
Standard 2nd Gen Intel Core i3 with HD Graphics 3000ii or available 3rd Gen Intel Core i5 and i7 CPUs and HD Graphics 4000iipack plenty of performance into this surprisingly slim chassis

2nd Generation Intel Core i3-2367M processor (3MB cache, up to 1.4GHz) (standard)
3rd Generation Intel Core i5-3317U processor (3MB cache, up to 2.6GHz)
3rd Generation Intel Core i7-3517U processor (4MB cache, up to 3.0GHz)

Memory options from 6GB (standard) up to 8GB  dual channel memory
Hard drive options: 500GB with 32GB mSATA option; optional 128GB SSD
AMD Radeon HD 7570M with 1GB GDDR5 graphics (option with Core i5 and i7 configuration)
14-inch high definition (720p) WLED display (1366×768 standard)
Battery life up to 7 hrs 01 min (with Intel Core i7 processor, 8GB memory, AMD 7570M 1GB graphics, and 500GB hard drive).Dell Inspiron 14z batteries are built into the laptop and are not replaceable by the customer
Waves MaxxAudio 3 audio; Skullcandy speakers
Intel Smart Response Technology quickly recognizes and caches most frequently used files and applications, allowing quick access
Intel Rapid Start Technology boots in seconds; resumes in seconds; saves power when sleeping.
HDMI 1.4a output for HD entertainment and HD aspect Webcam with pre-loaded Skype
USB 3.0 (1); USB 3.0 PowerShare (1); RJ45 Ethernet; HDMI v1.4; 3-in-1 media card reader; Bluetooth 4.0
Height:  0.81"-0.83" (20.7mm – 21mm); Width:  13.66" (347mm); Depth:  9.45" (240mm)
Weight: Starting at 4.12 lbs (1.87 Kg
Advertisement