AOC announced the new e2251Fwu USB-Powered Display, an interesting desktop monitor that connects to your computer via USB requiring no power cables.
That's not that astonishing. I'm testing a 16″ portable USB-powered monitor from AOC now.
What sets the e2251Fwu monitor apart is the size and resolution. The new monitor offers a 22 inch display capable of full 1080P HD resolution with just a USB cable. Plug it into your computer's USB 2.0 port and it powers on right away.
AOC sells the e2251Fwu for only $199. That's not a bad price compared to other typical monitors that connect via HDMI or DVI cables.
I really like the idea of a USB Powered monitor. It removes clutter and takes up less space and power. You can plug all of your accessories and your monitor into a powered USB hub and then use the hub as a docking station for your notebook computer so you don't have to plug in a separate HDMI or DVI cable to get an external display of this size and resolution.
The monitor detaches from the base so you can hang it on a wall, like a picture frame. It's only 10.66 mm thick and weighs under 6 pounds.
The monitor works with Windows 7, Mac OS X Tiger, Leopard and Lion. You can get one directly from AOC. The following retail outlets will also offer it soon:
Best Buy
HHGreg
Costco
Tiger Direct
Nebraska Furniture
ABC Warehouse
Electronics Express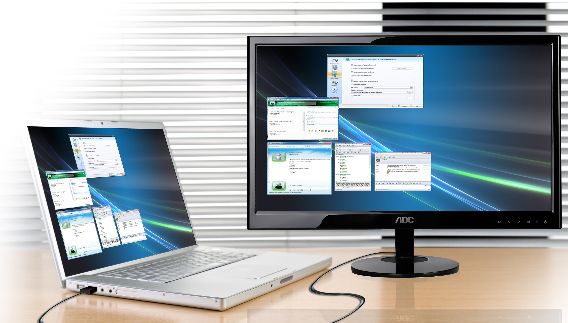 The 16″ portable display I'm currently testing doesn't offer the same high-resolution so the text and image quality suffers a bit. I hope this one fares better.
My 16″ won't play HDCP video due to DRM issue. I'm not as concerned about this with a portable display since I don't watch a lot of movies while I'm out and about with my laptop working at a Wi-Fi hotspot. A permanent display meant to use at a desk has to play DRM video from Netflix and Hulu.
I reached out to AOC asking whether the e2251Fwu will play HDCP and didn't get a response, so if that's important you will want to check with them before buying.
Advertisement