If you are in a situation where your internet connection is not reliable but you would like to keep your Antivirus utility updated, you may want to manually download your antivirus definitions. As I live in a rural part of the parish of Manchester, Jamaica I get by using a GPRS modem to connect to the Internet, and I know many people also don't have the fastest connections. Malicious code does not care about the speed of your internet connection. It can download quickly on the slowest connection, as some viruses and worms are just a few kilobytes in size. And if you have a couple other computers at home you probably want to keep them updated too.
What are definitions?
Definitions (or signatures, as they're correctly known) are used to scan your hard disk for characteristic strings of base code left by known viruses. They also look for suspicious behavior, such as attempts to erase or change areas on your hard disks. Keeping these updated allows your antivirus software to catch the latest viruses and worms.
Lets take a look at obtaining offline signatures with a few of the popular brands:
Symantec Norton
If you are running Norton Antvirus or any of its EndPoint products, you can find the latest definitions by going to the following link. Symantec provides definitions for Norton products as far back as version 2005. The page provides a number of options for downloading definitions. The thing you need to know is your operating system version and architecture:
Once you have identified your version on the list, click the orange link. In my case this would be 20110814-003-v5i32.exe. The date changes as new definitions are released each day. As you can also see, this is for 32 bit versions of Windows. If you need the 64 bit version, you need to scroll down to the bottom of the page.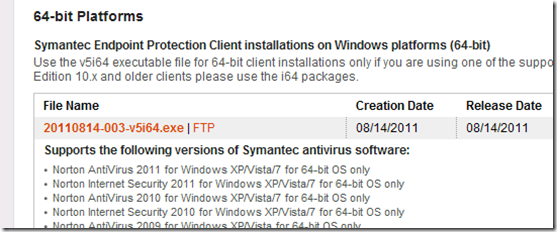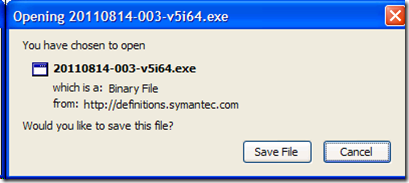 Save the file either to a thumb drive or portable storage medium. When you are back at the computer that needs updating, simply connect the device. You can launch the executable from the storage medium or copy it to the hard disk locally and launch it there.
Microsoft Security Essentials
MSE has become quite a popular choice among users when it comes to free Antivirus utilities. It is easy to setup and manage, and the features have led to over 30 million downloads so far. It is also robust and focused on keeping you constantly secure and updated.
If you need the latest offline definitions, go to the following link.
Download the Microsoft Security Essentials virus and spyware definition update file that is appropriate for your version of Windows:
    * To download the file for a 32-bit (x86-based) version of Windows, click the following link:
https://go.microsoft.com/fwlink/?LinkID=87342
* To download the file for a 64-bit version of Windows, click the following link:
https://go.microsoft.com/fwlink/?LinkID=87341
McAfee
If you are running McAfee Antivirus, you can go here for the latest definitions.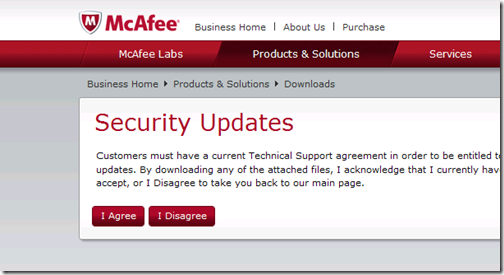 Click I Agree to the terms.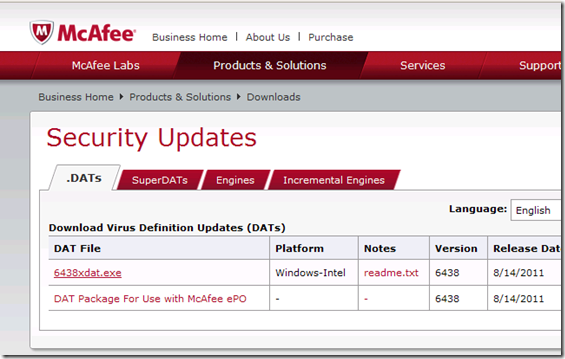 Click the latest DAT file for your Platform. In my case its 6438xdat.exe.
Save it and execute it on the target machine.
Trend Micro
Trend Microsoft describes its Antivirus definitions as Pattern Files. You can obtain the latest patter file from the following web page link:

If you are running a Consumer product from Trend Micro, click the Consumer Patter link.
ESET NOD32
Obtaining definitions for NOD32 works a bit differently. You will first need to install the Offline Updater, I notice there is no Windows 7 native version, but the Vista native version should work just fine. Go to this link to obtain the latest updater for your supported version.
NOD32 Offline Update will create the correct folder at the root of your C:\ drive. It will put the latest updated virus definitions and module files in it (and delete previous files if present). All you have to do is click update in your NOD32 product. It is portable, so you can run it from your hard drive, USB stick, DVD, CD, USB Key, SD Card and more…
NOD32 Offline Update 49xx will update the following:
Virus signature database:
Advanced heuristics module:
Anti-Stealth support module:
Archive support module:
Update module:
Cleaner module:
Personal firewall module:
Antispam module:
System status module:
Self-defence support module:
Antivirus and antispyware scanner module
Kaspersky
Another popular commercial choice, the company makes it difficult to find off line updates or how to do it.  Kaspersky Antivirus definitions can be dowloaded using the instructions at this link.
Bit Defender
Instructions for downloading BitDefender Weekly updates can be found here.
AntiVir
If you use Avira AntiVir, you can download the latest offline definitions here.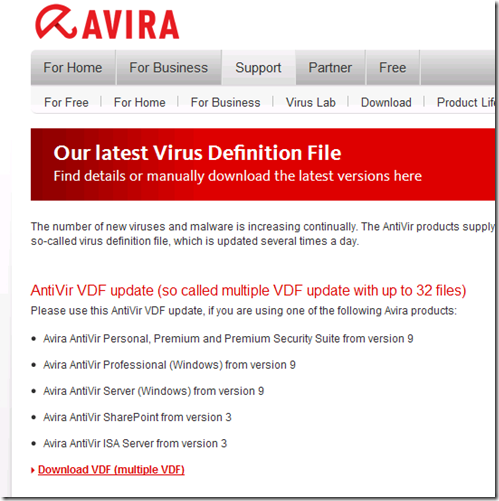 Click the Download VDF (multiple VDF) link.
AVG Antivirus
You can obtain the latest definitions for AVG here.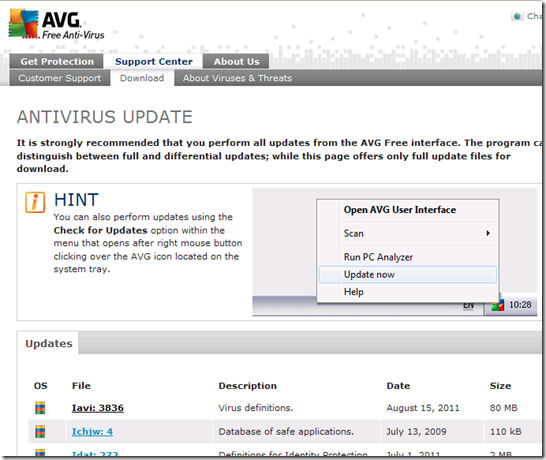 Click on the latest Iavi file. In my case, it would Iavi: 3836.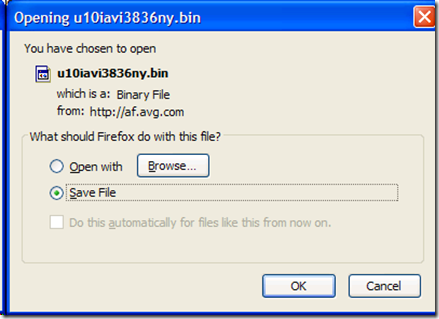 Click Save.
You will notice that the definitions for AVG are distributed as a .bin file. In order to install it, use the following instructions:
Open AVG User Interface.
Select Tools menu select update from directory, browse to where the virus definitions file is saved and click OK
AVG update Manager will run, virus definitions will be updated.
Advertisement