You know how to create your own Lion recovery disk, thanks to our guide or your own ingenuity, but Apple just made it easier with their Lion Recovery Disk Assistant. The tool will make you an external disk which can be used to repair or reinstall OS X 10.7 Lion if your hard drive fails or you just want a clean install of the OS. To use the tool to make a recovery disk, do the following:
Download the Lion Recovery Disk Assistant.
Double click the .dmg file you downloaded and it opens the disk image.
Click on the disk either on your desktop or in Finder and click Open and then Agree to continue to see the available external drives which the Assistant can use to make your Recovery Disk.
Pick your drive and click Continue – remember that this will erase any USB drive you select.
Enter your admin password and click OK.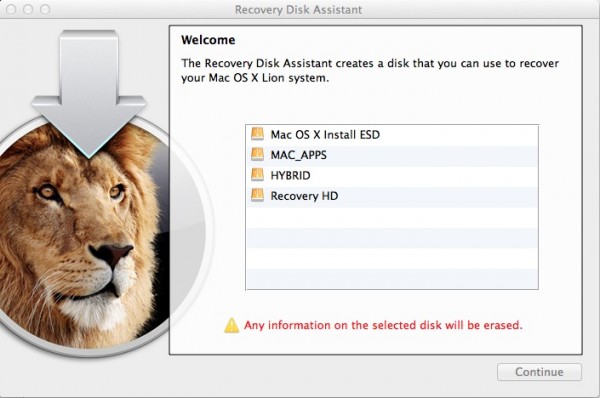 The Assistant will create the Recovery Disk on the drive. After it copies the info to the disk it will then verify the disk to be sure it was created correctly.
To use your new Recovery Disk plug it into your Mac and boot your system. Hold down the Option key as it starts and select the Recovery Disk and follow the on-screen instructions.
One important warning about this recovery option – it won't create a full installation disk but rather a copy of the Recovery Partition that Lion puts on your hard drive when you install the new OS. You will be able to reinstall Lion on your computer, even if you upgrade the hard drive, because the recovery program downloads the installation files from the Internet. You will need an Internet connection good enough to download the full Lion installation files. This gives you peace of mind knowing you can reinstall the OS even if your hard drive fails, something the built-in OS recovery system will not do since it resides on the hard drive.
I suggest that you have both the disk that the above app creates and a full install disk we showed you how to make from the OS X Lion Update files you download from the Mac App Store. Remember that you have to make the full installation disk before you perform the Lion update to your Mac. If you want you can also wait for the upcoming install disk from Apple, but it will cost you.
Advertisement