Owning a computer means you probably invested in commercial programs from major vendors. Just like backing up your computer and its operating system, it's also important to backup your software. Now, let me clarify something: I am not referring to backing up installed programs in Windows, but the actual install files or installation discs. It is important to do this is because of the ease with which application discs can be lost, stolen or damaged.
The traditional method to backing up your software is to make a backup copy to a blank DVD or CD. Personally, I think this is going a step backwards. Creating digital backups would be more effective, making your programs accessible and less prone to damage or theft. Lately I've been creating digital backups as disc images. When I want to install an application, all I need to do is use a utility that mounts them (mounting is the process of preparing the program for use by the operating system's file system).
Of course, there is nothing wrong with creating a physical backup, and I will show you how to do that using popular burning utilities.
Backup to physical disc
There are multiple ways you can backup a program on disc to a blank disc.
Nero:
If you are running Nero, insert the disc you want to copy.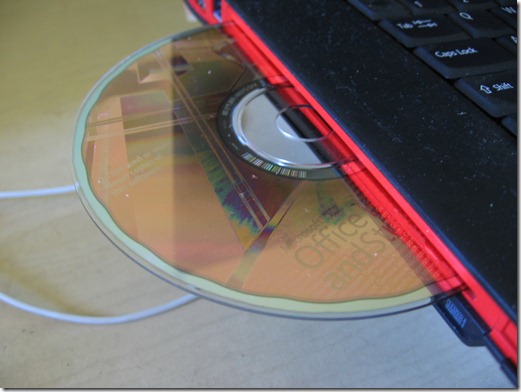 Launch Nero Express.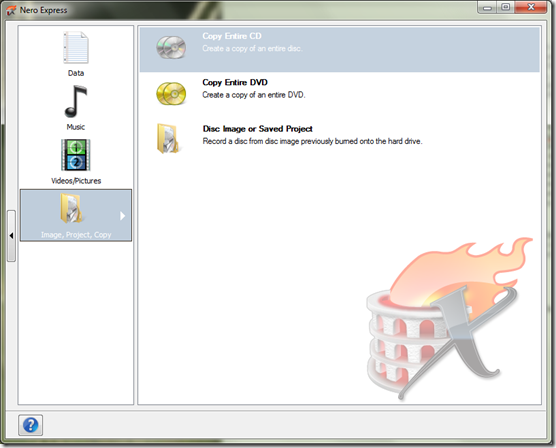 Select the Image, Project, Copy option and click Copy Entire CD or DVD.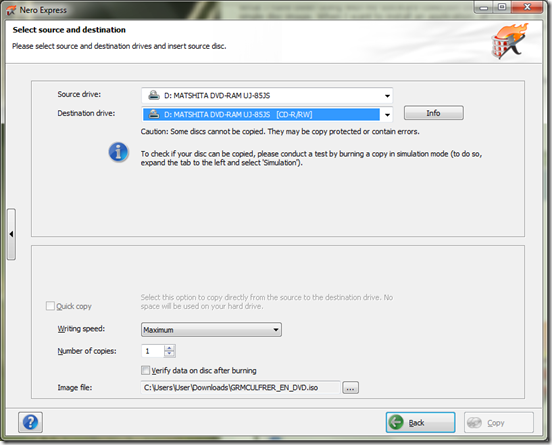 Next, select your source and destination. If you are recording on a desktop with dual optical drives, you will have an option of selecting the source drive and a destination drive. What this does is avoids the need to record a temporary image first, then record it to the destination drive with the blank optical disc. In my case, I am recording using a single DVD Burner.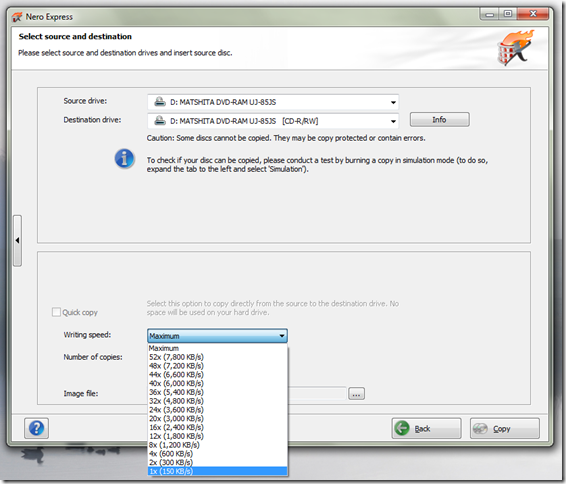 Next, select the Writing speed. I personally recommend you choose the lowest speed for the best results. Sometimes when you write at high speeds your projects come out as coasters. Slow speeds guarantee reliability. After selecting your speed and the number of copies, click Copy to begin the process.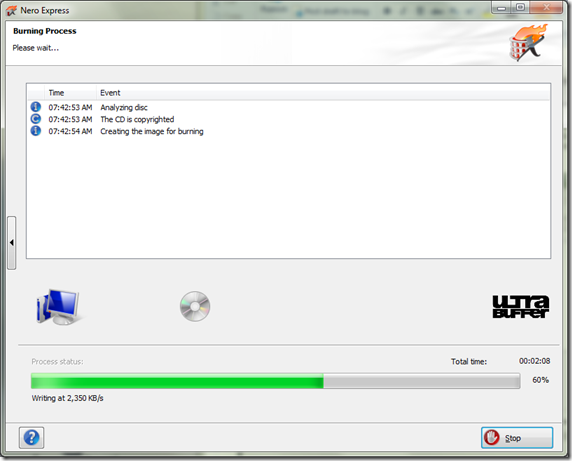 Nero is now going through the necessary steps to copy the disc, which includes verifying the disc and creating a temporary image (which is a replica of the disc) to be copied to a blank disc.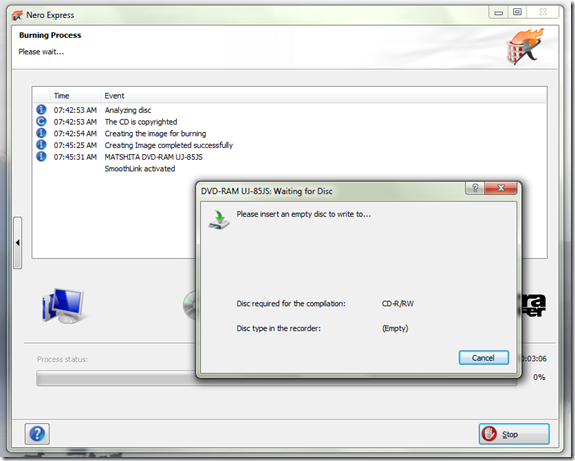 The next step is copy the temporary image to a blank disc. You will receive a prompt to insert a blank Disc, do so.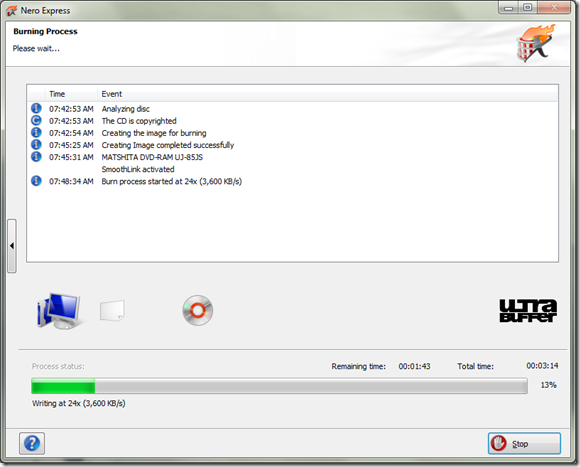 Nero will automatically continue the burning process after the blank disc is inserted.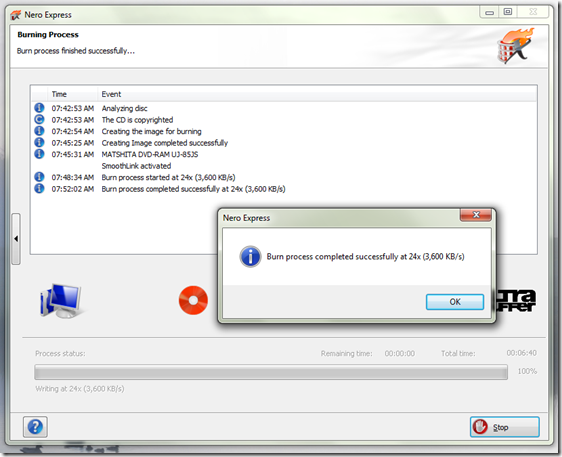 Once the burn process is completed, you will be notified. Label your backup copy accordingly.
Roxio
If you are using Roxio, the process is pretty much the same. Launch Roxio.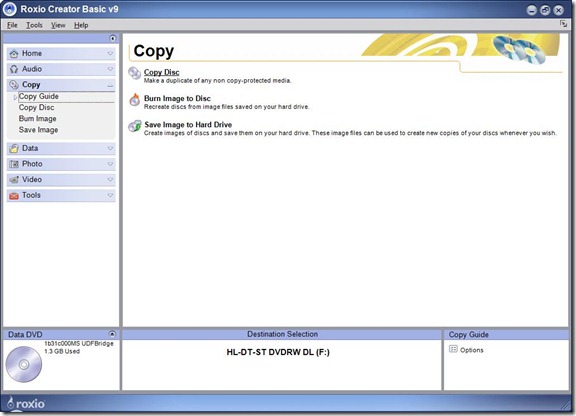 Click the Copy tab.
Click Copy Disc then select your source and destination drive.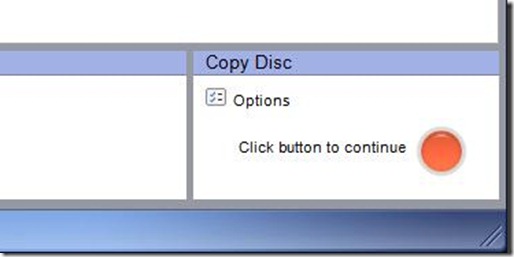 Click the Copy button to begin the copying process. This will create a temporary image.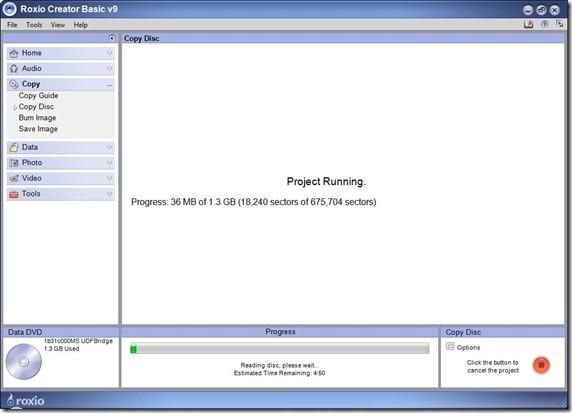 Roxio copies the disc.
Once the image is successfully copied, you will be asked to insert a blank disc to complete the burning process.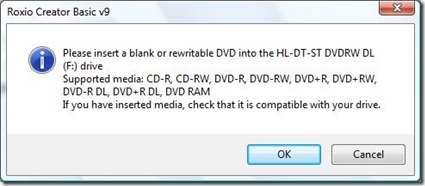 If you have neither Nero or Roxio installed, you can use a free tool such as ImgBurn or even the free version of Nero called Nero BurnLite.
Creating Digital Backups
Now let me show you how to create digital backups. If you have physical copies of applications you still use, you can create digital backups of them and install them just as easy too using free software. The program I use for this is free and called ISO Recorder by Alex Feinman. You can download it here.
Using ISO Recorder is very simple. For this example I am going to make a backup copy of my Windows 7 DVD. After you installed ISO Recorder, insert the disc you would like to create a digital copy of. Choose Open Computer from the Start menu.
ISO Recorder adds a 'Create image from CD' contextual menu (which you can access via a right click). Click it.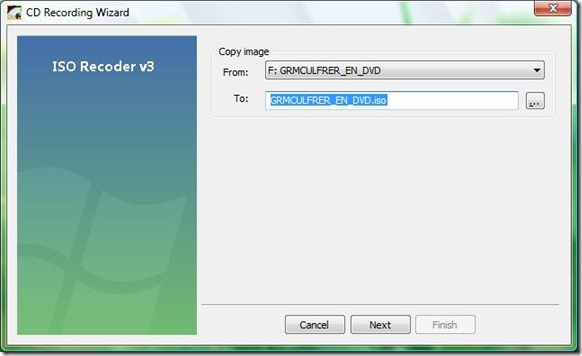 This will launch the CD Recording wizard. Click the browse button to choose a name and location where you would like to store image.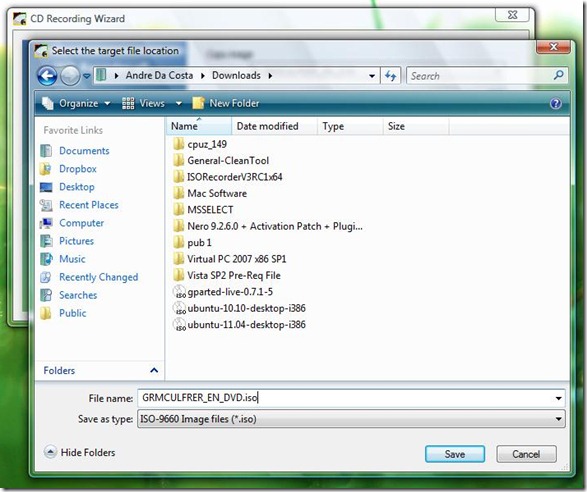 Make sure the Save as type selection is set to 'ISO-9660 Image files (*.iso).' This is a universally recognized image format. Click Save.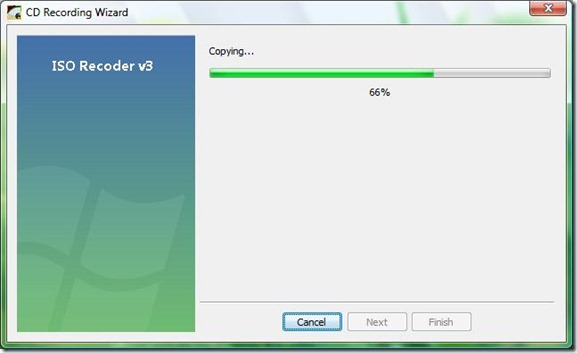 The program is now creating an image of your disc.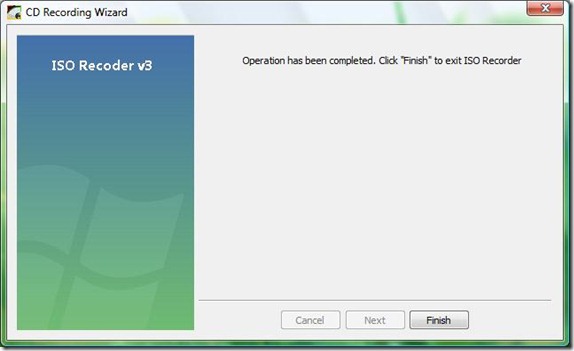 When complete, click Finish.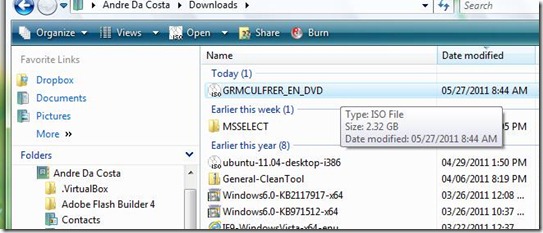 You now have a digital copy of your program.
But how do you use the digital copies of the software you just created? There are a variety of utilities that allow you to mount these images (mounting being the process that makes the disc or disc image accessible to the Windows File System). These utilities are called Virtual Disc Programs. Two popular ones include Daemon Tools and PowerISO.
Daemon Tools
Daemon Tools is a simple program which adds a program in the Notification Area of the Windows Taskbar.
When you right click it it displays a menu with various options, the most important one in this case is Virtual CD/DVD-ROM.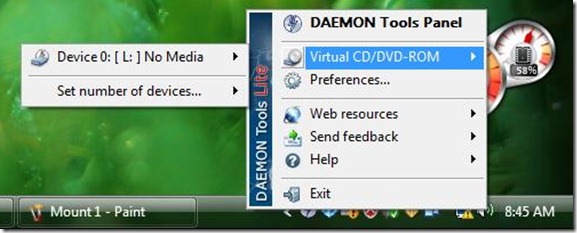 What the Virtual CD/DVD Rom option does is let you mount .ISO files like the one we just created. You can then use it to install programs just like a physical disc.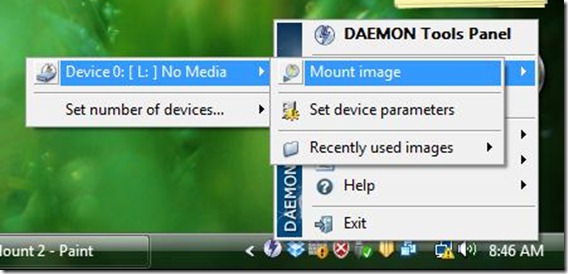 Mounting is simple with Daemon Tools, just right click Daemon Tools in the Notification Area, select 'Virtual CD/DVD-ROM > Device 0: > Mount Image.
Select the image that you created earlier and click Open.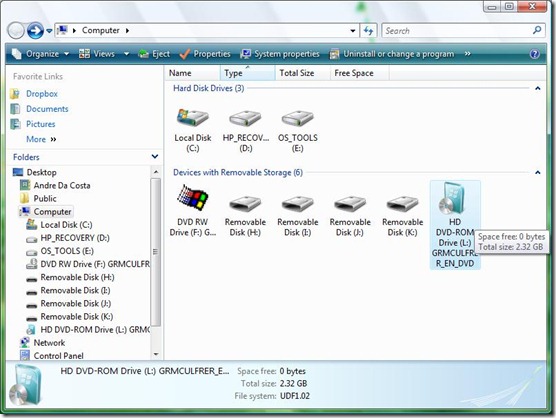 When you open Computer, the program will appear as a typical Disc drive.

When you are finish using the image, you can  unmount by going back to the same menu and clicking Unmount Image. Another great feature Daemon Tools has is the ability to mount multiple images.
PowerISO
Another utility you can use for mounting images is PowerISO.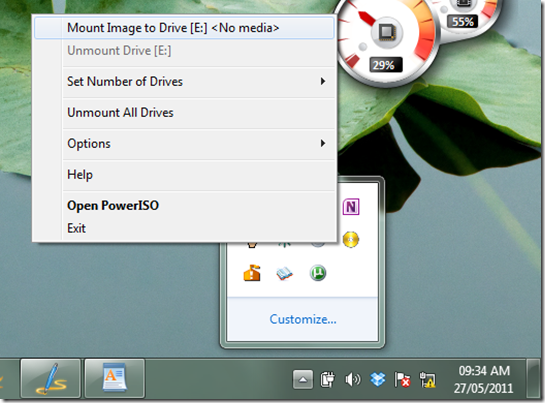 It works pretty much the same as Daemon Tools, just right click the icon in the Notification Area and click 'Mount Image to Drive [x:] (x represents the name of the virtual drive).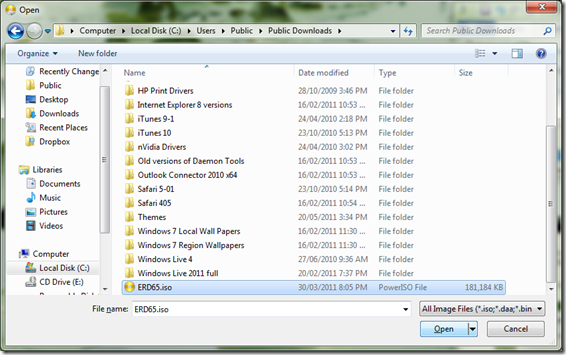 Browse to where the image is located and click Open.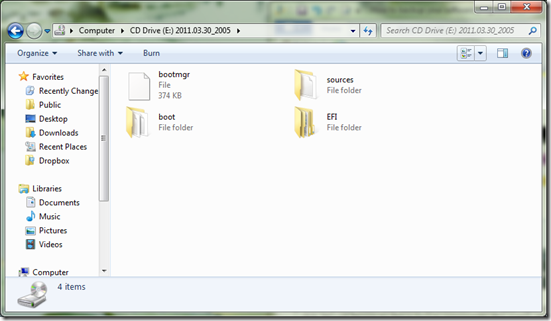 Your image will be mounted and accessible as a virtual disc drive in Computer.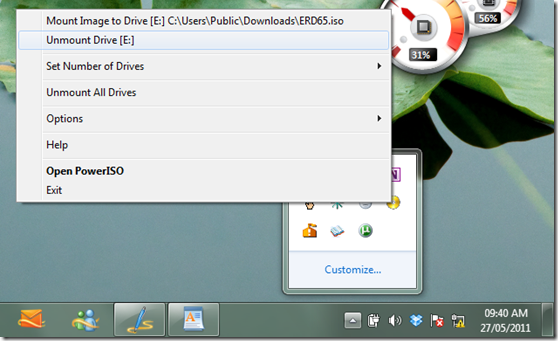 When you are finished, you can unmount the image from the Notification Area menu for PowerISO.
Advertisement