If all goes as expected, Google will announce the launch of Google Chrome notebooks today at Google I/O. Rather then sell the cloud based notebooks outright, it looks like Google will instead be offering a student package that includes a Google Chrome notebook, Google services and likely some sort of mobile broadband connection. Google appears to be starting with the student market before expanding to the business arena.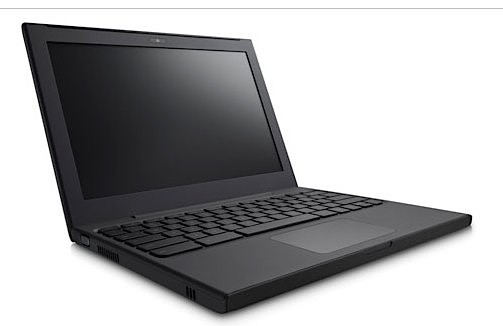 We don't know yet if these Chrome notebook rentals would be similar to the cr-48, or made up of a collection of notebooks from numerous vendors looking to offer Chrome notebooks this summer.
Why Chrome Notebook Rentals?
The Google Chrome notebooks may seem perfectly suited for college students looking for an affordable notebook that doesn't require additional purchases such as Office and Antivirus software. If Google bundles a 100MB or so of mobile broadband access, like we saw on the cr-48 chrome notebooks, then the package could appeal to your average student for around $20 a month, especially if Google can get colleges to sign on and pick up the cost.
If Google plays its cards right, the company could offer a package deal to colleges using Google Apps and guarantee that students get hands on time with the Chrome notebooks and the cloud. Google is banking on a new generation of workers to demand the Chrome OS and cloud computing when they land jobs, much like the current crop of graduates have led to a consumerization of the enterprise which is visualized in notebooks like the HP ProBook 5330m.
Renting Isn't Always Better
While Forbes is quick to note that the $20 a month plan is, "cheaper than buying a laptop for school," this isn't taking into account the overall cost for a four year degree which would equal out to about $1,000 — the cost of a MacBook Air or a high end Windows notebook like the Toshiba Satellite E305.
Given that many students, at least those concerned with costs, will keep their notebook for the length of their college career they would actually be better off buying a notebook for $500 to $1,000 and reselling it when they need to upgrade. Granted, these notebooks won't come with mobile broadband built in, but that's not as big of an issue with a traditional notebook on a connected college campus. Additionally, your standard Windows or Mac notebook can run a much broader range of applications, including specialized apps which students may need access to in higher level courses.
What is Chrome OS?
Google Chrome is a cloud based OS, which relies on a netbook like notebook to connect users to web services rather than local software. The files are all stored in the cloud, though some can be accessed offline. One large upside is that the files are all stored in the cloud, so if your Chrome notebook is lost, stolen or damaged you just need a new one to get access to all of your stuff.
Chrome Notebooks for Business
While the initial plan will be targeting students, Google is already in talks with many companies to roll out a Chrome notebook program in medium to large businesses that are looking to reduce the cost of hardware and the security issues that come with the ability to remotely store sensitive data on a traditional notebook. At least one business we have spoken to is hoping to use Chrome notebooks to replace traditional employee notebooks, but they want to purchase instead of rent Chrome notebooks.
Advertisement