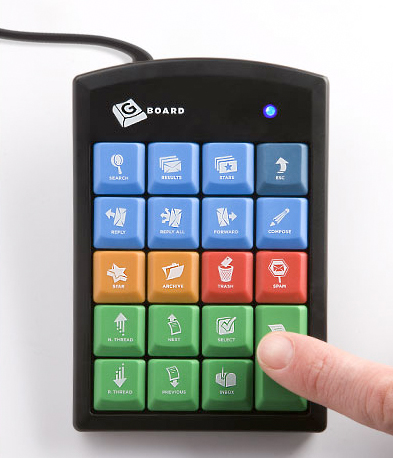 Are you a Gmail user?  Of course you are.  Most people are now a days.
Are you a  hardcore, use it everyday, shortcut-using Gmailer?  If so, the Gboard may be the device for you this Christmas.
This device is a USB keyboard with all of the Gmail shortcuts.   Now the keyboard only shows 19 of the 69 shortcuts, but they are the ones that are the most used by just about everyone who is a Gmail user.
There is no special software or drivers to install when using the Gboard, however users need to first enable keyboard shortcuts within Gmail's settings before using it.  How is that for a simple set up?
Google tried to help the Gmail community a while ago when it offered a set of shortcut stickers users could place on their keyboard to help with all the shortcuts.  It didn't go over as well as expected.  However, the Gboard has appeal to new users who aren't familiar with all the shortcuts.  Users will just have to punch a key, as opposed to remembering 60+ key combinations.
The Gboard is going for the low price of $19.99, it might just be that great stocking stuffer you are looking for this Christmas.
Thanks to CNet for the information.
Advertisement