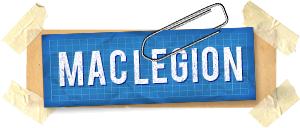 MacLegion has rounded up a special Mac App Bundle that includes 11 popular Mac apps, tools and utilities to get you up and running on your MacBook or MacBook Pro. These apps include a wide range of uses and are a good fit for new Mac users or a veteran Mac owner that needs a few new apps.
The MacLegion App Bundle is available for two weeks and then the bundle pricing will no longer be applicable. If you need only one of these apps, the bundle price of $49.99 likely makes it worthwhile.
Maclegion Mac App Bundle
The links below will take you to the product website to learn about the app. To get the bundle pricing, you need to visit MacLegion.
The full retail price of this bundle would be $582.68, but from now through May 11th you can purchase all of these apps for $49.99 only from MacLegion.
Personally, we are drawn immediately to Data Rescue, ScreenFlow, LaunchBar and HDRtist Pro, which would cost us over $250 if purchased separately, but with this bundle we get these apps and others for the $50 price tag. The mac of these bundles is that even if we never use one or two of the apps we have still saved over purchasing the apps individually.
Advertisement