The HP EliteBook 8760w is HP's latest, and largest, mobile workstation, which combines a large display with powerful processors to handle the needs of demanding professional users. Granted the 17.3″ display means this notebook is large, but it is still semi-portable for users who need a large display and a lot of power. HP also announced the 15.6″ HP EliteBook 8560w and the 14″ EliteBook 8460w today.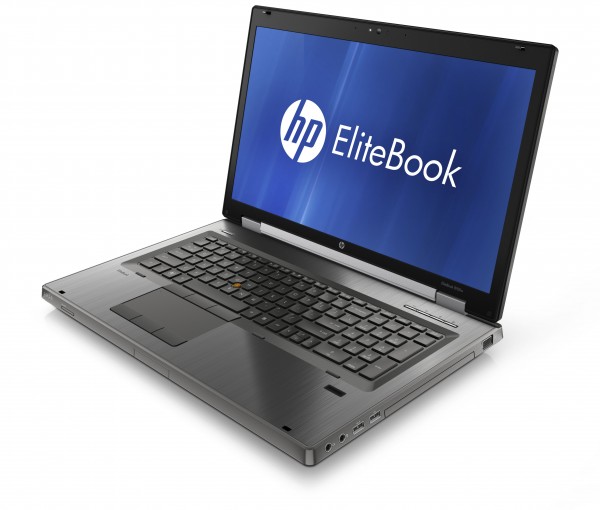 The EliteBook 8760w replaces the EliteBook 8740w, adding new Sandy Bridge Intel processors, new graphics options and bringing the HP FORGE industrial design language to the 8760w.
Like the HP EliteBook 8560, the EliteBook 8760 allows users to add an optional HP DreamColor display with up to 1 billion colors to the notebook for accurate color representation on the go.
The HP EliteBook notebooks are mobile workstations, which have more power than your typical business notebooks. These machines are often found in demanding environments where durability is key and cater to users who need to run demanding software while on the go. Despite the portable package, the EliteBook notebooks are designed to handle the tasks typically regulated to a high end desktop.
HP EliteBook 8760w Processor Options
The EliteBook 8760w uses the latest Sandy Bridge Intel Core i5 and Core i7 processors with dual-core and quad-core options. These new processors have TurboBoost 2.0, which will provide a boost in speed when you need the extra power. These processors are mobile versions, which means you'll be able to enjoy decent battery life without giving up the power.
The EliteBook 8760w supports up to 32GB RAM in four slots to provide supporting power to the system.
HP EliteBook 8760w Graphics Options
The HP EliteBook 8760w has many graphics options from AMD and NVIDIA designed to meet the needs of demanding users.The base model comes with the AMD FirePro M5950 GPU with 1GB video RAM and support for Eyefinity and advanced multiple monitor connectivity.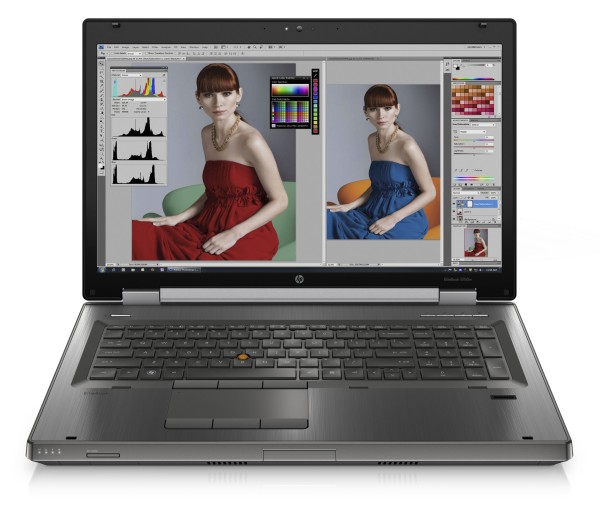 There are also options for NVIDIA Quadro graphics, with NVIDIA QUADRO 3000M and QUADRO 4000M GPU options complete with 2GB RAM for more demanding users. Finally, the most demanding users can opt for a NVIDIA Quadro 5010M GPU with 4GB of Video RAM. This option won't be available at launch, but should arrive by June 2011.
The HP EliteBook graphics are tested and certified to run numerous business and creative applications so that you don't need to waste time wondering if an app will work and troubleshooting compatibility issues.
HP EliteBook 8760w Hands On Video
HP EliteBook 8760w Design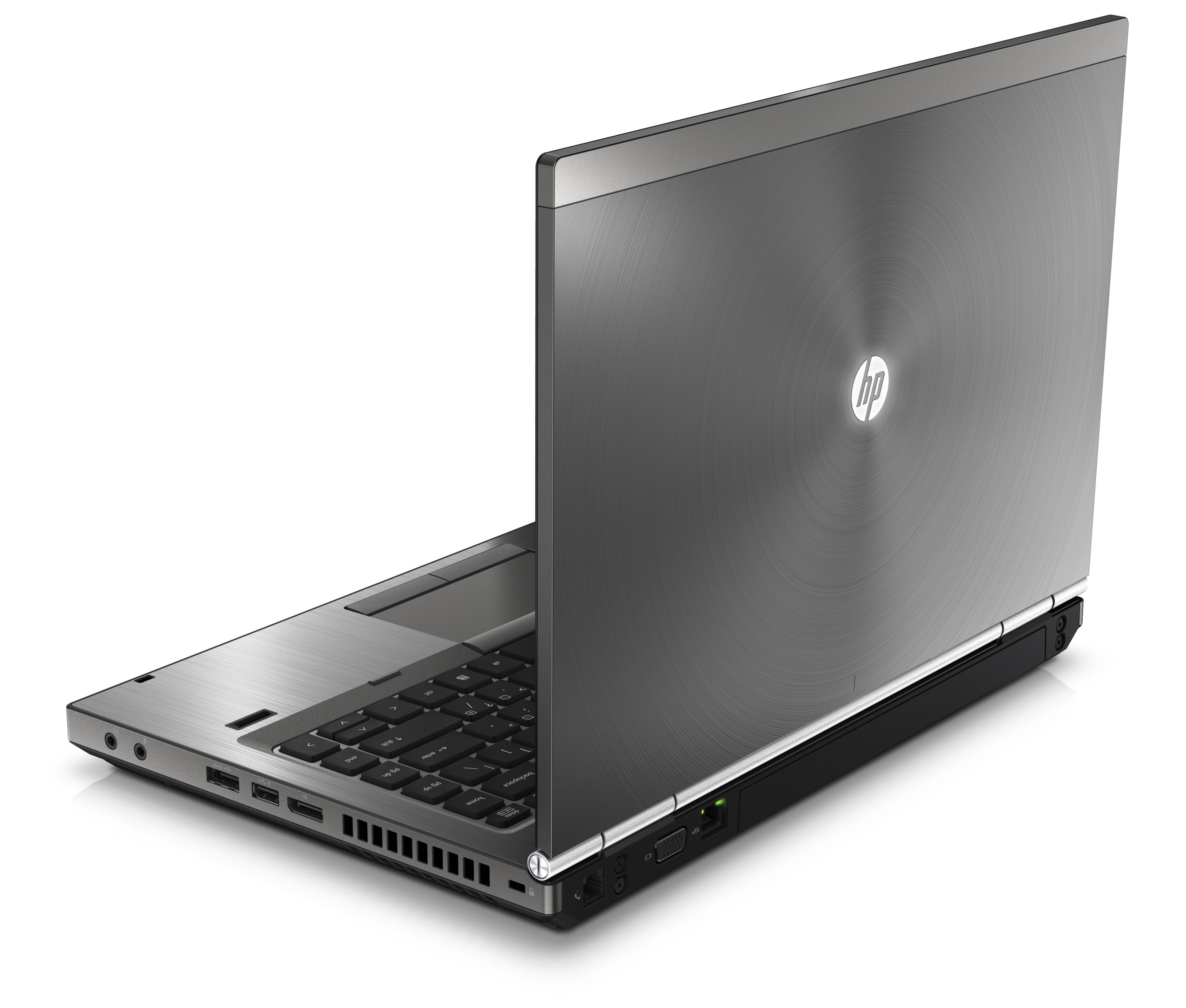 HP EliteBook 8760w Display Options
The HP EliteBook 8760w has a 17.3″ anti-glare display with a base 1600 x 900 resolution. Users can also opt for an upgrade to a 1920 x 1080 resolution on the standard anti-glare display.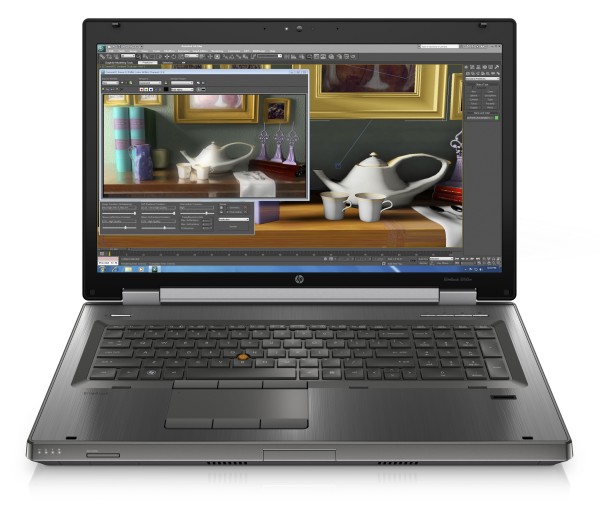 If color accuracy is important, the EliteBook 8760w can be configured with a DreamColor display. The DreamColor display has a full HD resolution and can deliver 1 billion colors, offering an addition to these mobile workstations that are a must have for creative professionals. The DreamColor display delivers 64 times the color support of a traditional notebook.
HP EliteBook 8760w Design
The EliteBook 8760w is a part of the new HP "FORGE" design concept which focuses on delivering a, "workstation specific industrial design language."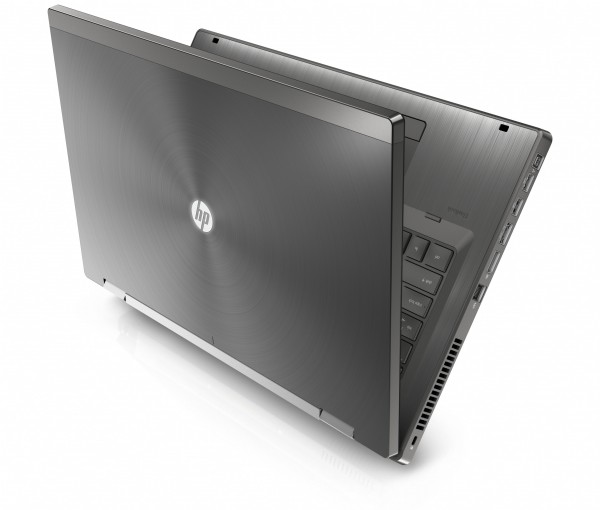 This translates into a new look that includes a radial brushed gunmetal finish, orange accents and a backlit jewel logo on the display. Unlike some notebooks which are leaving the latch behind, the 8760w retains a cast titanium alloy latch to keep the notebook securely closed while not in use.
HP EliteBook 8760w Features
One of the biggest new features is the chemically strengthened glass touchpad which delivers a smoother mousing surface. The keyboard is spill resistant and can be optionally backlit to make working in dim environments much easier.
The 8760w comes with SRS Premium Sound, to provide a better presentation experience or simply to fill your hotel room with your choice of music at the end of the day.
The EliteBook also has HP Quickweb which boots faster than Windows 7, giving you faster access to your email, contacts, calendar and the web.
HP EliteBook 8760w Durability
The EliteBook 8760w, and the rest of the new EliteBook w series, comes with numerous durability features including the MIL-STD 810G rated HP Duracase which is designed to withstand drop, vibration, dust, altitude and high temps.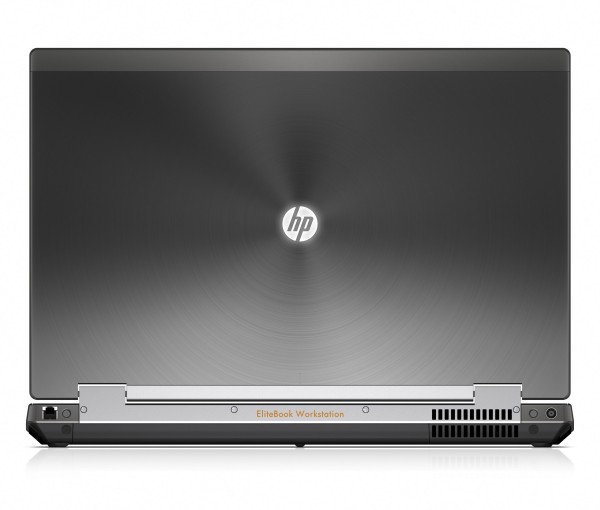 Additionally, the notebook has a durable magnesium alloy chassis, aircraft inspired construction and an anodized aluminum surface. In all, this is one of the most durable notebooks you can purchase from HP.
HP EliteBook 8760w Security
The EliteBook 8760w comes with numerous security features included an integrated fingerprint reader, Smartcard reader and a collection of security tools such as HP ProtectTools, HP Disk Sanatizer, Computrace Pro (with subscription) and HP Sparekey.
HP EliteBook 8760w Battery
The EliteBook 8760w has numerous battery options including a 8-cell 83WHr battery, 8-cell Long Life (3 year) 75WHr battery, optional HP Extended Life 73WHr battery and the optional Ultra Extended Life 100WHr notebook battery.
HP has not released the final battery run times for these numerous battery options.
HP EliteBook 8760w Size and Weight
The HP EliteBook 8760w has a starting weight of 7.55 pounds without the optical drive and jumps to 7.80 pounds with a DVD ROM.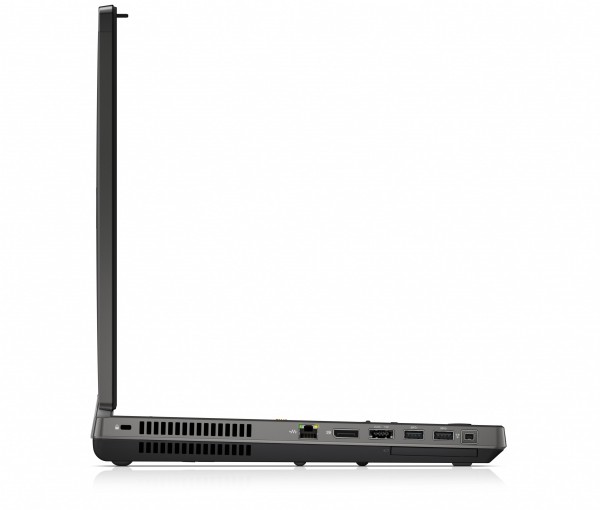 The EliteBook 8760w is 1.47″ at the front x 16.4″ x 10.7″ offering a large package, but not one that will be tied to a desk every day.
HP EliteBook 8760w Price and Availability
The HP EliteBook 8760w will be available in May, with a starting price of $1,349 from HP.
HP EliteBook 8760w Gallery
HP EliteBook 8760w Specs
Operating system
Preinstalled:

Genuine Windows® 7 Professional
Genuine Windows 7 Home Premium
Genuine Windows Vista Home Basic
FreeDOS

Supported:

Genuine Windows 7 Enterprise
Genuine Windows 7 Ultimate
Genuine Windows Vista Enterprise
Genuine Windows Vista Business
Genuine Windows XP Professional

Certified:

SUSE Linux Enterprise Desktop
Red Hat Enterprise Linux 6.0

Processor
2ndgeneration Intel® Core™ i7 and i5 mobile processorswith Turbo Boost Technology
Chipset
Mobile Intel QM67 Express Chipset (vPro support5)
Memory
DDR3 SDRAM, 1333 MHz,dual-core processors support 2 memory slots and quad-core processors support 4 memory slots,2/4/8GB6SODIMMs, up to 32 GB total
Internal Storage7
Primary Storage: 320/500/750GB 7200 rpm SMART SATA II HDD, 320 GB 7200 rpm SED (Self Encrypting Drive),or 128/256GB SSD

2ndPrimaryStorage: 320/500/750GB 7200 rpm SMART SATA II HDD, 320 GB 7200 rpm SED (Self Encrypting Drive),or 128/256GB SSD

RAID 0, 1, 5 support; HP 3D DriveGuard

Upgrade Bay
12.7 mm SATA optical drive or hard drive: Blu-ray R/RE DVD+/-RW SuperMulti DL Drive,9, 24 Blu-ray ROM DVD+/-RW SuperMulti DL Drive,9, 24DVD+/–RW SuperMulti DL Drive,9, 24DVD-ROM Drive,9500 GB 7200 rpm HDD;7, 9or Weight saver
Display
17.3-inch diagonal LED-backlit WVA anti-glare, HD+11(1600 x 900); 17.3-inch diagonal LED-backlit WVAanti-glare, FHD11(1920 x 1080); 17.3-inch diagonal LED-backlitUWVA,anti-glare, FHD11DreamColor (1920 x 1080)31
Graphics

AMDFireProTMM5950, with 1GB dedicated GDDR5 video memory(AMD Eyefinity Technology for advanced multi-monitor support)
NVIDIA Quadro 3000M, with 2GB dedicated GDDR5 video memory
NVIDIA Quadro 4000M, with 2GB dedicated GDDR5 video memory
NVIDIA Quadro 5010M, with 4GB dedicated GDDR5 video memory(planned June 2011)

Audio/Visual
High Definition Audio(SRS Premier Sound),integrated stereo speakers, stereo headphone/line out, stereo microphone in, optional HD11Webcam,9integrated dual-microphone array
Wireless Support
Optional HP hs2340 HSPA+ Mobile Broadband;

12 Optional HP un2430 EV-DO/HSPA MobileBroadband12;

Intel Centrino 802.11a/b/g/n;13Atheros 802.11a/b/g/n;13HP Integrated Module with Bluetooth® v2.1+ EDR Wireless Technology; HPConnection Manager

Communications
Integrated Intel 82579LM Gigabit Network Connection (vPro5), 56K v.92 modem
Ports and Connectors
(2) USB 3.0 ports, (2) USB 2.0 ports (1 charging), (1) eSATA/USB 2.0 combo port, (1) VGA, (1) DisplayPort, (1) stereo microphone in, (1) stereo headphone/line out, (1) 1394a, (1) power connector, (1) RJ-11/modem,(1) RJ-45/Ethernet, (1) docking connector, (1) secondary battery connector
Expansion Slots
1 ExpressCard/54 slot, 1 SD/MMC slot
Input Device
Full-sized spill-resistant keyboard with numeric keypad, drains, backlit keyboard (optional), touchpad with scroll zone and gestures support, point stick, discrete launch buttons (wireless on/off, HP QuickWeb,14

volume mute, calculator

Software(Windows OS only)
HP Power Assistant,HP Recovery Manager, HP Support Assistant, HP QuickWeb,14 Microsoft® Office 2010 Preloaded -Purchase Key,Intervideo WinDVD (select models), RoxioSecure Burn (select models), Roxio MyDVDE 10 SE (select models), Norton Internet Security 2011, Skype, HP Client Manager Software, HP Client Configuration Management Agent, HP OpenView PC Configuration Management Solutions, HP Performance Advisor
Security
Standard: HP ProtectTools,Central Management capable,TPM Embedded Security Chip 1.2, HP Fingerprint Sensor,Enhanced Pre-Boot Security, HP Spare Key (requires initial user setup), HP Disk Sanitizer, Drive Encryption for HP ProtectTools, Credential Manager for HP ProtectTools, Face Recognition for HP ProtectTools, File Sanitizer for HP ProtectTools, Intel AT (requires a Computrace subscription),security lock slot, Smart Card Reader; Computrace Pro for HP ProtectTools
Dimensions

(h x w x d)

1.47in (at front) x 16.4in x 10.7in / 3.7cm (at front) x 41.7cm x 27.3cm
Weight
Starting at 7.55lb (3.4kg) without optical drive; 7.80lb (3.5kg) with DVD-ROM drive (weight will vary by configuration)
Power
8-cell (83WHr) Lithium-Ion battery, 8-cell (75WHr) HP Long Life Battery (3-year),21optional HP ST09 Extended Life Notebook Battery (73WHr), optional HP BB09 UltraExtended Life NotebookBattery (100WHr), 200W HP Smart AC Adapter, 230W HP Smart AC Adapter, HP Fast Charge
Expansion Solutions9
HP 230W Docking Station, HP 230W Advanced Docking Station, HP USB 2.0 Docking Station, HP Essential USB 2.0 Port Replicator, HP Dual Hinge Notebook Stand, HP Display & Notebook Stand, HP Adjustable Display Stand, HP Adjustable Dual Display Stand
Warranty
Limited 3-yearand1-year warranty options available, depending on country, 1-year limited warranty on primary battery. Optional HP Care Pack Services are extended service contracts which go beyond your standard warranties.25
Advertisement