If you have been looking for a new gaming notebook and don't want to settle for a small 17″ screen, check out the new Dell Alienware M18x which just arrived on the Dell Canada website with an 18.4″ 1080P HD Display and a starting price of $2,014 CAD.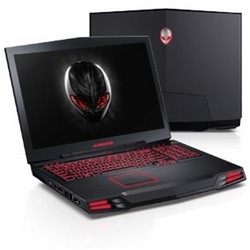 The Dell Alienware M18x comes with an Intel Core™ i7 2630QM clocked at 2.0GHz with the ability to TurboBoost up to 2.8GHz. If you want more power, there is a 2.3GHZ Intel® Core™ i7 2820QM processor with TurboBoost up to 3.4GHz.
The standard graphics processor is the NVIDIA GeForce GTX 460M with 1.5GB GDDR5 RAM and there is an optional upgrade to a Dual 2GB GDDR5 AMD Radeon HD 6970M with AMD CrossFireX.
The Alienware M18x comes with an 18.4″ WideFHD 1920 x 1080 resolution display that should be large enough, even for gamers who want to play ont eh big screen.
The M18x comes standard with 4GB RAM and a 320GB hard drive. The RAM can be upgraded to 8GB DDR3 RAM and the hard drive can be bumped up to a 750GB 7200 RPM drive. The M18x is large enough, of course, to accommodate a Slot Load Dual Layer DVD Burner and the notebook has Intel Advanced N6200 a/g/n wireless.
The is also a built in HD 5.1 Surround sound system to immerse you in the gaming experience, which shouldn't be too hard on this large gaming notebook.
The Alienware M18x comes in your choice of Quasar Blue, Astral Aqua, Mars Red, Nova Yellow, Terra Green, Plasma Purple.
The Dell Alienware M18x is only available in Canada with a starting price of $2,o00 CAD and a ship date of May 3. We expect to see a formal announcement from Dell U.S. regarding the Alienware M18X soon.
Dell Alienware M18x Specs
| | |
| --- | --- |
| System Color | Alienware M18x, Soft Touch Stealth Black – Anodized |
| Operating System | Genuine Windows® 7 Home Premium, 64bit |
| Processor | Intel® Core™ i7 2630QM 2.0GHz (2.8GHz w/Turbo Boost, 6MB Cache) |
| Memory | 4GB Dual Channel DDR3 at 1333MHz (2DIMMS) |
| A/C Adapter | Alienware M18x 240W A/C Adapter |
| Display Panel | 18.4-inch WideFHD 1920 x 1080 WLED |
| Video Card | 1.5 GDDR5 NVIDIA® GeForce® GTX 460M |
| Hard Drive | 320GB 7,200RPM HDD |
| AlienFX | Quasar Blue |
| Adobe Reader Acrobat SW | Adobe Acrobat X Reader |
| Optical Drive | Slot-Load Dual Layer DVD Burner (DVD+-RW, CD-RW) |
| Sound | Internal High-Definition 5.1 Surround Sound Audio |
| Wireless | Intel® Advanced N 6200 a/g/n 2×2 MIMO Technology |
| Automatic Updates | Automatic Updates: On |
| Security Software | McAfee® Security Center – 30-Day Trial |
| Hardware Support Services | 1 Year Basic Service Plan |
Advertisement