There are many solutions out there for synchronizing data between multiple computers, I personally use Dropbox, but I want to look at another free solution that is just as seamless — Windows Live Mesh.
Windows Live Mesh has been part of Microsoft's set of solutions to solve issues relating to accessing personal data and settings across multiple PC's and devices. Windows Live Mesh even allows you to connect to your PC's remotely. In this article, we take a look at how to use it to keep our PC's synced.
To use Windows Live Mesh, you need to download it first. It is also included as part of the free Windows Live Essentials 2011 suite.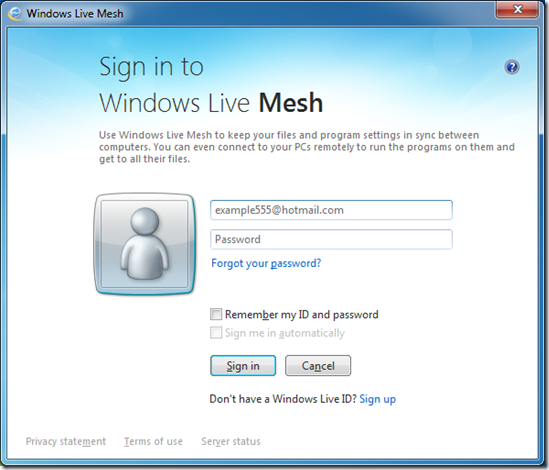 After downloading and installing, launch Windows Live Mesh and sign in with your Windows Live Hotmail or Windows Live ID and password. If you don't have one, you can create one for free.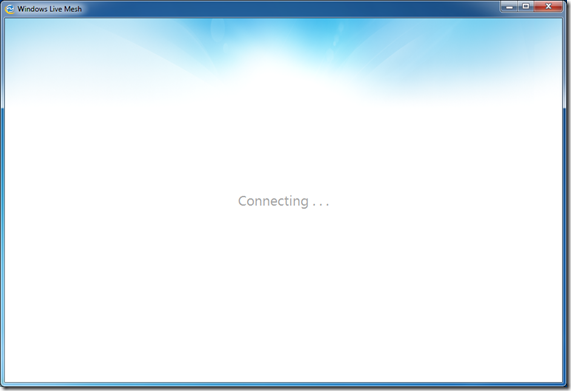 Connecting to Windows Live Mesh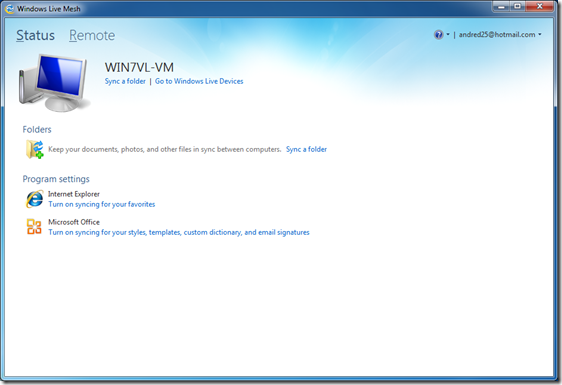 After signing in, you will be presented with the Status page which displays your machine name (ie. WIN7VL-VM) along with your Folders that you have setup to be synchronized and Program settings for apps such as Internet Explorer and Microsoft Office. Right now, I don't have anything setup, so we will do that as our next step.

I want to sync a folder on my hard disk, in this case, the Documents folder, to do that, I click the Sync a folder link under Folders.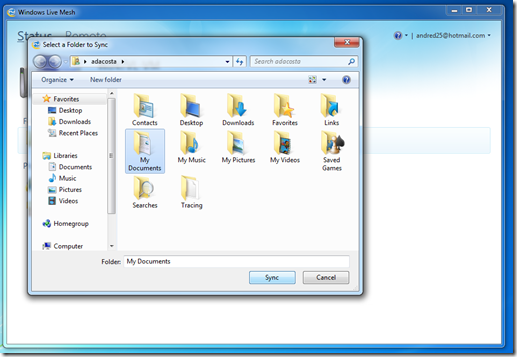 Select the folder and click Sync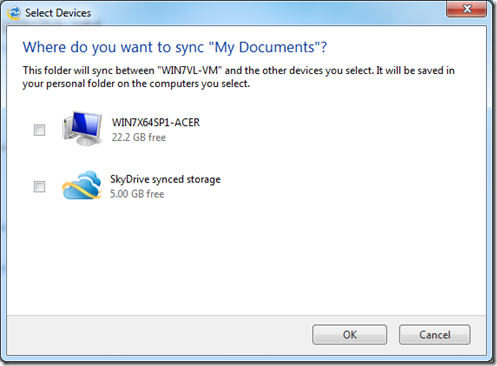 Windows Live Mesh will present a number of options for where you would like to have the data from the folder you selected to be synced. In the above screenshot, I am presented with two options, my other computer which also has Windows Live Mesh installed and Microsoft's free online storage service service, Windows Live Skydrive. My personal recommendation is to select both, this guarantees you will always have the most up to date information across multiple devices.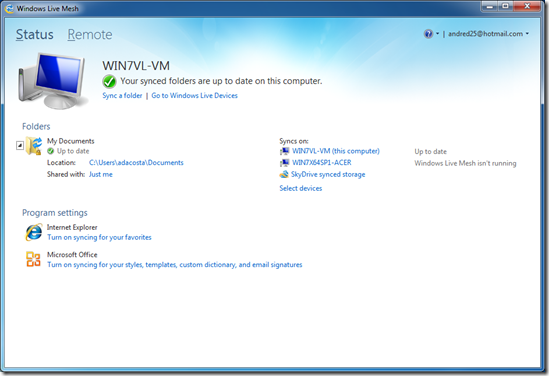 You now see that I have successfully synced my data with not just only another PC but my free Skydrive account account.
When syncing folders that are the same name on different computers, you will need to choose an alternate location on the system or create a folder to sync those files to.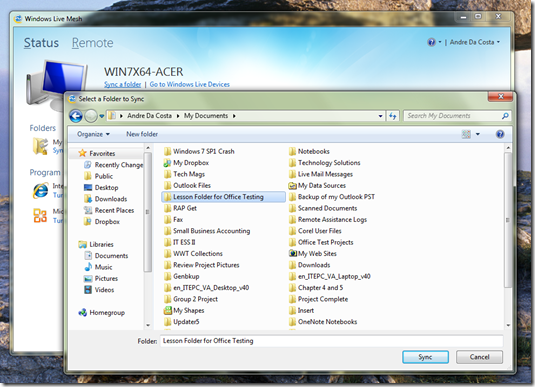 For instance, I want to sync the folder Lesson folder for Office Testing on the machine WIN7X64-ACER with WIN7VL-VM
To do that, select the folder and click Sync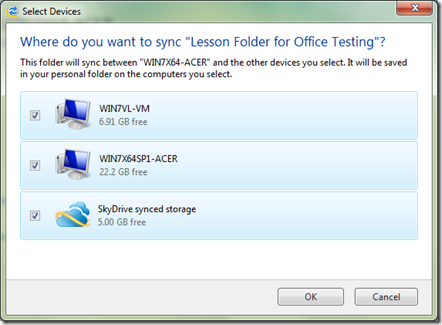 Select the devices you want to have the folder synced across then click OK.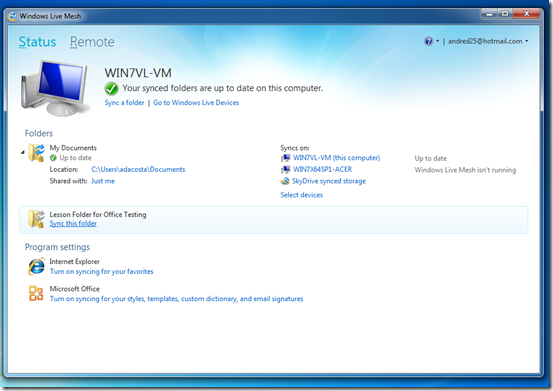 On the other machine, you will see the folder appear in the Status window, click the link below it Sync this folder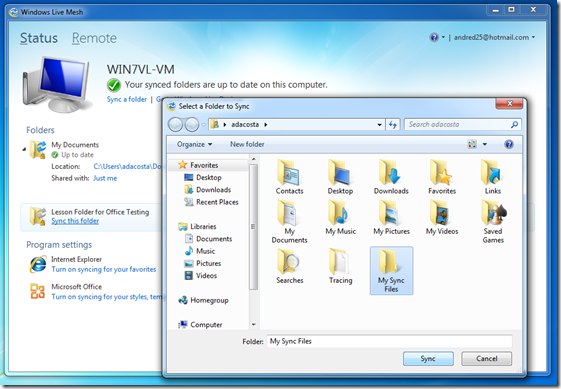 I created a folder called My Sync Files, after doing this, click Sync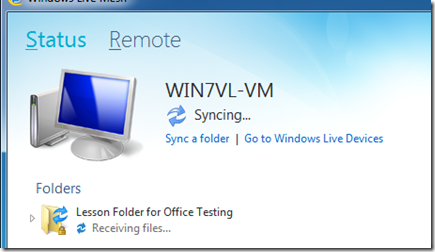 Windows Live Mesh now syncing the folder with the other machine.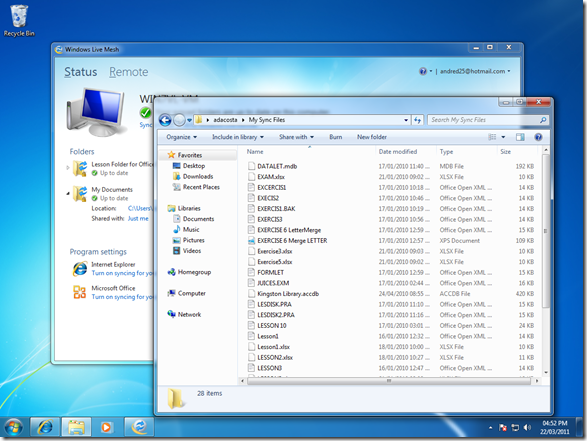 Our files from the other machine are now synced. Any files saved or placed in that folder on the machine it was originally created will now be automatically synced.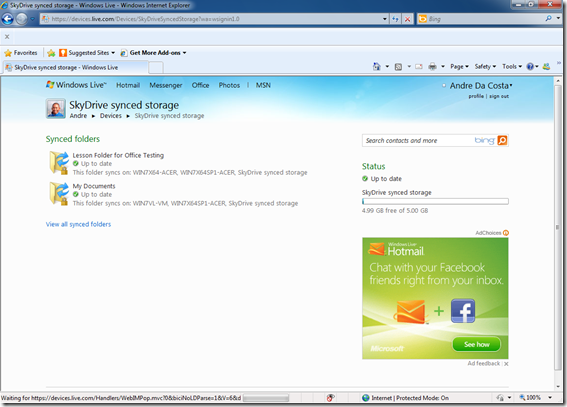 When you log into your personal Skydrive account, you will see your synced folders there too.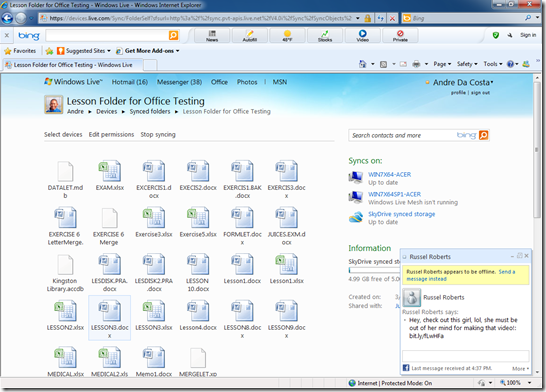 Windows Live Mesh might not be an ideal solution for everyone, but it does reduce the complexity of syncing data across multiple machines. Of course, there are minor draw backs such as the Windows Live ID requirement and the need to have online connectivity to accomplish the syncing, but it's still a great solution to keep your program settings and Office files up to date and most important, it's free.
Advertisement