Microsoft has released the first Service Pack maintenance update for its Office productivity suite, Office 2010. Service Pack 1 contains cumulative and public updates for all Office 2010 suites and individual applications including Project 2010, Visio 2010, SharePoint 2010, Office 2010 servers, Office Web Apps, Search Server 2010, SharePoint 2010 Products and FAST Search Server 2010 for SharePoint.
The Microsoft Office Web Apps including Word, Excel, PowerPoint and OneNote are being updated as part of SP1. The Google Chrome browser support is also now officially supported.
There are two ways of obtaining Service Pack 1 for Office 2010. You can download the full installer for 32 bit or 64 bit or you can download through Windows Update.
How to Install Office 2010 SP1 – Direct Download
If you plan on downloading the full installer, make sure you find out which architecture you are running. To do that, open any of the main Office 2010 applications you use such as Word 2010 or Excel 2010.
Click File > Help, look under About Microsoft Word or whichever Office 2010 application you are in. There you will see the version number along with the architecture, for example, I am running Version: 14.0.5128.5000 (64-bit).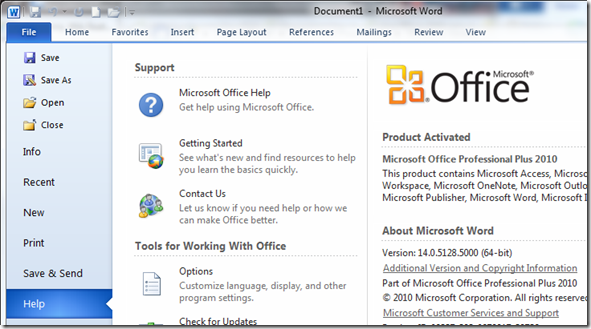 You can then go to https://www.microsoft.com/downloads and download the appropriate version of Office 2010 SP1: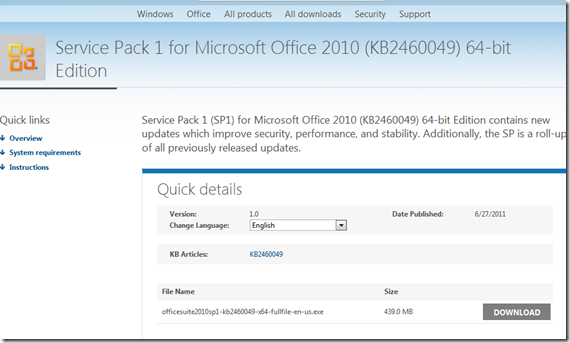 Click Download and save the file to your Downloads folder.

Once you have downloaded the file, browse to where you saved it, double-click the setup file to begin the installation.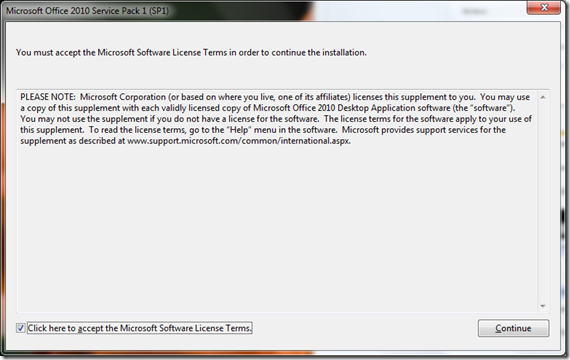 Check the box to accept the Software License Terms and click Continue.

Extracting files to assist the installation.

Determining list of programs to be updated.

Office 2010 SP1 installing

Reboot when prompted
How to Install Office 2010 SP1 – Windows Update
If you prefer to use Windows Update, launch it and click Check for Updates.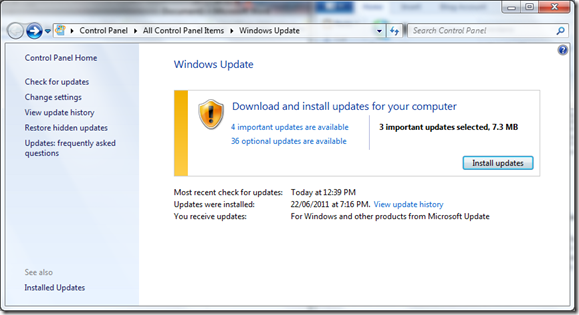 Click the link to view important updates that are available.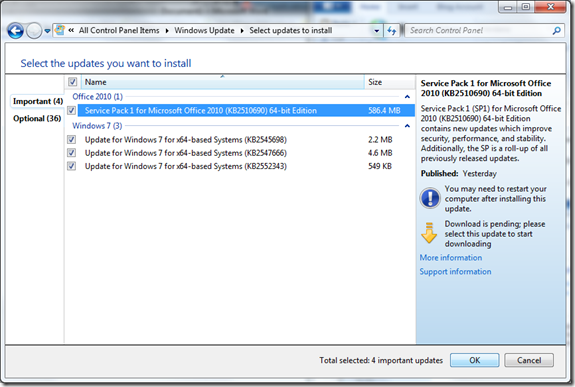 Check Service Pack 1 for Microsoft Office 2010 then click OK to begin the download.
To confirm your installation of Office 2010 Service Pack 1, open any Office 2010 main application such as Word or Excel.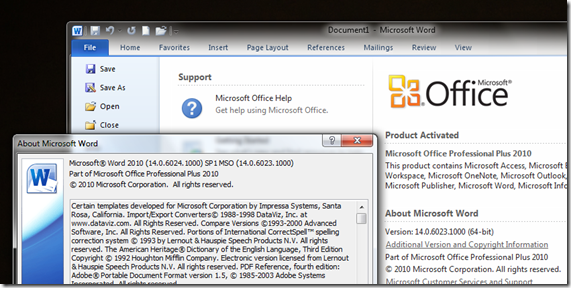 Click File > Help > Under About Microsoft Word, click Additional Version and Copyright Information.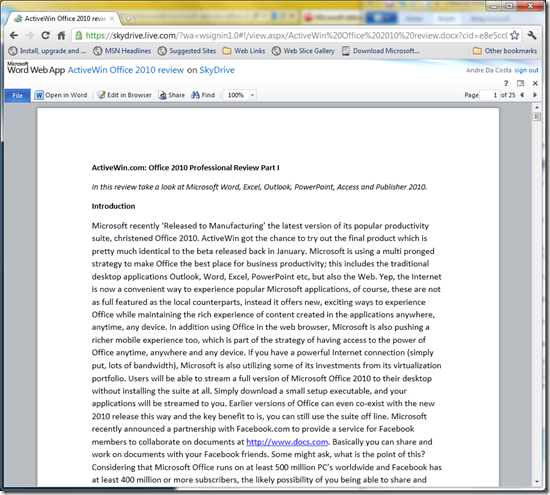 Office Web Apps now supports Google's Chrome Web Browser
Major Microsoft Office 2010 SP1 Changes and Fixes
Here is a run down of some of the improvements in Office 2010 SP1:
* Outlook fixes an issue where "Snooze Time" would not reset between appointments.
* The default behavior for PowerPoint "Use Presenter View" option changed to display the slide show on the secondary monitor.
* Integrated community content in the Access Application Part Gallery.
* Better alignment between Project Server and SharePoint Server browser support.
* Improved backup / restore functionality for SharePoint Server
* The Word Web Application extends printing support to "Edit Mode."
* Project Professional now synchronizes scheduled tasks with SharePoint task lists.
* Internet Explorer 9 "Native" support for Office Web Applications and SharePoint
* Office Web Applications Support for Chrome
* Inserting Charts into Excel Workbooks using Excel Web Application
* Support for searching PPSX files in Search Server
* Visio Fixes scaling issues and arrowhead rendering errors with SVG export
* Proofing Tools improve spelling suggestions in Canadian English, French, Swedish and European Portuguese.
* Outlook Web Application Attachment Preview (with Exchange Online only)
* Office client suites using "Add Remove Programs" Control Panel,  building on our work from Office 2007 SP2
Click here for a complete list of the fixes in Office 2010 SP1.
Advertisement