Mozilla has just released Firefox 4, the latest version of the popular web browser that has a new look, new speed and new features. According to Mozilla Firefox 4 is "more awesomeness" than previous versions of Firefox.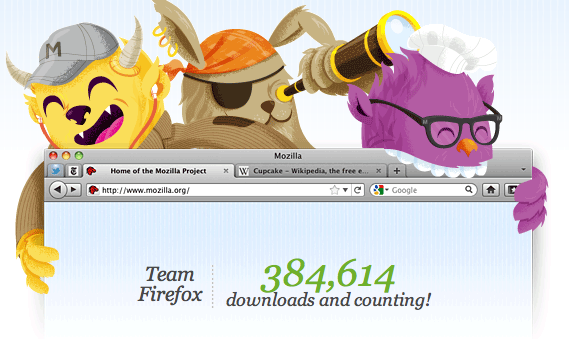 The first thing you'll notice about FireFox 4 is the new look. Tabs are now at the top like in Google Chrome and you can now pin tabs (or as Mozilla calls them "apps"). You can also click on the website's favicon in your address bar for an quick look at the site info to make sure you are at the correct place.
The built in password manager makes it easy to remember your passwords and with the Firefox Sync account you can keep your password, history and more in sync between multiple computers and even your mobile device.
Another new feature is tab grouping, similar to what you can do in Opera. This feature allows you to put a group of tabs together so that you can focus on one thing at a time. Great for when you open up a bunch of different tabs, but want to focus in on a few of them without being distracted by the rest.
Firefox 4 is also focusing on speed with improvements to the initial startup speed, speed of loading webpages and the speed of running web applications. These speed improvements are 6x faster than in the previous version of FireFox.
Firefox 4 also brings support for HTML 5 to enable cool and exciting things to happen in your web browser. You can see a demo of sites that will show off the new technology at the Web O' Wonder gallery.
As far as security goes, you can turn on Do-not-track which will prevent websites from tracking your online activities, Set up customized security settings and turn on private browsing mode to keep your browsing session private.
In the short period it took to publish this look at Firefox, the downloads have climbed past 1 million.
Firefox 4 is a free download from Mozilla for Windows, Mac and Linux.
Advertisement