MacBooks will automatically dim the display after a short period of inactivity. This automatic dimming is great for battery life, but can be a pain when you want to read a long webpage or PDF. Rather than moving the mouse every so often, you can download a small app called Caffeine which will keep your display "awake" while you read or work.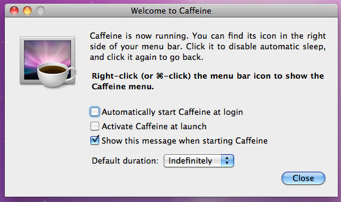 Caffeine is a free app, available in the Mac App Store, which can be configured to keep your MacBook display from dimming while you work. The app can be configured to run at startup and resides in your system bar. When you need to keep your MacBook's display awake, just click the coffee cup and your display will stay awake.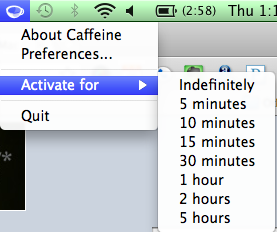 If you left click the Coffee cup icon you'll activate Caffeine for the default time, which can be set from indefinitely to 5 hours. If you need to activate it for longer, a right click on the icon will allow you to choose how long you want to activate Caffeine for.
You could change the settings in Energy Saver, but with Caffeine, you don't need to change your settings and remember to change them back since the dimming will come back as normal after the time period passes. Caffeine also stops your computer from going to sleep or activating a screen saver while it is active.
Caffeine works exactly as advertised and while we don't use the app everyday, we find out that we use it a couple of times a week while reading longer articles and looking at PDF spec sheets. Now that we have this app, it's one that we wouldn't want to live without and are amazed that it is a free app.
If you don't have access to the Mac App Store, you can download it direct from the developer and even get a version which works with OS X Tiger.
Advertisement